John Ryan Stadium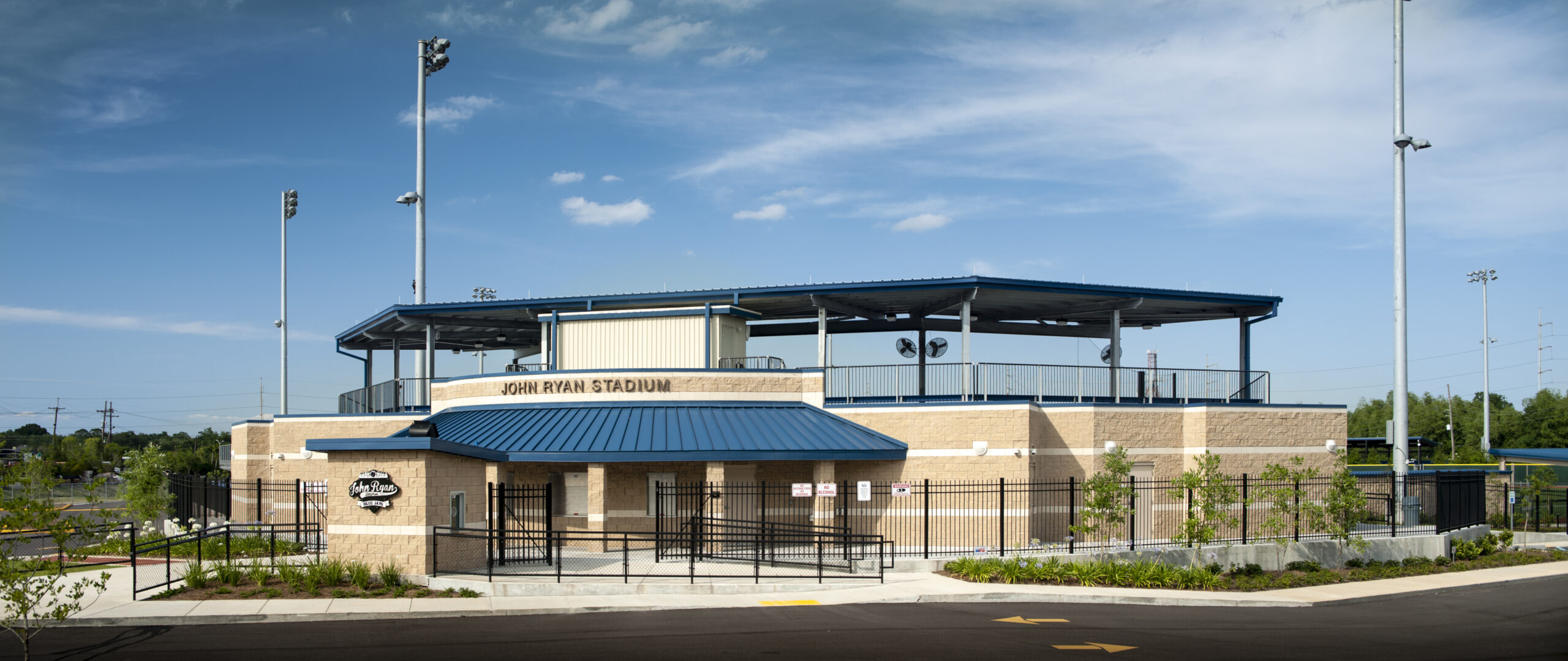 John Ryan Stadium, located at 100 Blue Jay Way in Metairie, is Jesuit's multi-sport athletic field and stadium.
The stadium opened on March 2, 2012 and features a covered grandstand and open bleachers, a press box, 139,205 square feet of artificial turf, an impressive wide screen digital video scoreboard, and a ticket booth and concession area.
The artificial turf field can convert from one sport to the next with a few adjustments. Re-positionable goals and removable field markings, in concert with the permanent turf field lines, allow the Blue Jay baseball, soccer, football, lacrosse, and rugby teams to share the field, although not at the same time.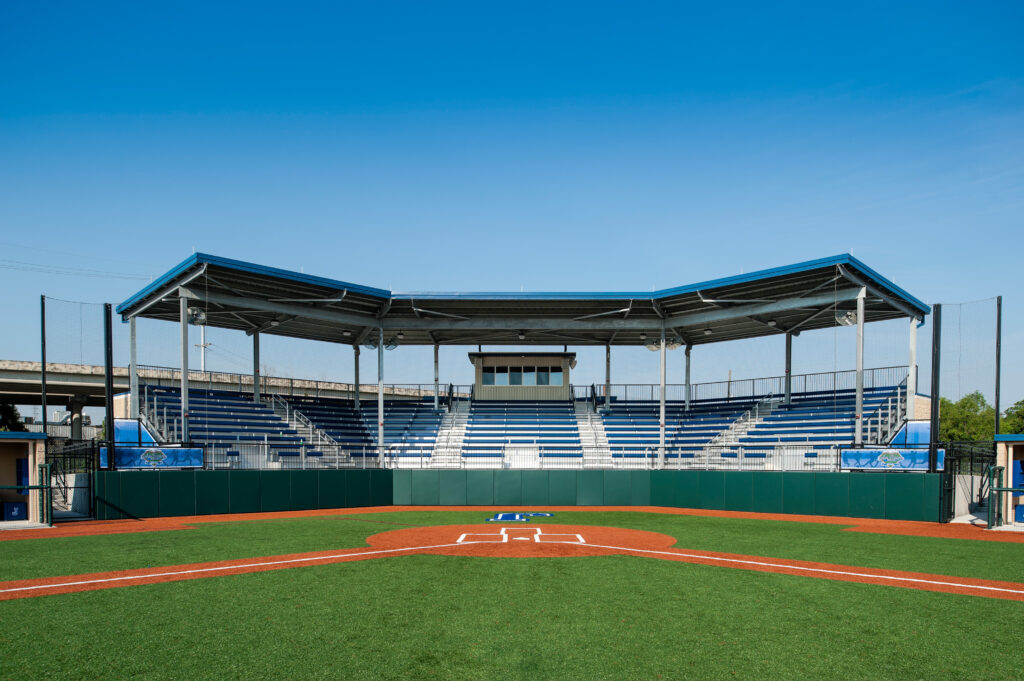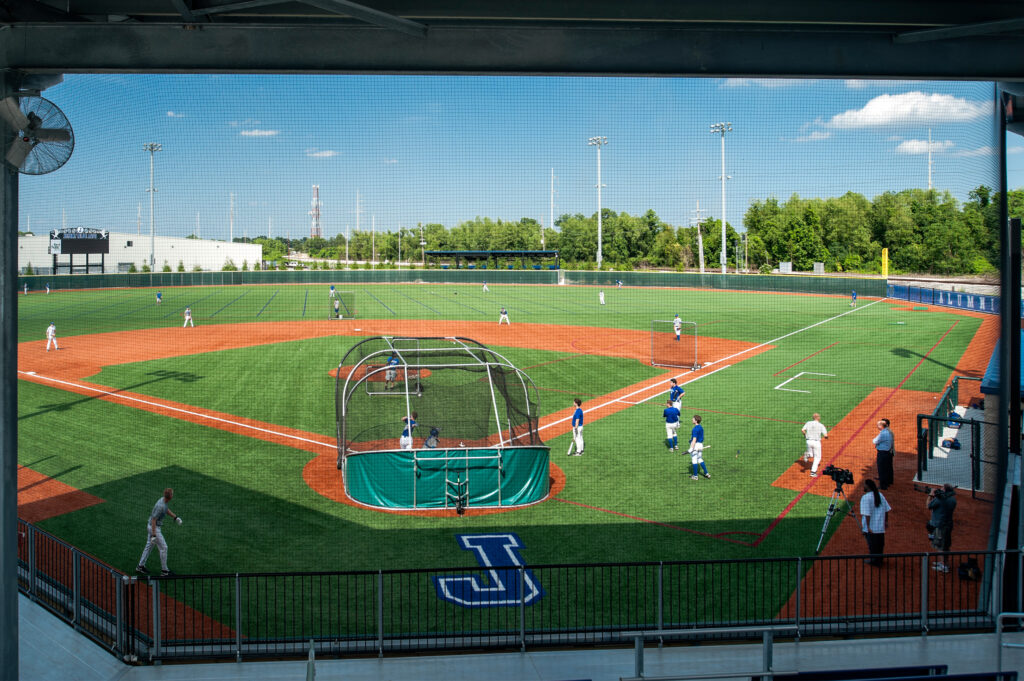 John Ryan Stadium was built with the support of the Blue Jay community through the Home Field Advantage campaign.
Facility Features
Wally Pontiff, Jr. Pavilion The 2,800-sq. ft. pavilion hosts alumni, student, and parent events.
Baseball Hitting Facility Features two covered and enclosed batting cages.
Baseball Grandstand The elevated, covered grandstand seats 622 fans. Spectators are protected by safety netting above the padded backstop. The structure also houses three meeting rooms, accessible rest rooms, and a concession and merchandise sales area. Another fan-favorite feature is the Jesuit "J" embedded in the field turf behind home plate.
Scoreboard One of the most state-of-the-art digital wide screen video scoreboards at a high school facility in the nation is housed at John Ryan Stadium, complete with a superior companion sound system.
Lighting System A sophisticated lighting system illuminates Alumni Field, allowing Blue Jays and their opponents to play night games.
Sideline Bleachers Can seat 680 fans comfortably, used mostly for soccer, lacrosse, and rugby games.
Artificial Turf The bleachers overlook Alumni Field, consisting of 139,205 sq. ft. of artificial turf chosen because it helps minimize injuries to players. The turf also drains quickly to keep the field playable during inclement weather.The multi-colored inlaid turf lines delineate the baseball, soccer, football, lacrosse, and rugby playing areas. Many of Jesuit's athletic teams use John Ryan Stadium for practices and home games.
| | |
| --- | --- |
| 2 dugouts, batting cages, and bullpens | 1,000-plus anchor bolts used in building the grandstand and sideline bleachers |
| 2 meeting rooms housed in the grandstand | 1,472 fans on opening night |
| 5 tons of structural steel | 1,500 watt metal-halide lamps illuminate night games and practices |
| 6.98 acres – size of the tract where the stadium is located | 1,652 cu. yds. of concrete used to pave ramps, walkways, and the pavilion |
| 233 parking spaces | 2,800 sq. ft. pavilion for alumni, student, and parent events |
| 622 seats in the elevated and covered grandstand | 85,536 sq. in. digital video scoreboard with state-of-the-art technology |
| 680 seats in the sideline bleachers | 139,205 sq. ft. of artificial turf that minimizes injury and drains quickly |
| | |
| --- | --- |
| Left Field Line… 320 feet | Power Alleys… 379 feet |
| Center Field… 400 feet | Turf… Artificial |
| Right Field Line… 325 feet | |