Students
No meals have been posted for this day.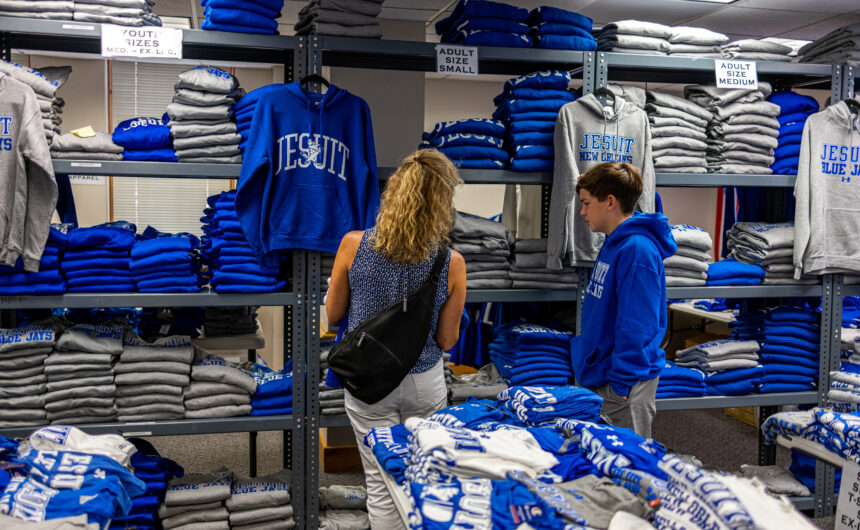 July 29, 2021
Intermediate Blue Jay Shop…
A new Blue Jay mother and her son browse the selection in the temporary Blue Jay shop in room 132. Under the new guidance of Wanda Montalbano, the fresh and improved shop will be moving into the new Administrative building once construction is completed.
Warning
: Illegal string offset 'category_identifier' in
/home/forge/www.jesuitnola.org/public_html/wp-content/plugins/event-espresso/templates/event_list.php
on line
72
Warning
: Cannot assign an empty string to a string offset in
/home/forge/www.jesuitnola.org/public_html/wp-content/plugins/event-espresso/templates/event_list.php
on line
72
Warning
: Illegal string offset 'event_category_id' in
/home/forge/www.jesuitnola.org/public_html/wp-content/plugins/event-espresso/templates/event_list.php
on line
72
Warning
: Cannot assign an empty string to a string offset in
/home/forge/www.jesuitnola.org/public_html/wp-content/plugins/event-espresso/templates/event_list.php
on line
72
Warning
: Illegal string offset 'staff_id' in
/home/forge/www.jesuitnola.org/public_html/wp-content/plugins/event-espresso/templates/event_list.php
on line
72
Warning
: Cannot assign an empty string to a string offset in
/home/forge/www.jesuitnola.org/public_html/wp-content/plugins/event-espresso/templates/event_list.php
on line
72
Warning
: Illegal string offset 'allow_override' in
/home/forge/www.jesuitnola.org/public_html/wp-content/plugins/event-espresso/templates/event_list.php
on line
72
Warning
: Illegal string offset 'show_expired' in
/home/forge/www.jesuitnola.org/public_html/wp-content/plugins/event-espresso/templates/event_list.php
on line
72
Warning
: Illegal string offset 'show_secondary' in
/home/forge/www.jesuitnola.org/public_html/wp-content/plugins/event-espresso/templates/event_list.php
on line
72
Warning
: Illegal string offset 'show_deleted' in
/home/forge/www.jesuitnola.org/public_html/wp-content/plugins/event-espresso/templates/event_list.php
on line
72
Warning
: Illegal string offset 'show_recurrence' in
/home/forge/www.jesuitnola.org/public_html/wp-content/plugins/event-espresso/templates/event_list.php
on line
72
Warning
: Illegal string offset 'limit' in
/home/forge/www.jesuitnola.org/public_html/wp-content/plugins/event-espresso/templates/event_list.php
on line
72
Warning
: Illegal string offset 'order_by' in
/home/forge/www.jesuitnola.org/public_html/wp-content/plugins/event-espresso/templates/event_list.php
on line
72
Warning
: Illegal string offset 'sort' in
/home/forge/www.jesuitnola.org/public_html/wp-content/plugins/event-espresso/templates/event_list.php
on line
72
Warning
: Cannot assign an empty string to a string offset in
/home/forge/www.jesuitnola.org/public_html/wp-content/plugins/event-espresso/templates/event_list.php
on line
72
Warning
: Illegal string offset 'css_class' in
/home/forge/www.jesuitnola.org/public_html/wp-content/plugins/event-espresso/templates/event_list.php
on line
72
Warning
: Illegal string offset 'current_page' in
/home/forge/www.jesuitnola.org/public_html/wp-content/plugins/event-espresso/templates/event_list.php
on line
72
Warning
: Illegal string offset 'events_per_page' in
/home/forge/www.jesuitnola.org/public_html/wp-content/plugins/event-espresso/templates/event_list.php
on line
72
Warning
: Illegal string offset 'num_page_links_to_display' in
/home/forge/www.jesuitnola.org/public_html/wp-content/plugins/event-espresso/templates/event_list.php
on line
72
Warning
: Illegal string offset 'use_wrapper' in
/home/forge/www.jesuitnola.org/public_html/wp-content/plugins/event-espresso/templates/event_list.php
on line
72
Warning
: Illegal string offset 'exclude_closed_events' in
/home/forge/www.jesuitnola.org/public_html/wp-content/plugins/event-espresso/templates/event_list.php
on line
72
Warning
: extract() expects parameter 1 to be array, string given in
/home/forge/www.jesuitnola.org/public_html/wp-content/plugins/event-espresso/templates/event_list.php
on line
77
Warning
: mysqli_num_fields() expects parameter 1 to be mysqli_result, bool given in
/home/forge/www.jesuitnola.org/public_html/wp-includes/wp-db.php
on line
3402
Warning
: Division by zero in
/home/forge/www.jesuitnola.org/public_html/wp-content/plugins/event-espresso/templates/event_list.php
on line
205
Warning
: Invalid argument supplied for foreach() in
/home/forge/www.jesuitnola.org/public_html/wp-content/plugins/event-espresso/templates/event_list.php
on line
215