Jesuit Celebrates Alumni Homecoming Mass and Reception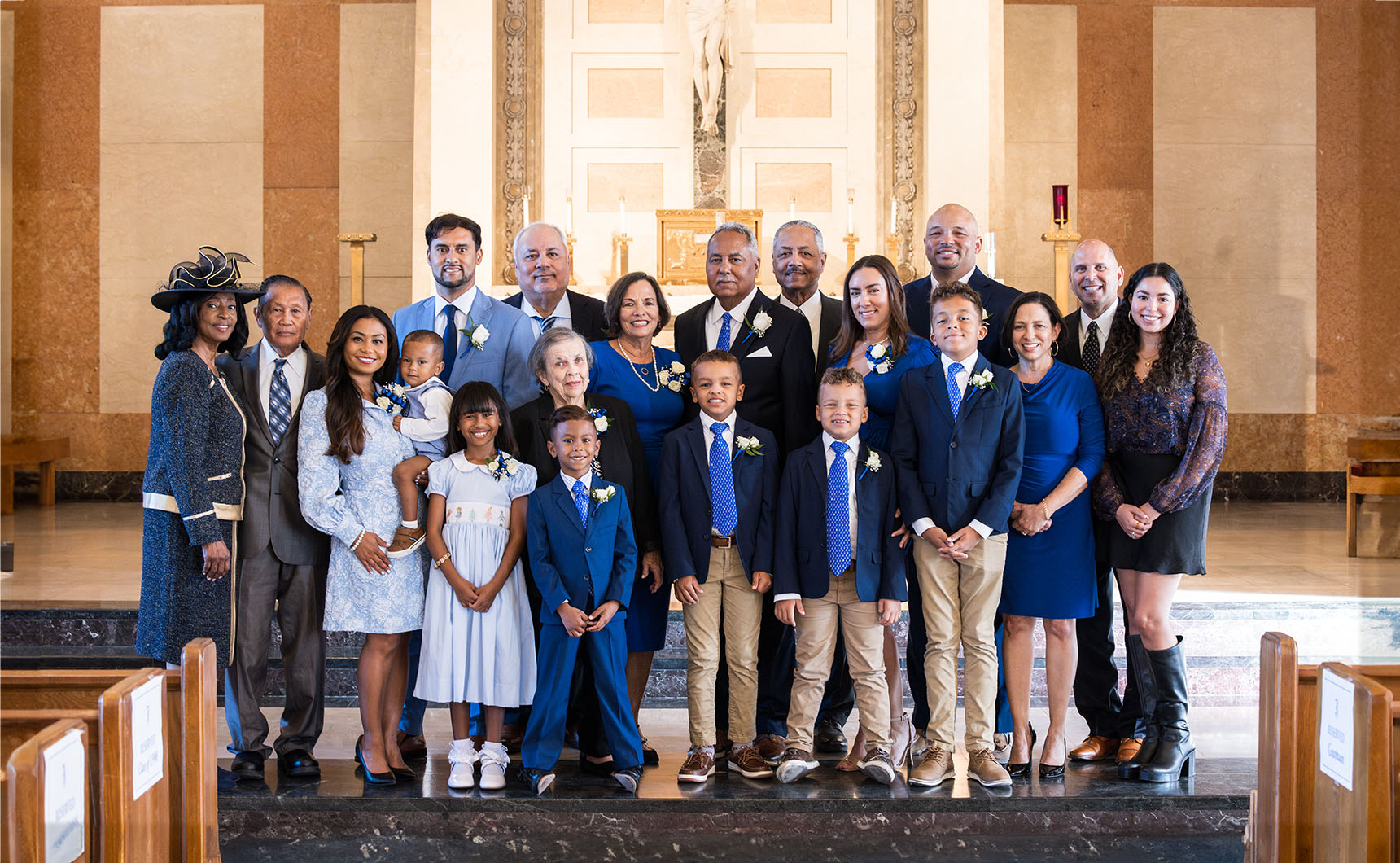 Hundreds of Blue Jay alumni and their guests filled Jesuit's campus for the much-anticipated Alumni Homecoming Mass and Reception this past weekend. The Chapel of the North American Martyrs, the Student Commons, and Traditions Courtyard were abuzz with camaraderie and Blue Jay Spirit with decades of alumni celebrating the special Jesuit loyalty that persists "through all the days of life."
Mass was celebrated by Fr. John Brown, S.J., Fr. Stephen Kramer, S.J., and Rev. Matthew Clark, O.S.B. '76, who is the president rector of St. Joseph Seminary College in Covington. Deacon Jody Fortunato '98 assisted. Music was provided by Mr. Jeff Miraflor, S.J., and the Jesuit choir with participation from alumni choir members Christopher Vuong '19 and Matthew Vuong '22. The Alma Mater and the Fight Song were performed by alumni band members including Dave Schof '56, Jared Headrick '16, Greg Merritt '80, Dominic Schof '19, Tristan Diermann '16, Kenneth Krizan '16, Matthew Mitchell '15, and Doug Schof '17.
After Mass, attendees were treated an array of classic New Orleans dishes provided by Acme Oyster House and Drago's Seafood. Alumni and guests enjoyed raw and chargrilled oysters, fried catfish, shrimp pasta, red beans, and much more while reminiscing with classmates, catching up with former teachers and coaches, and getting a glimpse at the latest renovations and additions to Jesuit's campus.
Alumnus of the Year Marlin Gusman '73
A major highlight of the evening was the honoring of Marlin Gusman '73 as the 2023-24 Alumnus of the Year. A man of many and diverse personal and professional accomplishments, Gusman credits his years at Jesuit for shaping his future. After expressing gratitude to the Jesuit community and to his own family, he told attendees, "My Jesuit education has been the foundation for a lifelong yearning for knowledge and public service. It made me look for challenges and want to learn more."
During Mass, Gusman's family participated during the Offertory Procession with Priscilla Gusman, Marlin Gusman, Jr. '02, Claiborne Rhodes, and Robin Rhodes serving as gift bearers.
Fr. Brown, Jesuit's president, affirmed Gusman's legacy, saying, "Marlin's life is a testament not only to the merits of a Jesuit education but also to the power of resilience, dedication, and service to one's community. He embodies what we aspire for all our students to become: men of faith and men for others."
Eugene Green, the New Orleans city councilman for District D, presented a special municipal proclamation from the City of New Orleans that marked Gusman's lifetime of civil service.
While at Jesuit, Gusman excelled both academically and athletically, participating in many co-curriculars but most notably the wrestling team and the MJROTC. He later attended the University of Pennsylvania and Loyola University, embarking on a career that spanned law, public administration, and community service. As sheriff, he built a safer and more secure correctional facility, implemented various educational and mental health programs, and successfully navigated crises like Hurricane Katrina.
The John Paquette Award
The evening also featured the John Paquette Award, a newly established recognition for faculty members who have devoted over forty years of service to Jesuit. This year's recipients were Stephen Hayes (social studies, 41 years of service), Showalter "Joe" Knight (classics, 44 years of service), David Moreau (athletics and social studies, 40 years of service), and Timothy Powers (English, 42 years of service). Leading up to the event, each of these recipients gave in-depth reflections on their time at Jesuit.
"At Jesuit, faculty members serve as mentors and role models for Blue Jays well beyond the scope of their instructional roles," said Peter Kernion '90, Jesuit's principal, as he introduced the new award. "For many teachers and coaches, this vocation to inspire and lead young men to pursue God's greater glory lasts for years and decades."
The award will be conferred in future years upon teachers after the completion of their 40th year at Jesuit. John Paquette '52, the son of John Paquette of the Class of 1925 for whom the award is named, was in attendance along with wife Mary Lou for the evening. Having served for 70 years as Jesuit's registrar, Paquette stands as the quintessential model of dedication and commitment to the school's mission.
Milestone Reunions for the 25- and 50-Year Classes
Alumni from the classes of 1973 and 1998 were recognized before and during Mass. After both classes began the weekend on the previous night with "stag" reunions, Saturday evening's events kicked off for these milestone classes with the presentation of 25-year pins and 50-year diplomas in Jesuit's auditorium.
Alumni director Michael Prados '83 impressed upon members of the classes that the pins and diplomas symbolized more than the passage of years since graduation. Instead, these mementos serve to call up alumni to participate in Jesuit's mission by living as men of faith and men for others, even 25 or 50 years after the completion of their years on Carrollton & Banks.
After receiving their pins and diplomas, the Classes of 1973 and 1998 led the procession into Mass in the Chapel of the North American Martyrs.
Loading…