Timothy F. Powers to Receive John Paquette Award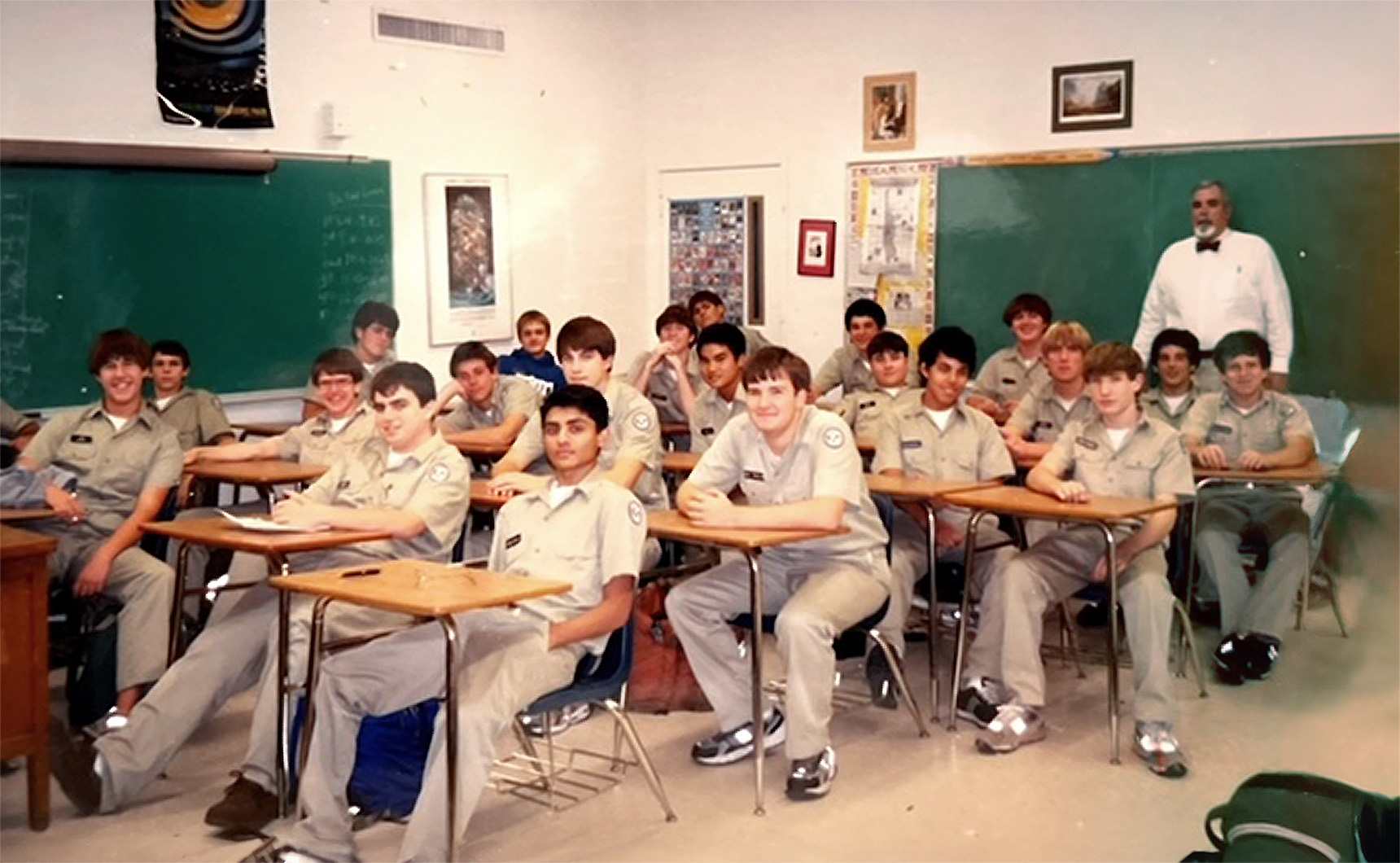 The John Paquette Award
At Jesuit, faculty members serve as mentors and role models for Blue Jays well beyond the scope of their instructional roles. For many teachers and coaches, this vocation to inspire and lead young men to pursue God's greater glory lasts for years and decades. The newly established John Paquette Award recognizes those faculty members who have given forty or more years of service to Jesuit High School.
The award is named for John Paquette of the Class of 1925, who served as Jesuit's registrar for 70 years.
Having come to New Orleans from Vermont in the late 1970s, Timothy Powers quickly found a home away from home on Carrollton & Banks, where he has inculcated in countless students a love of grammar, the Catholic faith, and the misadventures of Ignatius J. Reilly.
English teacher Daniel Fitzpatrick '09 interviewed Powers to reflect on his tenure at Jesuit High School.
Danny Fitzpatrick: In an environment that typically sees very high turnover rates, Jesuit stands out by keeping teachers and staff around for a long time. One of my favorite things about teaching here is seeing so many of my own teachers around. Still, it's truly remarkable to stay in one place for forty years or more. What's kept you at Jesuit for all this time?
Tim Powers: The year that I began at Jesuit—1981—saw perhaps the largest faculty turnover in the school's history. I was one of 24 new teachers who arrived on campus that August, and Fr. Harry Tompson wisely decided that we needed a two-day orientation to familiarize us with the school, its ideals and goals, and its place in the history of the city. Fr. Tompson was one of the greatest motivational speakers I've ever heard, and I remember Roz Moreau saying at the end of those two days that if Fr. Tompson had taken us up to the roof of the school and told us to jump off, we probably would have. We knew that we were being given the opportunity of a lifetime to teach at an educational institution unlike any other and that we had a mission to fulfill.
When I review my time here, it seems that I am looking back at several chapters in a best-selling novel full of victories and defeats, saints and sinners, and outrageously memorable individuals. The story began 134 years before I arrived on the scene and will continue to a point I can't even begin to visualize. When I consider the technological advances that have occurred in just the last twenty years, I wonder what teaching will be like twenty years hence.
Shortly after I moved to New Orleans, after eight years as a journalist for a daily newspaper in Vermont, I was hired as a systems research analyst in the operations division of the Hibernia National Bank and imagined my time in New Orleans would be a two-to-three year layover on the way to something better back home in New England. After six months helping to write a policy and procedures manual for the trust division of the bank, I heard that Jesuit was looking for English teachers and applied for an interview. My only competition at the time was a bus driver who wrote poetry on the side, and I was hired to teach English and moderate the school newspaper.
I quickly fell in love with the school, and while there are other Jesuit schools in the country, if one were to take Jesuit out of New Orleans, it wouldn't be the same school because the culture of the city has shaped the school and the culture of the school has shaped the city.
The students, though obviously affected by cultural changes, are the same friendly, eager learners I first encountered, and it is the joy of teaching them that has kept me here.

-Tim Powers
Fitzpatrick: What are some of the ways in which Jesuit has changed the most since you started?
Powers: When I started, we had seven period days with 45-minute classes meeting at the same time every day. The school had three floors back then, not four: 1, 2, and 3. The current second floor was the first floor. The current first floor was called the Basement and contained only three classrooms: B1, B2, and B3 (currently Rooms 120, 121, and 122). These rooms were used primarily as ROTC classrooms and lunchtime study halls and were separated by folding doors.
As soon as ROTC changed into its winter uniforms, the entire school met for Assembly on Mondays and Fridays inside the school in the open space now occupied by first-floor classrooms. All administrative offices were located on the (current) second floor on either side of the main entrance on Carrollton Avenue. The principal's office was located in what is now Room 222. English teachers were assigned individual offices around the perimeter of the library. Because students had more free periods and the Commons did not exist, students spent free time in the library and often sought help from their English teachers during their free periods.
The assistant librarian was called "Grendel" and the older head librarian was called "Grendel's mother." Jesuit's TV and radio stations were located near the library in the area now occupied by computer labs. The only essays that were required to be typed were the English IV research papers. Typing was offered as a summer school class. Daily Masses were offered twice a day—before school and during lunch—and were occasionally offered in the "Mary Chapel" (currently the English office). In those days school spirit was more visible and pronounced. Students wore spirit pins and ribbons throughout the week before games, and lunchtime pep rallies were packed.
Rivalries in the old Catholic League were more pronounced, especially those involving Holy Cross and Rummel. Whenever HC scored on us in football, their band would strike up "The Old Gray Mare Ain't What She Used To Be." During basketball games at De La Salle, our study body would be greeted by chants of "Mama's pride, Mama's joy, Mama's little Jesuit boy." We would respond by scoring more points and winning the game. Nighttime pep rallies prior to football games were held at Comiskey Playground. In those days, the Student Council sponsored a Carnival parade in the yard on Hermes Friday. Students would drive their cars around the perimeter of the yard and toss doubloons and beads to the students watching the parade. Coach Billy Murphy and debate coach Julie Herad were king and queen in 1982, the last year the SC parade rolled.
Occasionally and rarely, thankfully, if there had been excessive shenanigans during the day, an afternoon assembly would be held starting after last period. Homerooms would line up as they did for morning assembly and stand in silence for about a half hour. Intramurals were played in the yard and homerooms actually took pride in fielding a competitive team.
Fitzpatrick: What are some of the ways in which Jesuit has remained the same?
Powers: The emphasis on academic excellence and spiritual growth has remained consistent as has the commitment to renovating and modernizing classrooms to provide an enhanced learning environment for the students. The students, though obviously affected by cultural changes, are the same friendly, eager learners I first encountered, and it is the joy of teaching them that has kept me here.
While the school has always had some good and holy priests, in the past 20 years the religious who have served Jesuit have been uniquely qualified to pass on the faith and the Jesuit tradition in an increasingly post-Christian society, beginning with Frs. Anthony McGinn, Richard Hermes, and Raymond Fitzgerald. In an attempt to correct those who had a wrong notion of what Jesuit is all about, Fr. McGinn left no doubt: "This school is God's school." Under Frs. Hermes and Fitzgerald the Pro-Life Club grew exponentially retreats became increasing popular with the students. The priests and scholastics who currently serve the school clearly praise, reverence, and serve God.
Powers and three other faculty members who will receive this award will be honored at the Alumni Homecoming Mass on October 14, 2023 in the Chapel of the North American Martyrs. Register here for the event.
Fitzpatrick: Would you please tell me about a few favorite memories from your tenure here?
Powers: Just a few of many: (A) Charlie McGannon was a legendary teacher and quite a poet. Since our offices were next to one another in the library, I became well acquainted with Charlie, and he showed me works in progress from time to time. I later learned this was something Charlie rarely did. It was a great privilege to see Charlie's poems move from an early stage to completion. One that I recall was about a cousin named Joe who had recently died and his widow Sylvia who was "wearing Joe like a plain rosary." The refrain throughout the poem was "You gotta wear what you gotta wear."
(B) The more than 25 years that I oversaw intramural sports holds a special place in my heart. As a result of taking on that extracurricular—Guidance Department chair Glenn Gennaro referred to me as "The Commish"—I became acquainted with so many more students than I otherwise would have gotten to know.At the time, Intramurals was the largest student extracurricular with more than 900 boys participating in one sport or another. Because all sports were played in the yard during lunchtime, many students would gather around to watch the games. I remember one 8th grade football championship game that went into 6 overtimes and drew a huge crowd. Many homerooms fielded two teams for each sport, and for years we played intramurals during both halves of lunch. The quality of the games improved when football and cabbageball moved to Will Clark Field and basketball moved to the gym, but we lost the audiences that gathered in the yard, and eventually non playing students in homerooms rarely showed up to cheer their teams on.
(C) Night school at St Martin's in Oct and Nov 2005 after Katrina was unforgettable. Classes lasted from 4 to 10 p.m. Once the St. Martin's night school opened, so many students returned from Strake in Houston that we had a more Jesuit students on campus than St. Martin's did during their day school. I kept textbooks in the trunk of my car and would send students out before class to fetch them. Despite the fact that many boys arrived tired out after spending the morning and early afternoon helping their families repair and restore their flood ravaged homes, no one ever fell asleep during class. The first Monday after Thanksgiving when we returned to Carrollton and Banks—using only the second, third, and fourth classrooms—was a joyful occasion.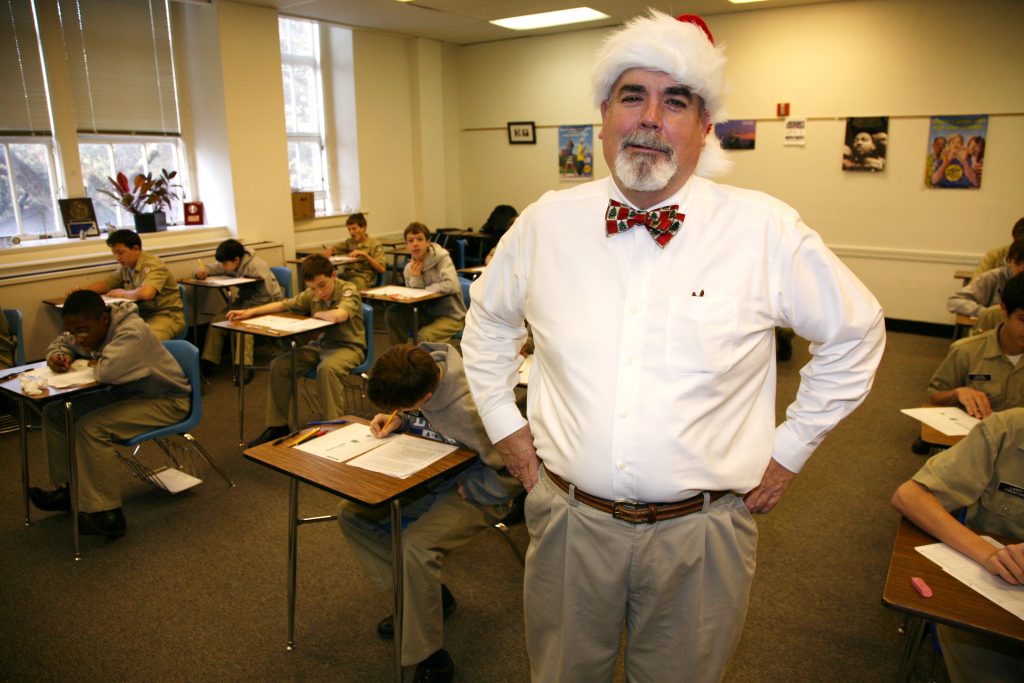 An even more joyful occasion occurred in January 2006 when all the students who had returned to New Orleans from exile were able to begin the second semester reunited. Only those who went through that school year can really appreciate the debt of gratitude this school owes to Fr. Anthony McGinn for seeing to it that Jesuit not only survived but flourished in the immediate aftermath of Katrina. When Fr. McGinn finished his first tour of duty as president, there was not an inch of the campus inside and out that had not benefitted from the improvements he had made during his then-18-year tenure as president.
Fitzpatrick: Are there any ways in which you'd like to see Jesuit continue to grow in the future?
Powers: It is my hope that tradition will always guide our future. One tradition I wish would be revived is the visiting author program. For years Jesuit hosted famous authors at least once during a student's time here so that he could meet an author whose work the student had read. Authors such as Chaim Potok, Tony Hillerman, Willy Morris, Pat Conroy, and poet Dana Gioia, who was chairman of the National Endowment for the Arts, all spent a day at Jesuit speaking to the entire student body and meeting with English students. This program later morphed into the Big J Read and then vanished completely. Jesuit was renowned for the visiting author program, and students thoroughly enjoyed meeting living, popular authors.
Fitzpatrick: What would you consider to be your legacy at Jesuit?
Powers: That is for my students past and present to decide.
Fitzpatrick: How do you see the relentless pursuit of God's greater glory in Jesuit academics?
Powers: That each member of the school community prayerfully attempt to discern and enthusiastically attempt to fulfill God's plan for him.