Stephen Hayes to Receive John Paquette Award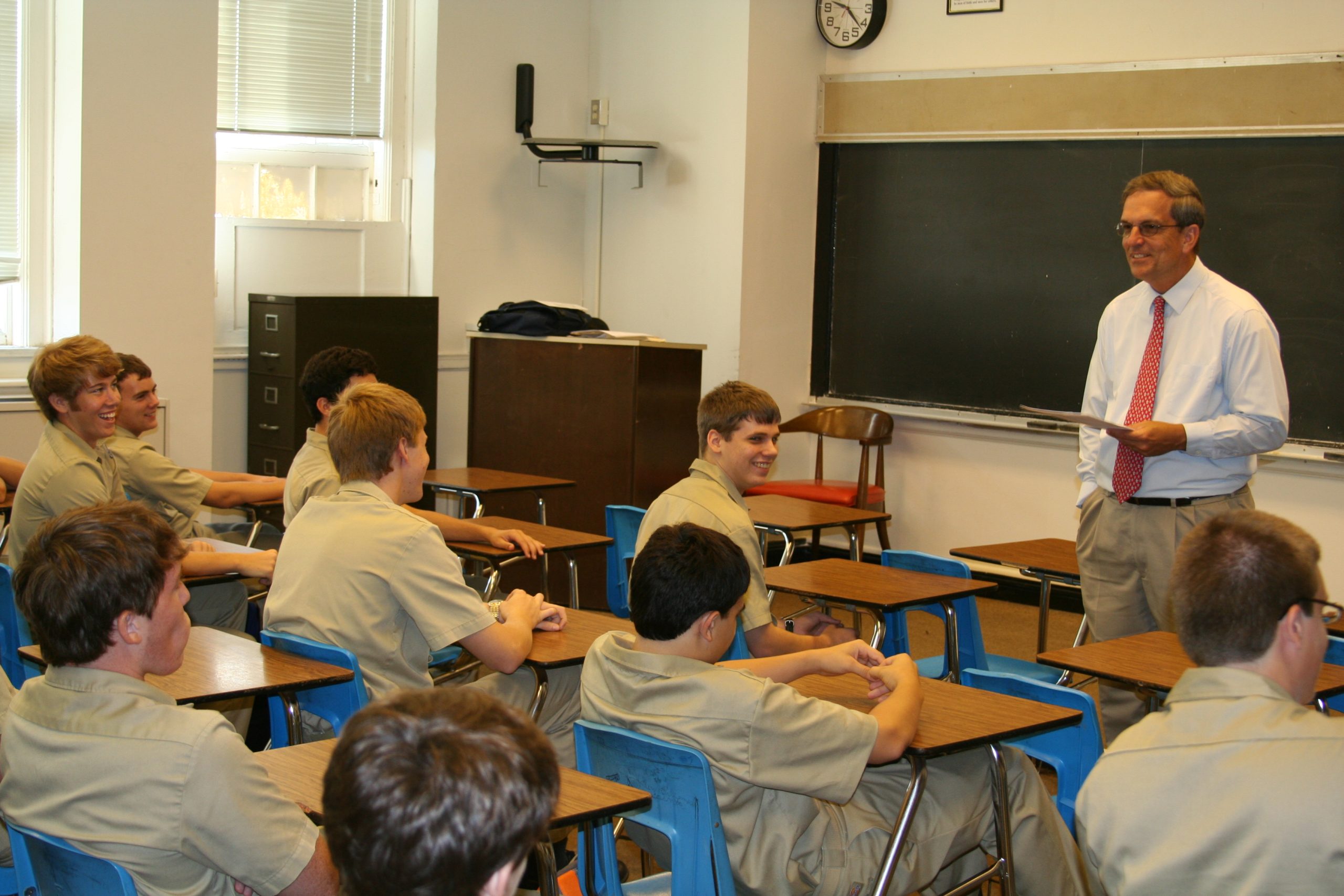 The John Paquette Award
At Jesuit, faculty members serve as mentors and role models for Blue Jays well beyond the scope of their instructional roles. For many teachers and coaches, this vocation to inspire and lead young men to pursue God's greater glory lasts for years and decades. The newly established John Paquette Award recognizes those faculty members who have given forty or more years of service to Jesuit High School.
The award is named for John Paquette of the Class of 1925, who served as Jesuit's registrar for 70 years.
Stephen Hayes has served as a Jesuit educator for over 40 years. A graduate of St. Joseph Seminary College with a bachelor degree in history and a master's in political science from the University of New Orleans, Hayes joined Jesuit in 1982. Having been primarily part of the social studies department, he has taught American history and civics, among other subjects.
Hayes has held multiple roles at Jesuit, from social studies department chair to service project director. His initiatives have left lasting impacts; the Thanksgiving Drive and even the rotating class schedule itself among them. Beyond the classroom, he has coached baseball and moderated several clubs including the Philelectic Society.
Honored with the John Paquette Award, Hayes exemplifies the mission of Jesuit to form men of competence, conscience, and compassion. English teacher Daniel Fitzpatrick '09 interviewed Hayes to reflect on his tenure.
Daniel Fitzpatrick: In an environment that typically sees very high turnover rates, Jesuit stands out by keeping teachers and staff around for a long time. One of my favorite things about teaching here is seeing so many of my own teachers around. Still, it's truly remarkable to stay in one place for forty years or more. What's kept you at Jesuit for all this time?
Stephen Hayes: Jesuit has a wonderful academic environment and I have loved being a teacher here. I feel this was a special calling to be part of the formation of these young men. And the administration has seen reason to keep me here.
"God's work on earth must truly be our own." I would like to think that I have accomplished a small part of this work here at Jesuit.

– Stephen Hayes
Fitzpatrick: What are some of the ways in which Jesuit has changed the most since you started?
Hayes: While the basic mission of the school has remained steady, the physical part of the school has grown. Also, the students have more opportunities to be involved in a great variety of extracurriculars.
Fitzpatrick: What are some of the ways in which Jesuit has remained the same?
Hayes: The great mission of the school—to help our students develop into men of competence, conscience, and compassion—has remained the same.
Fitzpatrick: Would you please tell me about a few favorite memories from your tenure here?
Hayes: The list of favorite memories is long but I'll mention a few. Early in my career at Jesuit I got to coach baseball. After Hurricane Katrina I was a part of the revitalization of the Philelectic Society as moderator. I'll never forget our production of Twelve Angry Men which we had to put on in St. Ignatius Hall because the auditorium had been flooded. I recall with happy memories running the Thanksgiving Drive and establishing our morning at Robert's. I also recall working with about 50 Jesuit students in Dallas after Katrina. The last memory I'll mention is working with each senior in completing his service project. On final point—I have loved teaching American History and Government in the classroom.
Hayes and three other faculty members who will receive this award will be honored at the Alumni Homecoming Mass on October 14, 2023 in the Chapel of the North American Martyrs. Register here for the event.
Fitzpatrick: Are there any ways in which you'd like to see Jesuit continue to grow in the future?
Hayes: While adaptation to the present is always necessary, it is important for Jesuit to continue its basic mission to this community.
Fitzpatrick: What would you consider to be your legacy at Jesuit?
Hayes: I'm not ready for the word "legacy." But I will say that what I desire is to be remembered as a good Christian family man who was a good model for our students. One of my favorite sayings is that "God's work on earth must truly be our own." I would like to think that I have accomplished a small part of this work here at Jesuit.
Fitzpatrick: How do you see the relentless pursuit of God's greater glory in Jesuit academics?
Hayes: Here at Jesuit we have a great group of teachers and staff who are deeply committed to helping form "men of faith" and "men for others." That will continue.