Showalter "Joe" Knight to Receive John Paquette Award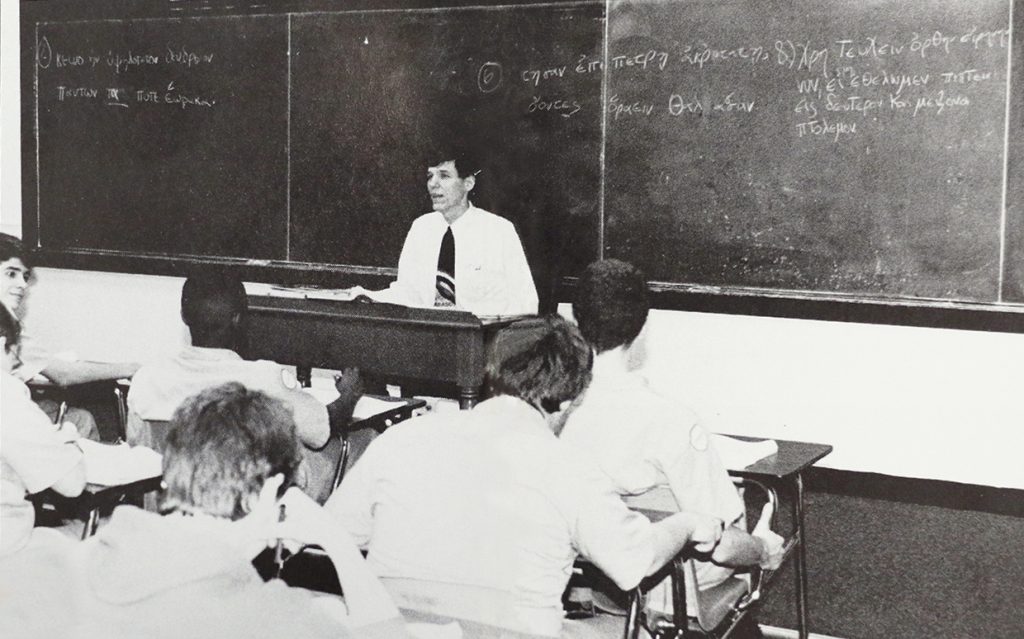 The John Paquette Award
At Jesuit, faculty members serve as mentors and role models for Blue Jays well beyond the scope of their instructional roles. For many teachers and coaches, this vocation to inspire and lead young men to pursue God's greater glory lasts for years and decades. The newly established John Paquette Award recognizes those faculty members who have given forty or more years of service to Jesuit High School.
The award is named for John Paquette of the Class of 1925, who served as Jesuit's registrar for 70 years.
Joe Knight grew up on the Northshore, where he was first exposed to—and fascinated by—the Latin language as an altar server. Indeed, so much was he impressed by the language that, when Cardinal Burke visited Jesuit in 2021, Mr. Knight recalled all the words to the hymn "Ecce Sacerdos Magnus," and well enough to spot an error in the program.
Mr. Knight earned both a B.A. and an M.A. in classics from Tulane, having also studied French. He considered pursuing doctoral studies but, given the long odds of finding meaningful work amidst the Hyrcanian forests of academia, decided instead to seek a post in a prep school. Jesuit New Orleans was the apparent frontrunner in Classics programs, not only in the South but across the United States. After a brief stint at Ursuline, where he taught French, Mr. Knight was hired by Fr. Harry Tompson, S.J., in the spring of 1979 and has taught Greek and Latin to generations of Blue Jays since.
I can also say that I don't have bad days here. Every day is a high point for me.

-Joe Knight
English teacher Daniel Fitzpatrick '09 interviewed Knight to reflect on his tenure at Jesuit High School.
Daniel Fitzpatrick: In an environment that typically sees very high turnover rates, Jesuit stands out by keeping faculty and staff around for a long time. One of my favorite things about teaching here is seeing so many of my own teachers around. Still, it's truly remarkable to stay in one place for forty years or more. What's kept you at Jesuit for all this time?
Joe Knight: Well, the fact that Jesuit has a Greek and Latin program at all is of course a primary answer, though it's not a very interesting one. I would say rather that Jesuit has maintained the long tradition of Ignatian emphasis on Classics, and also that we have very willing students and parents, many of whom are themselves alumni.
Fitzpatrick: We could talk at length about the ways in which Jesuit has changed physically over the years, but I'm especially interested in how the Classics program has developed since you began.
Knight: Perhaps it would be best to begin by saying that, in the big wide world, Classics has been watered down for the sake of keeping it in schools. By way of example, in 1979, the AP syllabus in Latin called for 3000 lines of Vergil. In the syllabus proposed for 2025, there are only 1200 lines, and only a fraction those are from Vergil himself.
As you know, I'm careful not to indulge in simple criticism of the times—to say that society is going to hell in a hand basket and that sort of thing. All the same, we're fortunate that Classics has changed very little here. My Latin 1 class now is very nearly the same as it was when I started, with the exception that I do give less homework. The students these days have changed in that they have vastly busier lives, first of all because of clubs and sports and secondly because of technology. Between those things, they have far less time to devote to studies.
Fitzpatrick: The classic Joe Knight summary of life at Jesuit runs "the more things change around here, the more they stay the same." Is there anything else you'd like to say with respect to the ways in which the school has remained the same over the years?
Knight: Yes, I stand by that. And I'll add that in terms of the spirituality and the mission, of the demands that we make on the students and the support that we give them, we have remained very much the same. Likewise, we've had a very good administration that supports the faculty and stands behind them.
Knight and three other faculty members who will receive this award will be honored at the Alumni Homecoming Mass on October 14, 2023 in the Chapel of the North American Martyrs. Register here for the event.
Fitzpatrick: What are some favorite moments from your time here?
Knight: I was overwhelmed with a sense of gratitude and joy on the Monday after Thanksgiving in 2005 when we returned to this building from St. Martin's. [The interviewer would like to interject that he was, by a twist of hurricane fate, among Mr. Knight's students on that day.]
But I can also say that I don't have bad days here. Every day is a high point for me.
Fitzpatrick: Are there ways in which you'd like to see Jesuit continue to grow in the future?
Knight: I'd simply like us to keep strong what's already going on here. And we have remained strong. By way of example, one of last year's eighth graders transferred over the summer to Regis Jesuit in Denver. I wrote the Latin teacher there, detailing this student's skills and suggesting that he might place higher than Latin 1. The student wrote me back to say that he is not only in Latin 3, among Juniors, but that he is often the most advanced in the class.
Fitzpatrick: What would you consider your legacy at Jesuit?
Knight: I would say that I've helped to continue and pass down the tradition of Classics in Ignatian education.
Fitzpatrick: How do you see the relentless pursuit of God's greater glory in Jesuit academics?
Knight: Everything we do here is to make the world a better place. Our students will go on to be physicians, lawyers, politicians, social workers, and so on, and if we've taught them well, then everything they do will conduce to a better world. Our pursuit of academic perfection leads to academic success, and that in turn improves the world. So I suppose you could say it comes down to altruism, that the excellence we pursue in the classroom helps the students to be men for others.