Campaign Summary – Benefactors Show Their Fidelity through Minds & Hearts Enlightened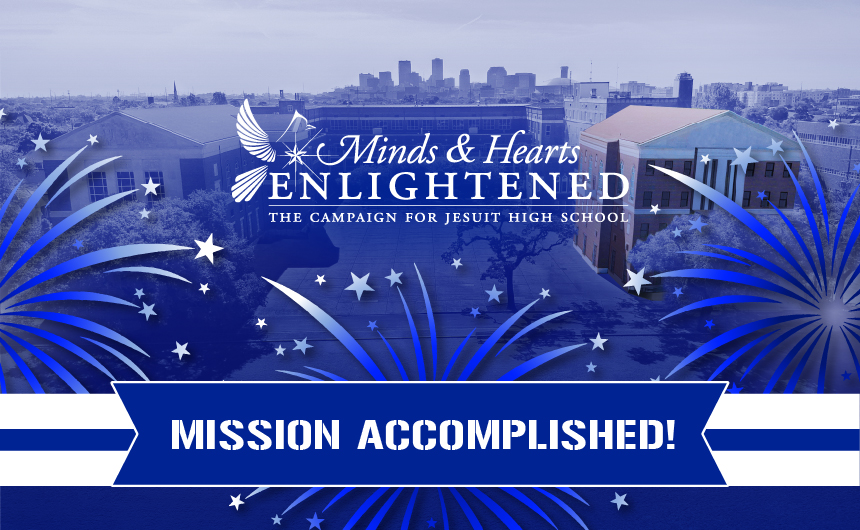 The Jesuit High School community comes through time and time again. This distinction was confirmed on December 31 at the conclusion of the Minds & Hearts Enlightened capital campaign, the most ambitious capital improvement effort in Jesuit's history. Now that the anonymous benefactor has committed the $5 million challenge pledge, the campaign tally stands at $30,285,839 with 1,480 gifts from donors who were inspired to be a part of Jesuit's bright future.
The campaign came to life when then-president Fr. Raymond Fitzgerald, S.J., paved the way for a new strategic plan in 2012. Calling upon hundreds of alumni, parents, faculty and staff members, and friends of the school, Fr. Fitzgerald galvanized a long-range vision that materialized in a renewed master plan. When Fr. Anthony McGinn, S.J., returned as interim president, he initiated a feasibility study to gauge interest and capacity for a campaign to raise funds to realize this vision. Just as Fr. Christopher Fronk, S.J., took the helm as president, the silent phase of the campaign launched and immediately found success from key benefactors. As months progressed, momentum grew as supporters learned about the opportunity to advance the mission of the school that continues to change the lives of so many young men. Now, Fr. John Brown, S.J., receives the mantle as interim president to carry on the legacy of success, to see projects through to completion, and to build upon the personal connections strengthened through the investment of so many stakeholders in the campaign process.
Campaign Leadership
At the top of the list of supporters is the vast number of volunteers who served as campaign leaders. Tremendous appreciation goes to the exceptional team of operational chairs: Liz and Terry Creel, Karen and Peter DeBlieux, Missy and Gerald Duhon '85, Jennifer and Dennis Lauscha '87, and Yvonne and Jeremy Mancheski '90. Also highly treasured for their overwhelming support are the campaign honorary chairs: Gayle and the late Tom Benson, Sue Ellen and Joseph Canizaro, Janet and John Ryan '70, and Paulette and Frank Stewart '53.
These names are just the beginning of the list of those who supported the campaign from an organizational leadership point of view. The National Advisory Board consisted of out-of-state business and community leaders who have expanded Jesuit's footprint nationally for advice and collaboration. Division chairs and teams energized all four gift divisions of the pacesetter phase – Special, Lead, Major, and Leadership. The public phase achieved remarkable success through the work of division chairs and teams in the parent, alumni, and friends divisions, in many cases with volunteers shouldering responsibility for individual alumni classes or parent grade levels.
Current students organized and executed the Hoops for the Holidays basketball tournament, learning the philanthropic lesson that community support can be enjoyable, builds bonds of connection, and leaves a meaningful legacy. The funds raised will be used to restore a statue of St. Ignatius that will grace the new administration building.
All of these stakeholders came together through the coordination and planning of the Internal Campaign Leadership Team, comprised of Fr. Fronk, Fr. Brown, Tom Bagwill (director of institutional advancement), Jason Britsch (campaign coordinator), Jeremy Reuther (communications director), Michael Prados (alumni director), Mat Grau (emeritus alumni director), and Frank Donaldson (campaign consultant – Institute of School and Parish Development).
Local and National Support
Campaign leaders worked tirelessly both locally and nationally to fuel excitement for the campaign. Fr. Fronk and Tom Bagwill traveled with the staff to meet benefactors at receptions hosted in Atlanta, Austin, Chicago, Houston, Miami, New York, and Washington, D.C. Fr. Brown met individually with supporters on a cross-country road trip through the central and southwest U.S. These national benefactors showed tremendous support, as 300 gifts from out of state bolstered the campaign effort by more than $5 million.
Enthusiasm for the campaign was also celebrated locally at events such as the Public Phase Kick-off event and announcement of the two $5 million campaign gifts. Gayle Benson was on hand to celebrate her $5 million gift and returned to campus in August to help dedicate the Gayle & Tom Benson Arena. A spirited campaign rally in the arena also harnessed momentum as Mission: Homestretch kicked off in September.
So much effort. So much enthusiasm. These pistons of the Jesuit support engine carried the campaign through to success. And the fuel that drives everything forward is the fact that the saying "Men for Others" is not just a slogan for posters or booklets. It is lived by so many people who feel a connection to one another through Jesuit High School. They want to see that connection continue through the generations and branch out to the world in service and self-sacrifice. It is a proud moment to celebrate and raise a banner with those four emblazoned letters, A.M.D.G.