Excited Jesuit Community Dedicates Gayle & Tom Benson Arena
Friday, August 30, was a great day to be a Blue Jay!
At a special morning assembly held in the newly-renovated Gayle and Tom Benson Arena, the school community gathered to dedicate the arena in grand style. The assembly welcomed Mrs. Gayle Benson, who was present to visit with the excited students and faculty. Mrs. Benson was joined by Saints and Pelicans team president Dennis Lauscha '87, vice president for communications Greg Bensel '80, and vice president of business operations Steven Pate.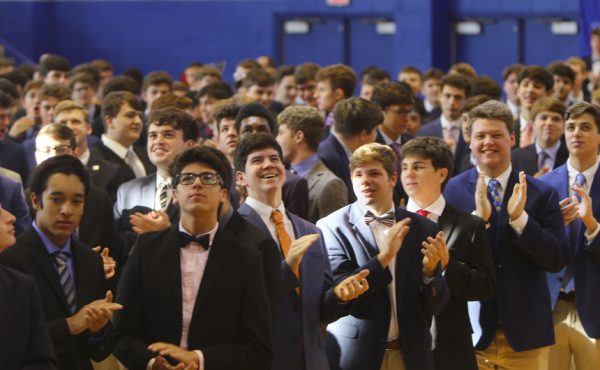 The dedication began with a prayer by senior Myles Gordon, followed by the pledge of allegiance led by the MCJROTC student commander, senior Dylan Blady. After announcements and results, Jesuit president, Fr. Christopher Fronk, S.J., addressed the assembly.
"Jesuit's rich tradition, which spans more than 170 years, tells the stories of thousands of Blue Jays who have lived lives of service to their neighbor and to God. Our school has been and will continue to be an anchor in this community. But I believe our best years are ahead of us. This capital campaign will allow us to reach new heights as a school community."
Fr. Fronk then explained to the students how the improvements were made possible by the $30 million Minds & Hearts Enlightened capital campaign have transformed and will continue to transform the student experience at Jesuit. He highlighted the classroom improvement project, noting how the excellent class setting now mirrors the excellent education that Blue Jays have received for decades. He spoke movingly about the expansion of the endowment, which allows more students to get a Jesuit education through greater access to financial aid. He finally underscored his commitment to safety and security, letting students know how the walkway and new building will fulfill the school's responsibility to keep them safe while they grow into the men God has made them to be.
View the Photo Gallery of the Benson Arena Dedication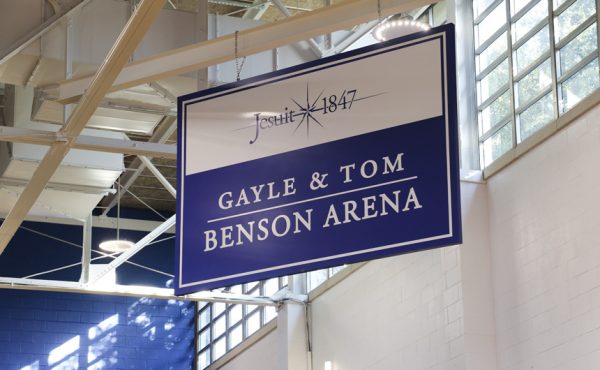 Fr. Fronk then blessed the arena and said a few words to commend the Bensons' leadership in New Orleans. "We hope that the Blue Jays who compete in this arena, who celebrate Blue Jay Spirit in this arena for generations to come will be inspired by the Bensons' legacy of compassion, of steadfast leadership, and of deep faith and trust in God."
Once the Benson Arena sign was revealed to the applause of the crowd, Mrs. Benson address the assembly, saying "While the building now bears my name and the name of my dear husband, what we're really investing in isn't a building at all. It's YOU. It is what happens inside these hallowed halls of Carrollton & Banks that we care so deeply about."
Students responded to Mrs. Benson's message with warmth and deep Blue Jay spirit. The ceremony concluded with a presentation of plaques to the special guests, thanking them for all of the wonderful ways they support Jesuit's mission.