Football Defeats Booker T. Washington 44-14 for Senior Game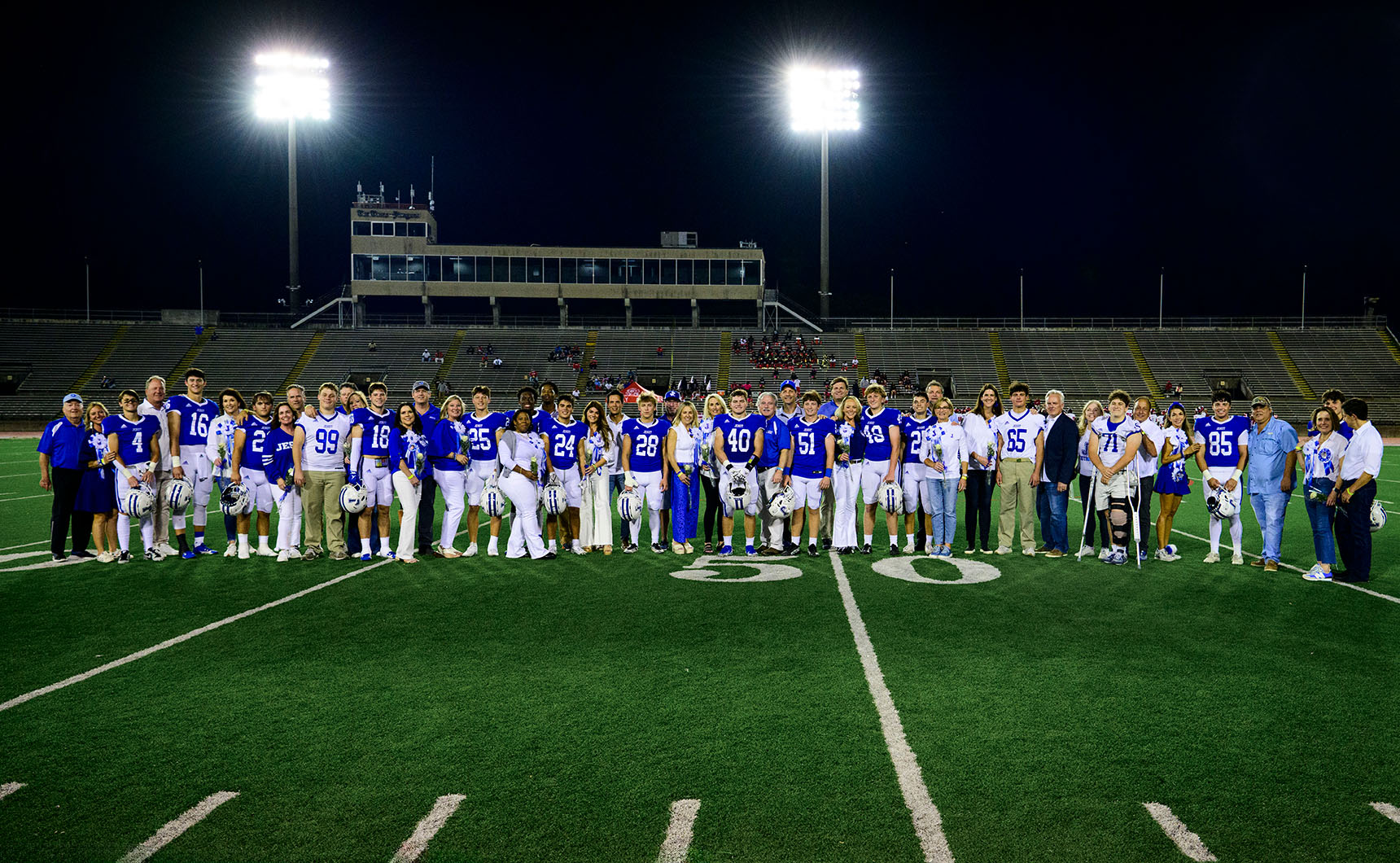 This past Friday night, Jesuit bounced back from an early deficit to earn a commanding 44-14 win over Booker T. Washington at Tad Gormley Stadium. The Blue Jays overcame initial turnovers to capitalize on several key miscues by the Lions, eventually scoring 30 unanswered points that firmly shifted the momentum in their favor. The win capped off a great night for football seniors, who celebrated senior night with their families on the field before the game.
The game began with a surge from Booker T. Washington with a 25-yard touchdown pass followed by a successful 2-point conversion, putting the Lions ahead. However, the Blue Jays quickly responded.
Loading…
After recovering an interception and a fumble from the Lions, Beau Perez, Jesuit's senior quarterback, pulled the Blue Jays within one point with a 14-yard touchdown run. The tides turned further in Jesuit's favor when Booker T. Washington fumbled the subsequent kickoff, giving Jesuit possession at its own 25-yard line. Landon Garcia capitalized on this with a 10-yard touchdown run.
Before the first quarter came to a close, Ethan Cabos added a 37-yard field goal following another kickoff fumble by the Lions. By the end of the second quarter, a 2-yard run by Perez stretched the lead to 23-8 in favor of Jesuit.
In the second half, Patrick Berrigan and Gavin Palmisano contributed with touchdowns of their own, while Brock Prouet capped the win with a 10-yard run into the end zone during the fourth quarter.
Earning a player-of-the-game distinction, Perez showcased his versatility, rushing for 70 yards and two touchdowns on 10 carries while throwing for 117 yards and a touchdown. His stellar performance played a crucial role in securing the win for the Jays.
Coach Ryan Manale expressed satisfaction, particularly for the seniors: "Some things to clean up, but I'm happy for our seniors and getting a win on senior night. All 17 of them got to play, so I'm very happy for that and to win a football game."
Looking ahead, Jesuit is set to face off against the Holy Cross Tigers in the 104th meeting of the schools' storied rivalry. The match will take place this Friday, October 27, with kickoff at 7:15 p.m. Tailgate festivities are scheduled to begin at 3 p.m.