The Rivalry Game: 104th Meeting of Jesuit vs Holy Cross
On Friday, October 27, with kickoff set for 7:15 p.m., Jesuit and Holy Cross will mark the 104th meeting of the two schools' longstanding football rivalry. Begun in 1922, the matchup between the Blue Jays and the Tigers has continued in an unbroken chain for over a century.
The tailgate will take place on the track field just to the north of Tad Gormley Stadium.
Crescent City Sports is producing a live broadcast of this evening's Jesuit-Holy Cross game for the 12th consecutive year.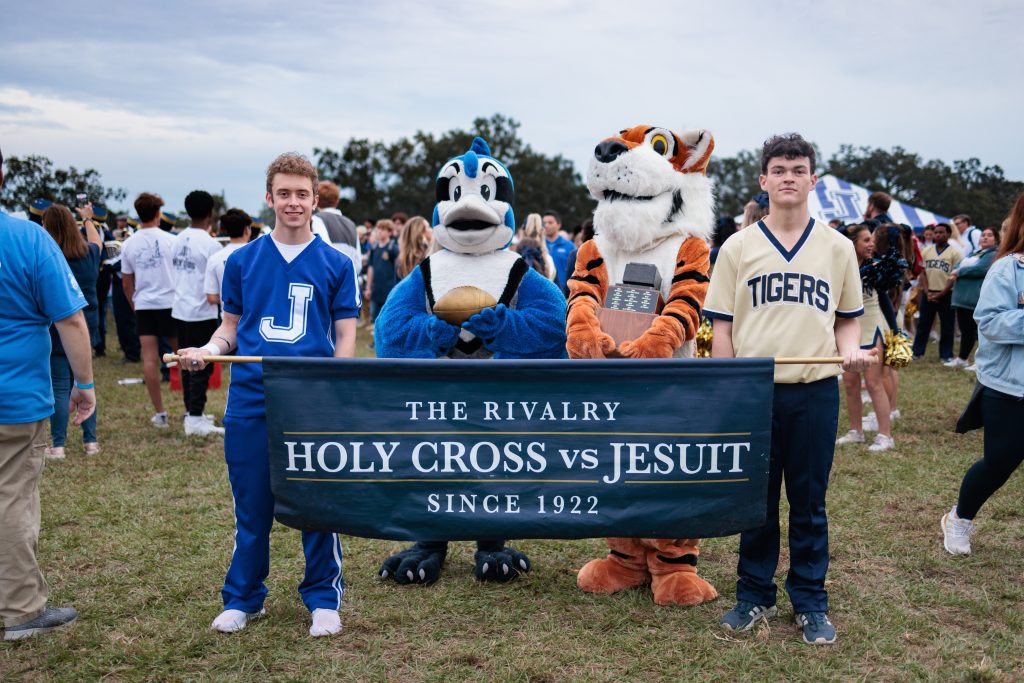 With thousands each year in attendance of the game and the tailgate, fans should observe the following policies:
Fans are STRONGLY ENCOURAGED to purchase tickets ahead of time at Jesuit. Doing so prevents fans from waiting in line at City Park. Note that Jesuit retains all revenue from pre-sale ticket purchases. Pre-sale tickets are on sale from 7:30 a.m. – 3:30 p.m. at the front desk for $8 for adults and $3 for children 6–11, cash or check. Tickets will be available at the game for $10, cash or credit card.
All fans and tailgaters are encouraged to set up in the tailgate tent area below to participate in the festivities. The tailgate officially begins at 4 p.m., but fans are free to set up their tent and area before this time.
Join us at the blue and white tent to enjoy hamburgers and hot dogs prepared by Jesuit's Sodality and jambalaya prepared by MCJROTC. Pigeon Catering will be on site serving fans as well.
Music will be provided from the indicated stage, and both the Jesuit and Holy Cross Bands will be parading on the red line indicated on the map.
Parking is available on Roosevelt Mall (see the map below). Parking is prohibited on the Marconi Drive neutral ground and in some areas along the drive. The City Park lot on Marconi will open at 4 p.m.
In keeping with all football games this season, no paid parking is available inside of Tad Gormley Stadium.
Parking violators will be ticketed and possibly towed.
All bags will be individually checked. Attendees are encouraged to use clear bags to expedite their entry to the stadium.
All fans will be individually "wanded" upon entry to the stadium.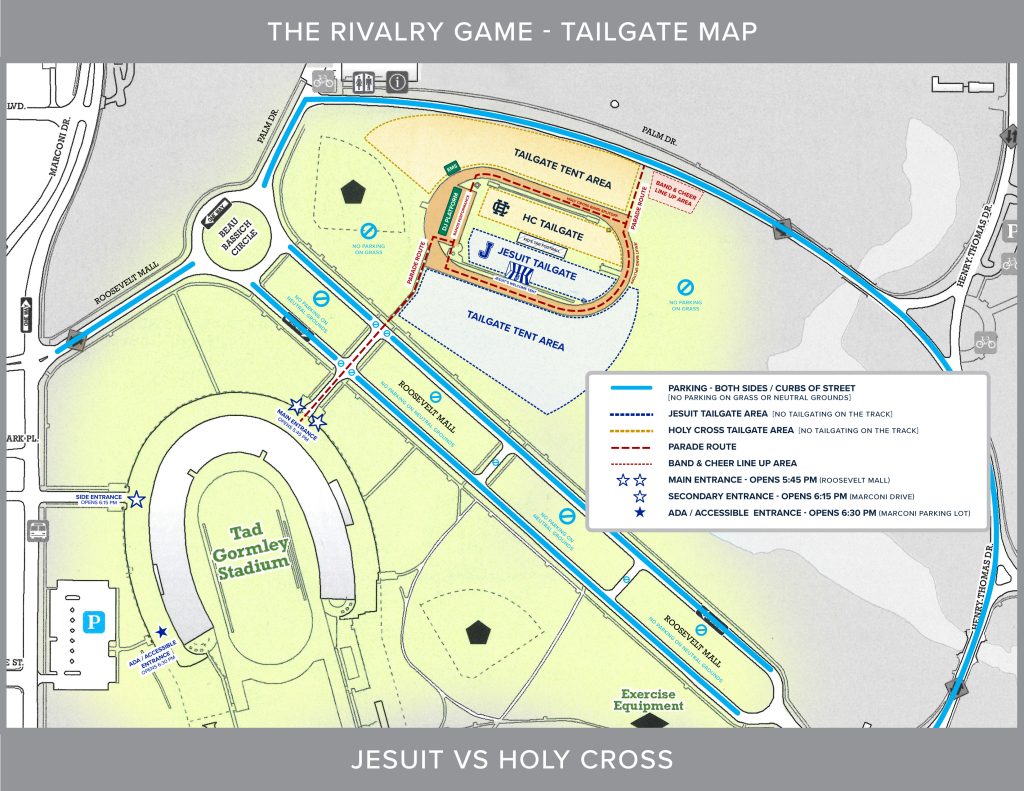 The largest crowd ever to see a football game at City Park, 34,345, surround the November 24, 1940, action between Jesuit and Holy Cross for the city championship. Jesuit won the clash, 25-7