Alumni Homecoming Brings Together Jays of All Ages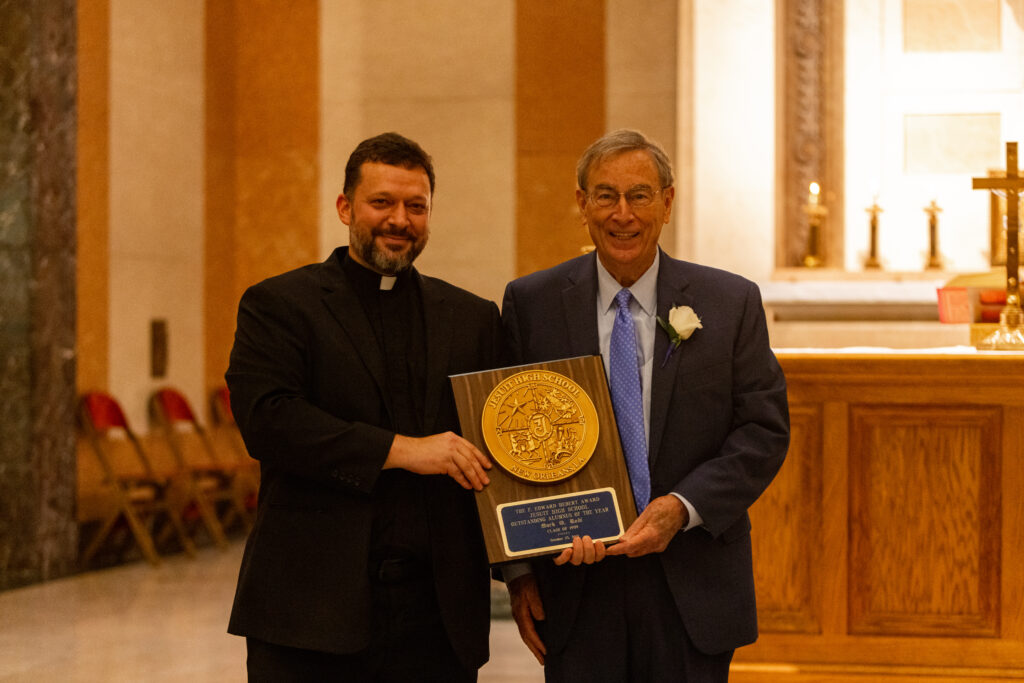 For the first time since 2019, Jesuit Alumni Homecoming started in the Chapel of the North American Martyrs with beautifully sung hymns and ended in Jesuit courtyard with conversations about old times and new beginnings over oysters and drinks.
On Oct. 23, 2021, classes from the late 1940s to the late 2010s enjoyed familiar and new sights such as the renovated cafeteria. The magic of the evening started in the most sacred place on campus: the large chapel.
Jesuit president Fr. John Brown, S.J., celebrated the Mass and ended it by presenting the F. Edward Hebert Award to Mark Rodi '59, signifying his place as the 2021 Alumnus of the Year . Rodi delivered a speech that left those gathered wiser and more hopeful than when they arrived. Rodi humbly thanked those who had assisted him along the way, including his father and former alumnus of the year Stephen Rodi '32, and the school that laid the foundation for his success.
"Firstly, I want to thank my dad," Rodi said. "When he retired, he volunteered at the Jesuit alumni office and then for 20 years at Boys Hope Girls Hope. He always reminded me: give back.
"I thank Jesuit High School for this honor and for instilling in me, in previous generations of men, and continuing to instill in the young men who walk these hallowed halls, including my own grandsons, the importance of what it means to be 'A Man for Others.'"
After Rodi finished his address, the large crowd moved to Traditions Courtyard and the Student Commons where they enjoyed a delicious assortment of food, provided and served by Acme Oyster House (Mike Rodrigue '71) and Drago's (Tommy Cvitanovich – a parent of two Blue Jays).
Jesuit thanks every Blue Jay who returned to his alma mater for, once again, a special Saturday night.