Senior Milan Mardia Earns Top Score on ACT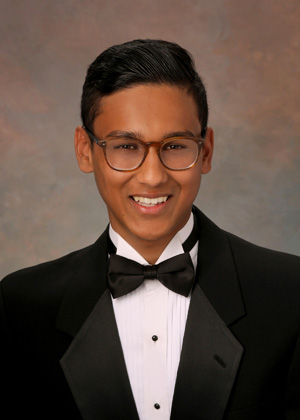 Milan Mardia, a member of the Class of 2020, earned the highest possible composite score of 36 on the ACT ® test he took in June. Mardia, who attended Haynes Academy and Metairie Academy for Advanced Studies before moving to Jesuit, is the son of Sudha and Manish Mardia. He is the fourth member of the Class of 2020 to score a 36 on the ACT. Tom Levy, Dominic Stoner, and William Wells were recognized for the accomplishment last year.
At Jesuit, Mardia is the captain of the debate and academic games teams. As captain, he leads two top-tier programs that are poised to continue last year's successes. Along with classmate Aqib Zakaria, Mardia won the public forum division at last year's Benjamin Franklin Speech & Debate Invitational. For his achievements, he was honored with the Felix J. Herbert Memorial Award for Public Debate in the Junior Division and the John D. Schilleci Memorial Award for Elocution in the Senior Division at Jesuit Awards Night. Marida was also a key player on the last year's academic games team that made a fantastic run, competing all the way to a 2nd place finish at nationals in Orlando.
Mardia is also the executive aide for Mu Alpha Theta, is a member of National Honor Society and Model UN, and has participated in the tennis and track teams at the junior varsity level. He placed 4th at the Mu Alpha Theta state convention in the Alpha division individual test and won won outstanding delegate at the Tulane Model UN Conference. He is also a National Merit Semifinalist.
Although his career at Jesuit is peppered with outstanding achievement, Mardia does not limit his talents to activities at Carrollton and Banks. He has a passion for coastal restoration, especially in the application of technology to solve today's challenges. He was invited to present to the board of the Coastal Protection and Restoration Authority on combining artificial intelligence with coastal restoration and in November will speak on Delta Dispatches, a podcast hosted by Career Day speaker and Jesuit alumnus Jacques Hebert '03. Over the summer, he took a course on machine learning through Stanford University to gain more knowledge on the uses of technology for coastal restoration. Clearly, this Blue Jay is a man of amazing talent who knows that his abilities are best put to use when shared for the good of others and for the world.
---
The ACT consists of tests in English, mathematics, reading and science, each scored on a scale of 1–36. A student's composite score is the average of the four test scores.
On average, less than one-tenth of 1 percent of students who take the ACT earn a top score. In the U.S. high school graduating class of 2018, only 3,741 out of nearly 1.9 million graduates who took the ACT earned a composite score of 36. Mardia's achieved the top score of 36 on his second attempt. He had scored a 35 on the test he took the summer between his sophomore and junior years.