Mu Alpha Theta Competes in State Convention, Finishes 3rd Overall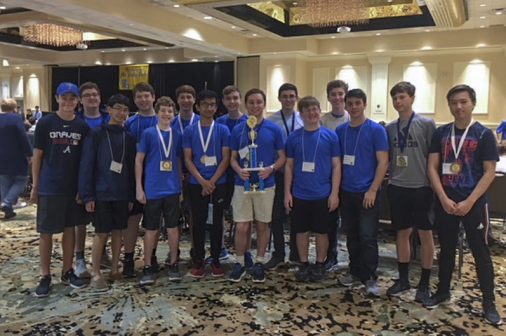 Jesuit's Mu Alpha Theta team competed in the Louisiana Mu Alpha Theta (LaMAΘ) State Convention on the weekend of April 12-13 in Baton Rouge. With more than 30 schools and 800-plus students competing, the Blue Jay team earned third place in the Overall Sweepstakes.
The Jays were led by MAΘ Board members Bradley Fugetta, Matthew Vlosich, Jack Zvonek, Lucas Deane, and Christopher Vuong. The Mu Alpha Theta Team was accompanied by math/science teachers Mrs. Kate Brauner, Mrs. Leslie Merritt, Mrs. Yvonne Leger, Ms. Khanh Nguyen, Mr. Paul Rogers, and Mr. Darryl Roule .
Results for those who finished in the Top 5 of their respective events:
Area Tests
Theta Geometry
Dylan Bracey (5), Luc Carriere (1)
Alpha Advanced Math
Darren Tsang (2)
Potpourri
Bradley Fugetta (1)
Individual Tests
Theta Geometry
Matthew Vuong (5), Ryder Naquin (4), Nicholas Nobile (2)
Theta
Jason Ha (4), Hunter Richardson (3)
Alpha
Milan Mardia (4)
Scholarship
Christopher Vuong (4)
Interschool Test
Theta

– 1st

Alpha – 3rd

Mu – 4th

Math Bowl
Theta
1st (Hunter Richardson, Garrison Trahant, Nicholas Nobile, Marcelo Torres)

3rd (Shreyash Singh, Jason Ha, Connor Myers, Matthew Vuong)

5th (C Louis Bercaw, Luc Carriere, Khoi Vu, Dylan Bracey)

Connor Myers (top cipherer)
Alpha
1st (Christian Nguyan, Dylan Sellars, Tom Levy, Jesuit Bercaw)
Mu B
3rd (Matthew Dowling, Matthew Vlosich, Tyler Lobitz, Jonathan Sanders)
Descartes
Alpha
Jonathan Tittle (2), Milan Mardia (3)
Theta
Michael McGoven/Brett Steele (5)
Alpha
Frederick Junius/Dominic Stoner (1)
Mu B
Bradley Fugetta/William Schott (5), Christopher Vuong/Aidan Walker (4)
Hustle
Josef Ernst, Alec Scheffler, Aqib Zakaria, Michael Melancon (3)
The Interschool Test, which the Blue Jays won, is the oldest event of the convention and "should give your team a sense of school spirit," as the Louisiana Mu Alpha Theta test descriptions say. There are three divisions: Mu, Alpha, and Theta. Students may compete at their level or higher.