The 100th Meeting: Rivalry Week Additional Details

WATCH LIVE!
The 100th Meeting of Jesuit vs. Holy Cross
Great American Rivalry
October 4, 2019
Presented by:


---
UPDATES (NEW!)…
Crescent City Sports (CCS) will broadcast the game live from Tad Gormley. Tune in on CST (Cable Channel 37) or…
Great American Rivalry Series (GARS) Live will also be streaming the game via Facebook Watch, beginning 15 minutes before kickoff. GARS Live will be posting exclusive content around the game in a public Facebook Group. Fans from both schools will be able to share their own photos and posts to the group.
In anticipation of larger crowds, the Jesuit tailgate site this year is located on the back side of Tad Gormley Stadium on Roosevelt Mall. The tailgate begins at 4 p.m. with complimentary food and refreshments offered until the Krewe of Rivlary Parade at 6:15 p.m. There is no parking on Roosevelt Mall within the tailgate zone. Cars parked in the tailgate zone are subject to being towed.
Alumni classes, student groups, and families are welcome to set up their own tailgating tents in the area outlined in the schematic.
RIVALRY LINKS…
GAMEDAY DETAILS…
Festivities: Rivalry Tailgate, Parade, and Schedule of Events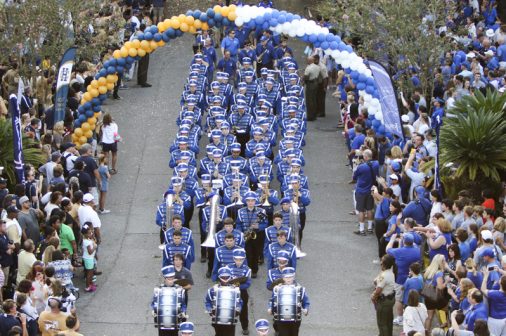 The festivities for the 100th meeting of Jesuit and Holy Cross will start at 4:00 p.m. on the back side of Tad Gormley Stadium on Roosevelt Mall. Blue Jay fans will begin to enjoy the Rivalry Tailgate that begins with complimentary food and refreshments and ends with the Krewe of Rivalry parade (6:15 p.m.) into the stadium. Jesuit families should meet at the blue and white tent where complimentary hamburgers, hot dogs, and soft drinks will be served. Rivalry t-shirts will be on sale inside the tent, and Jesuit's Student Council will be on hand hosting fun events filled with Blue Jay Spirit.
At 6:15 p.m., the Krewe of Rivalry Parade will be led by Jayson and Holy Cross's Thunder the Tiger. The parade will feature each school's marching band, cheerleaders, dance team, and this year's alumni honorees. Attendees are strongly encouraged to find their seat in Tad Gormley Stadium before 7 p.m. in order to enjoy the recognition of the Scholar Athlete and the Distinguished Military Alumnus. This ceremony will take place moments before kickoff.
In between quarters Jesuit's Alumni Cook-off Champion will be announced and the Royal Honda Community Service Award will be presented to both school recipients. At halftime, both schools will honor their Legends of the Game, the 1969 Football Teams of Jesuit and Holy Cross.
QUARTERBACK CLUB…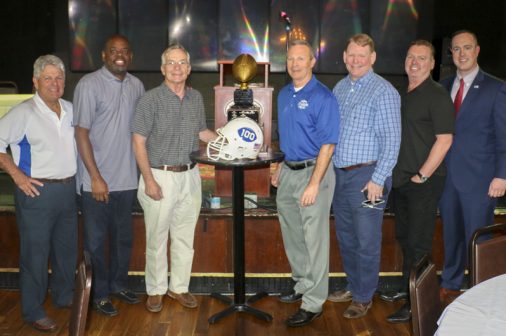 The Greater New Orleans Quarterback Club, presented by Home Bank, met during Rivalry Week to hear from special guests and from the Jesuit and Holy Cross head football coaches, Mark Songy and Guy LeCompte. Other Blue Jays and Jesuit administrators in attendance were the following: athletic director Dave Moreau, former Jesuit quarterback Kurt Forshag '70, former alumni director Mat Grau '68, Home Bank president John Zollinger '85, Glynn Cyprien '85, and Greater New Orleans Sports Foundation members Mickey Parenton '84 and Renny Simno '94.
View the Photo Gallery from the QB Club Luncheon
Coach Songy's Quotes: QB Club Luncheon, Tuesday, Oct. 1, Rock N' Bowl (FULL STORY)
"It's a really great event for high school football. If you haven't been there, it's a lot of fun," said Coach Mark Songy. "I joke with people that we're going to a parade and a high school football game breaks out. Our kids do a really good job of blocking out the distractions that come with it, but enjoying the distractions as well."
Holy Cross head coach Guy LeCompte: "I'm learning as I've gone through the importance of the rivalry. I'm humbled and honored to be part of it."
---
FUN FACTS ABOUT THE GAME…
Both teams from 1969 will be honored as Legends of the Game.
The 1969 meeting (won by Holy Cross, 3-0) was the last time both teams entered the game ranked #1 and #2 in the state.
The 1969 meeting was played on October 4, 1969. Friday night is the 50-year anniversary to the date of the game.
This year's game is the 100th meeting between Jesuit and Holy Cross.
This year's game is also the 80th anniversary of the first time the two schools played at Gormley. Prior to that, the games in the series were played at Heinemann Park (Pelican Stadium) and Loyola.