Alumni Homecoming Celebrates Hundreds of Blue Jays, One in Particular
Blue Jays who graduated in the 1940s and the 2010s and everywhere in between returned to Jesuit for the 2019 Alumni Homecoming Mass & Reception on Saturday, Sept. 14. More than 600 people—graduates, spouses, and guests—attended the complimentary alumni event, filling the Chapel of the North American Martyrs for Mass.
Before Mass, the golden and silver anniversary classes were honored through a special procession. The Class of 1969 received commemorative 50-year diplomas from Jesuit president Fr. Christopher Fronk, S.J., and the Class of 1994 were presented their special 25-year pins.
As if those in attendance had not already felt the camaraderie that Jesuit creates within us—from the honoree classes carrying the banners and leading the celebration, having alumni chaplain and main celebrant Fr. Paul Shaughnessy, S.J. share stories from his new perspective, and the diverse age groups of alumni coming home to Carrollton and Banks—the entire congregation was shown what it means to be a Blue Jay when Claiborne Perrilliat '62 took to the lectern. The 2019 Alumnus of the Year gave an emotionally powerful address after receiving the well-deserved F. Edward Hebert Award, a handsome plaque commemorating the honor.
Watch the Video of Claiborne Perrilliat's Alumnus of the Year Address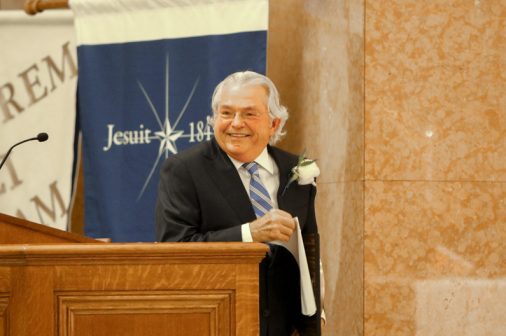 Perrilliat on what Jesuit means to him: In my sophomore year, my friend, Max Reichard, approached me and asked me if I might be interested in joining the Sodality. After he explained the purpose of the sodality and its benefits, I gladly accepted. My first assignment was to go to Crippled Children's Hospital, as it was called then (known today as Children's Hospital). My assignment was to feed dinner once a month to a quadriplegic child. These children could not move any of their limbs. This was truly a life influencing reality which I still recall to this day! 'There but for the Grace of God, go I.'
Perrilliat on how ROTC discipline prepared him: Following graduation from the University of Notre Dame, I served my country for 6 years as a logistics officer in the U.S. Air Force serving a tour of duty in Phu Cat, Vietnam…my Jesuit education and training set the seed for the volunteer work I have done and continue to do. Perrilliat's Biography
"I cannot close these remarks without mentioning the most significant influence in my life at Jesuit High School," Perrilliat said before pausing to collect himself, "the Jesuits priests and scholastics! I am most grateful for the commitment and guidance they gave me as a student and the continued support I receive from the Jesuits today."
View the Mass & Reception Photo Gallery!
After a loud and proud standing ovation, the large crowd moved to Traditions Courtyard and the Student Commons where they enjoyed a delicious assortment of food, graciously donated and served by Acme Oyster House (Mike Rodrigue '71) and Drago's (Tommy Cvitanovich – a parent of two Blue Jays). The menu included char-grilled, char-broiled, and raw oysters, fried shrimp, seafood pasta, and gumbo among other offerings. Libations were well coordinated by volunteer Patti Mahoney and Jesuit's volunteer coordinator Maura Owers.
Decorations and lighting were expertly coordinated by D.J. Galiano '07 and the maintenance and facilities staff. Members of Jesuit's MCJROTC program, under the direction of Major Jarrod Friloux, USMC (Ret), assisted with parking. Alumni director Michael Prados '83 welcomed everyone home to the event that he and members of the advancement office planned and worked to completion.
"That is what Jesuit is all about…" said a reception attendee after Perrilliat's address, "…raw emotion from a proud Blue Jay." Jesuit thanks every Blue Jay who returned to their alma mater for, once again, a special Saturday night.