Trosclair Travels: Eight Countries in Five Weeks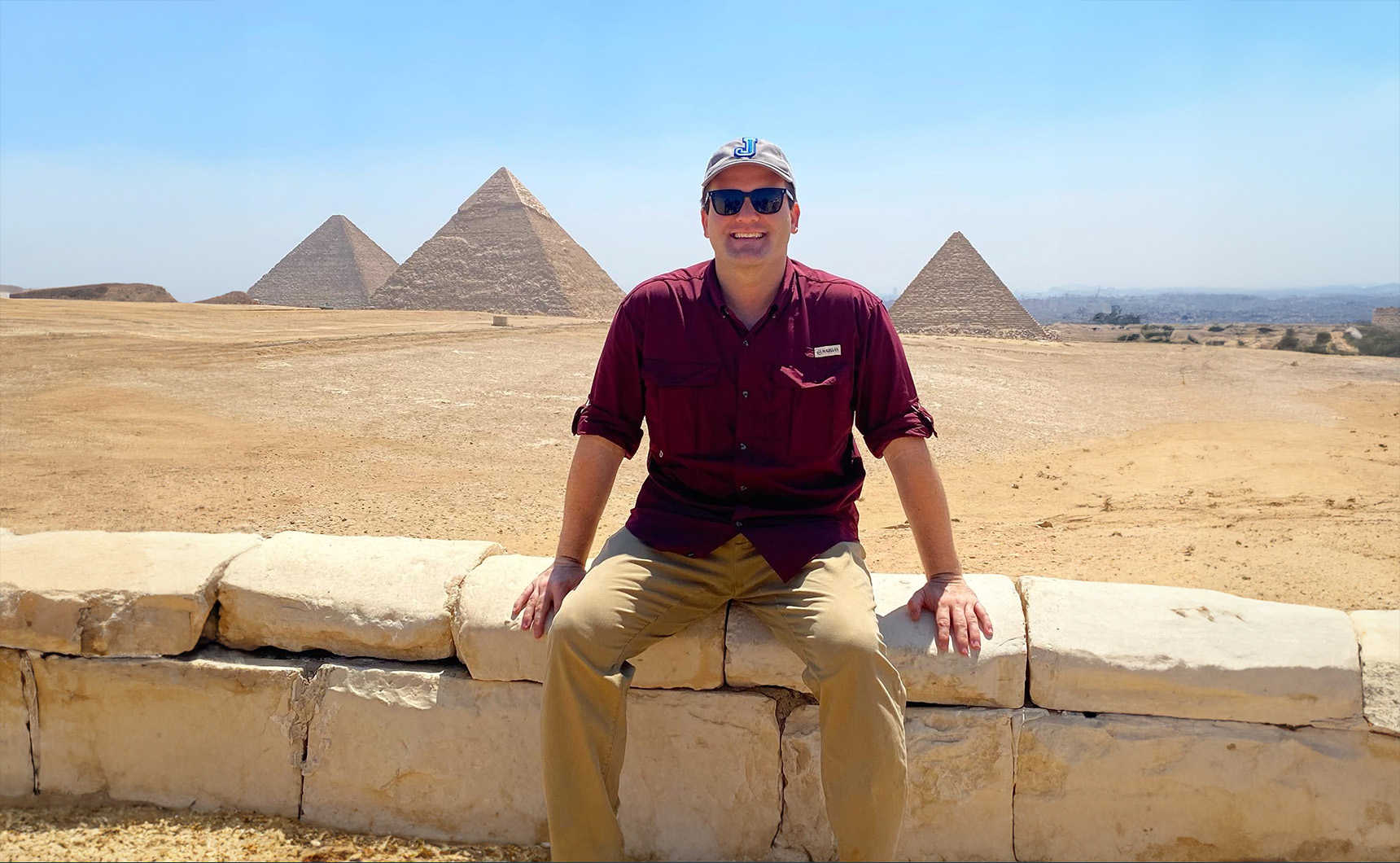 Following his participation last summer in a study tour for teachers in Uzbekistan and Tajikistan, social studies teacher Wade Trosclair '07 globetrotted once again this summer thanks to a couple of educational travel opportunities for teachers.
In March, Trosclair was selected by the University of Pittsburgh's European Studies Center to participate in its Brussels-Lux Study Tour. Funded by the U.S. Department of Education, this week-long tour brings teachers to Brussels, Belgium every summer to gain first-hand knowledge about the European Union and Europe today.
In June, Trosclair joined almost 30 other American K-12 and community college educators in the Belgian capital where they visited the various EU institutions located there. At the European Parliament, the Commission, the Council, and more, they heard from officials and representatives of these institutions who talked about the EU, contemporary issues, and the work they do.
The tour also included visits to EU exhibitions and museums and a day trip to the small country of Luxembourg to visit the European Court of Justice. The highlight for Trosclair was being able to visit NATO headquarters where the group met American diplomats who talked about the transatlantic alliance and what they do at its massive complex in Brussels.
Trosclair then flew straight to Cairo leveraging a $1,000 grant from Columbia University's Middle East Institute to help cover the costs of a GEEO tour of Egypt. GEEO is a nonprofit organization that partners with travel company G Adventures to provide affordable tours for teachers so they can experience the world and bring it back to their classrooms.
With 10 other American educators, Trosclair traveled for twelve days throughout Egypt, from the Mediterranean city of Alexandria in the north to the Nubian town of Aswan in the south. Along the way the group got to see plenty of ancient pyramids, tombs, temples, and artifacts, many of which Trosclair has been showing and teaching about for years in his Western Civilization course. While major sights like the Pyramids of Giza, the Abu Simbel Temples, and the Valley of the Kings were all impressive, Trosclair especially enjoyed the lesser-known sights, a two-day scenic cruise down the Nile, and getting to better know the modern-day people and country of Egypt.
Bookending both of these back-to-back programs, Trosclair was able to work in some independent travel. He arrived early in Brussels where among other things he toured St. John Berchmans College, a fellow Jesuit high school. He also took day trips from the Belgian capital to London, Paris, Aachen (Germany), Ghent (Belgium), Rotterdam, and Gouda (both in the Netherlands). After Egypt, he spent five days in Istanbul, Turkey exploring the ancient city, touring Byzantine and Ottoman sights, and relishing a relaxing cruise up the Bosphorus Strait to the Black Sea.
Trosclair greatly appreciates these educational opportunities that allowed him to travel abroad for five weeks this summer and visit 8 countries in total.
"I got to see and experience tons of places and things I've been teaching about for nine years now, and I learned a bunch of new things I can bring back to my classroom," Trosclair reported. "I'm very much looking forward to sharing my experiences with my students this coming school year."
For more about Trosclair's international adventures, check out his Instagram account @trosclairstravels, which he created so Jesuit students could follow his travels this summer. Also, look for an article in the upcoming edition of Jaynotes about a particular aspect of his journey.
---
Trosclair's trip was supported in part by the Athanasius Kircher Fund, an initiative that enables Jesuit faculty members to pursue educational opportunities at the intersection of their own content area and Catholic identity. If you are interested in supporting the Kircher fund, please contact Christian Bautista '06, Jesuit's director of institutional advancement.