Social Studies Teacher Wade Trosclair '07 Participates in a Fulbright-Hays Study Tour of Central Asia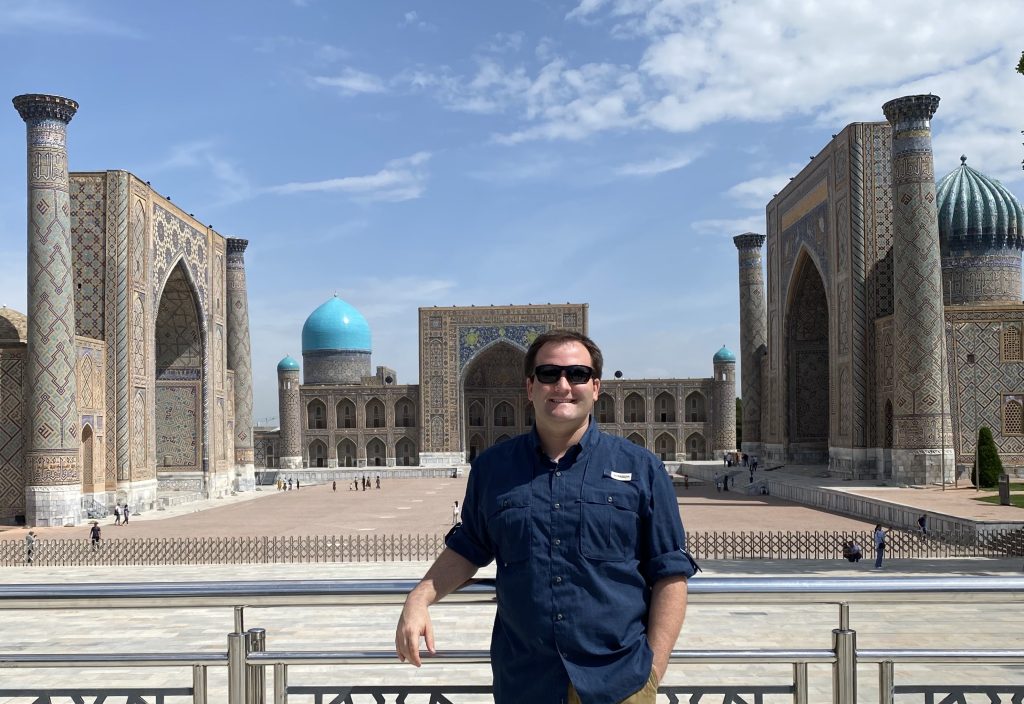 Shortly after the 2021-2022 school year concluded, social studies teacher Wade Trosclair '07 took off to the other side of the planet for a four-week tour through the countries of Uzbekistan and Tajikistan. Funded by a Fulbright-Hays Group Projects Abroad grant from the U.S. Department of Education and organized by the University of Arizona's Center for Middle Eastern Studies, the trip's objective was to introduce a group of 12 teachers to the history and culture of Central Asia so they could then develop lessons plans that not only they, but also other U.S. teachers, can use to help educate students about this unique region of the world.
Trosclair, who enjoys traveling and bringing his experiences abroad back to his classroom, became interested in this educational travel opportunity in the summer of 2020 after teaching AP World History for the first time.
"Central Asia is a region I admittedly knew nothing about, and it's not an area of the world most Americans are familiar with, yet it has played a major role in world history so I figured applying to this program would be an excellent way to learn about it," Trosclair writes.
That fall, he was selected to join this curriculum development program's diverse cohort of teachers from throughout the United States, but the trip—which was originally supposed to take place in June 2021—was delayed to this summer due to COVID.
"I'm so grateful to have ultimately had this opportunity to experience this part of the world," he notes. "It was my first trip to Asia, my first trip to Muslim countries, and my first international trip since before COVID, and I learned a lot from being on the ground that I'm excited to share with students."
For the first three weeks of June, Trosclair and the other teachers got to know the country and people of Uzbekistan, which for most of the 20th century was a part of the Soviet Union. They spent time touring the fabled cities of Tashkent, Bukhara, Khiva, and Samarkand, all of which once sat along the center of the Silk Road, the famous trade routes connecting Europe and Asia that made these cities wealthy and powerful for well over a thousand years until European-led sea-based trade caused their decline after 1500. The group not only spent time in those historic cities seeing the many beautiful blue-tiled mosques, minarets, mausoleums, and madrasas (schools), but they also ventured into Uzbekistan's Kyzylkum Desert, spent the night in a yurt, and hiked up to the ruins of ancient fortresses. Throughout their journey, Trosclair and his fellow participants were guided by local Uzbek historians, teachers, and archeologists. They also got to meet musicians, craftspeople, teachers, and students and to tour a secondary school and two universities.
During the fourth and final week of the trip, the group visited Tajikistan—another Muslim, Central Asian country and former Soviet republic—where they hiked in the mountains, visited ancient ruins, and toured the cities of Dushanbe, Panjakent, and Khujand. It was in Tajikistan that the participants got to practice speaking Tajik, a dialect of Persian they had been learning before and during the trip as a part of the Fulbright-Hays program. The overarching theme of the trip was "Interactions in the Persianate World," which can be defined as the diverse societies stretching from Constantinople to Delhi (including Central Asia) where for centuries Persian language and literature were used by the elite. Today known as Farsi, Persian is the language of Iran, but dialects are also spoken in Afghanistan (Dari) and Tajikistan (Tajik). While Persian is written with an Arabic-based script, the Soviets produced a Cyrillic-based alphabet for Tajik that is still used today.
That fact speaks to what Trosclair found most interesting on his journey through Central Asia: just how much the region has been influenced throughout history by its neighbors and their cultures. What was fascinating, however, also turned out to be familiar.
"It wasn't until after a couple of weeks in Uzbekistan that I realized how similar Central Asia is to South Louisiana: both regions are melting pots where different cultures live side by side and borrow from one another and the peoples of both regions greatly value hospitality, family, food, music, and dancing."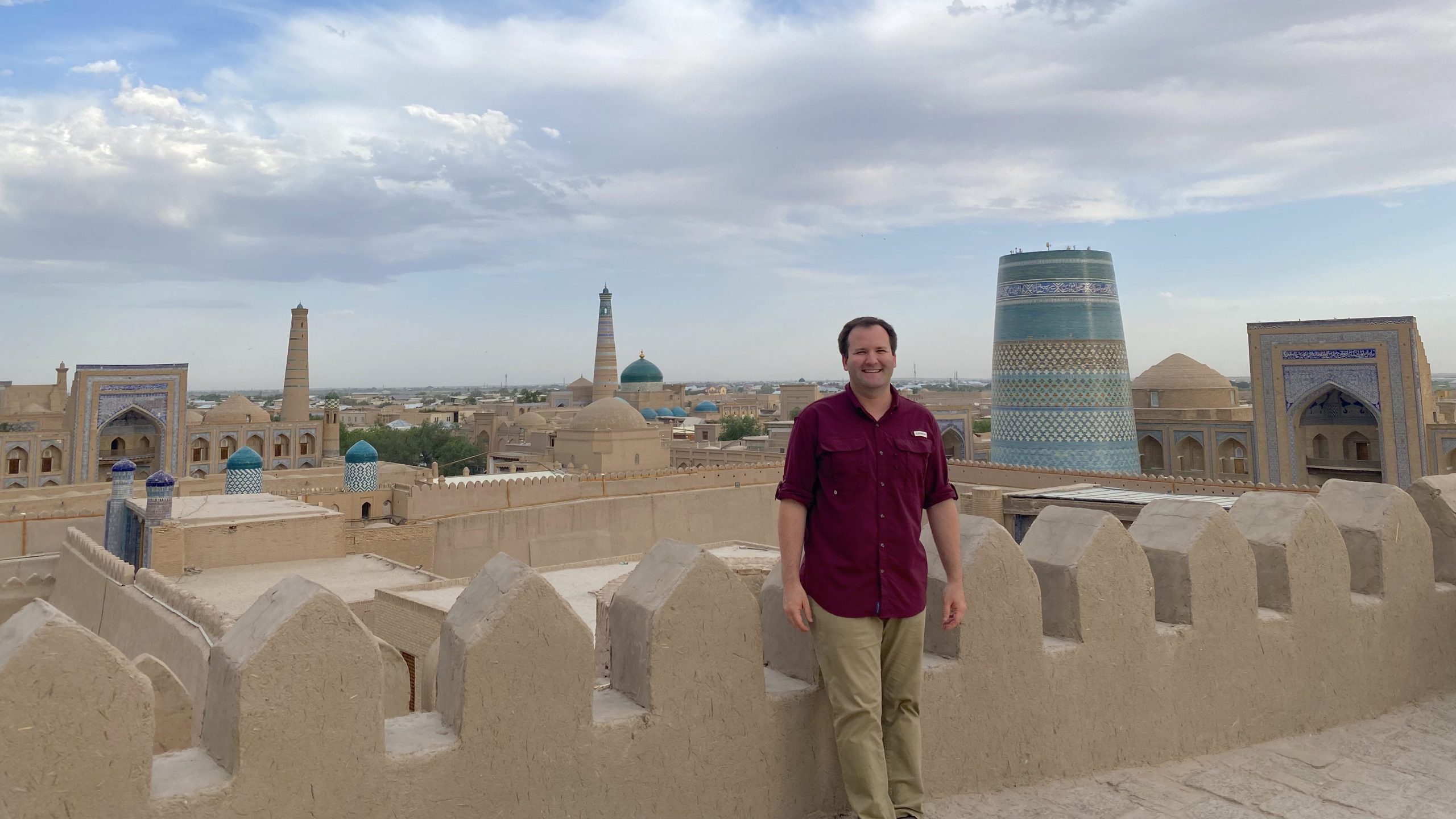 On the return journey home to the United States, the group missed a connecting flight in London and had to spend a day and a half in the British capital. For Trosclair, this was a lemon he was more than happy to turn into lemonade. "For years I've been showing and discussing numerous artifacts and paintings in my classes that are today in the British Museum and the National Gallery, and so I had the unexpected opportunity to not only see those things in person for the first time, but to also see even more things I'm now bringing back to my students' classroom experience beyond what I had already gathered in Central Asia."