Three Graduates from the Class of 2023 Achieve Eagle Scout Rank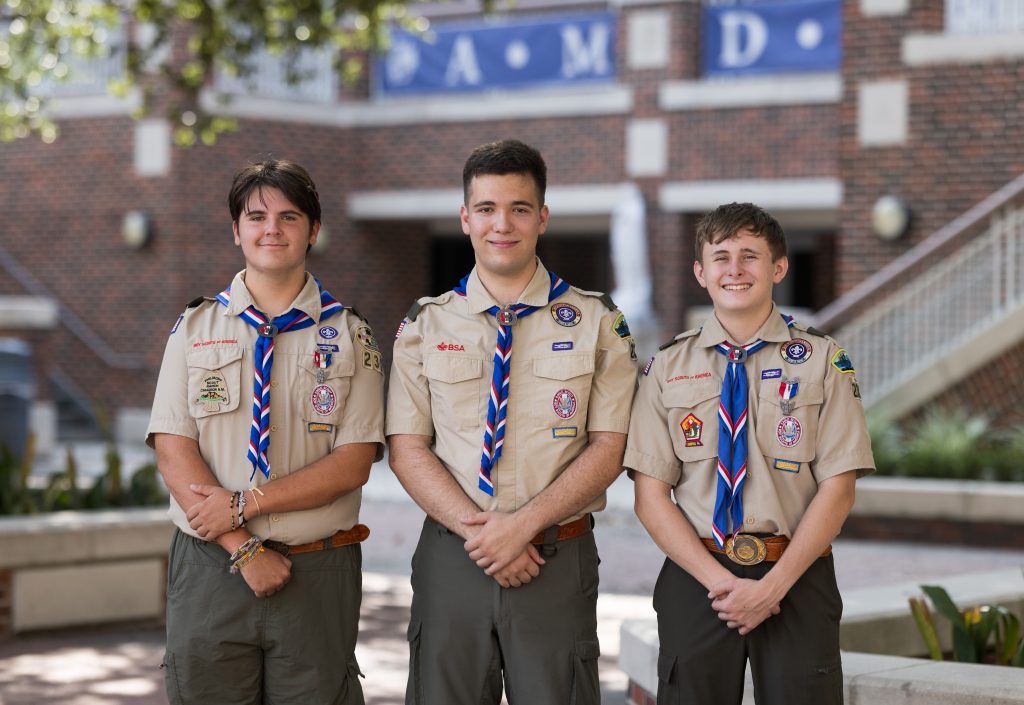 Three Jesuit Class of 2023 graduates—Scot Fisher, Hayden Caron, and Philip Zazulak—received the rank of Eagle Scout this spring. Eagle Scout is the highest achievement or rank attainable in the Scouts BSA program of the Boy Scouts of America (BSA). Scouting BSA hopes to create leaders that develop a love of service through volunteering in one's community much the same as Jesuit encourages servant leadership as men for others.
Achieving the Eagle Scout rank, scouts need to accumulate at least 21 merit badges that revolve around concepts of citizenship, family, personal responsibility, preparedness, physical fitness, and outdoor skills. Additionally they must plan, develop, and lead a service project—the Eagle Service Project—that demonstrates both leadership and a commitment to duty. After all requirements are fulfilled, scouts finalize it with a lengthy review process.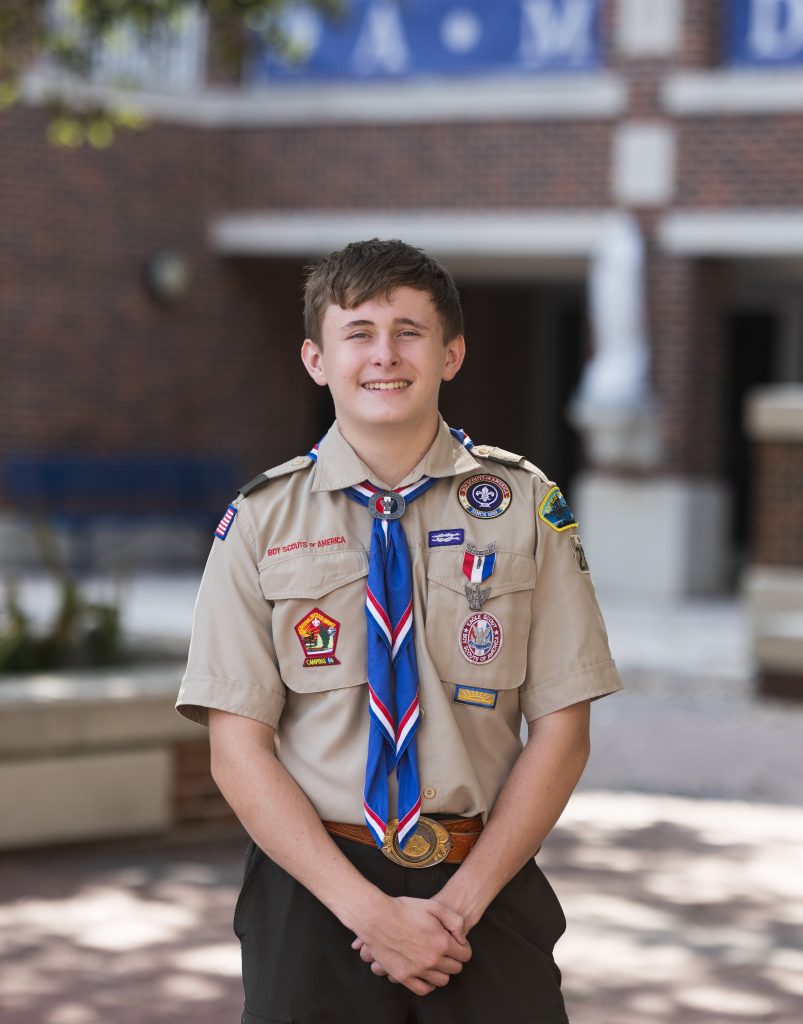 Scot Fisher '23 achieved his rank in November 2021, obtaining 45 badges. Fisher planned, organized, and led a pet food and supplies drive for the homeless pets in our community for the Metairie Humane Shelter for his Eagle Service Project. Due to COVID 19, the shelter was not able to have their normal fundraisers, so their supplies were diminishing. Fisher's compassion for the helpless pets led his strong desire to support the needs of the shelter. It was through scouting that he discovered his love for volunteering in the community. Fisher was a member of the Jesuit marching band and pit captain for concert band. Fisher remarks, "It's more than just scouting, its a brotherhood." Fisher will continue on to the University of Alabama in the honors college this fall to focus on Mechanical Engineering and be part of the German Student Exchange Program.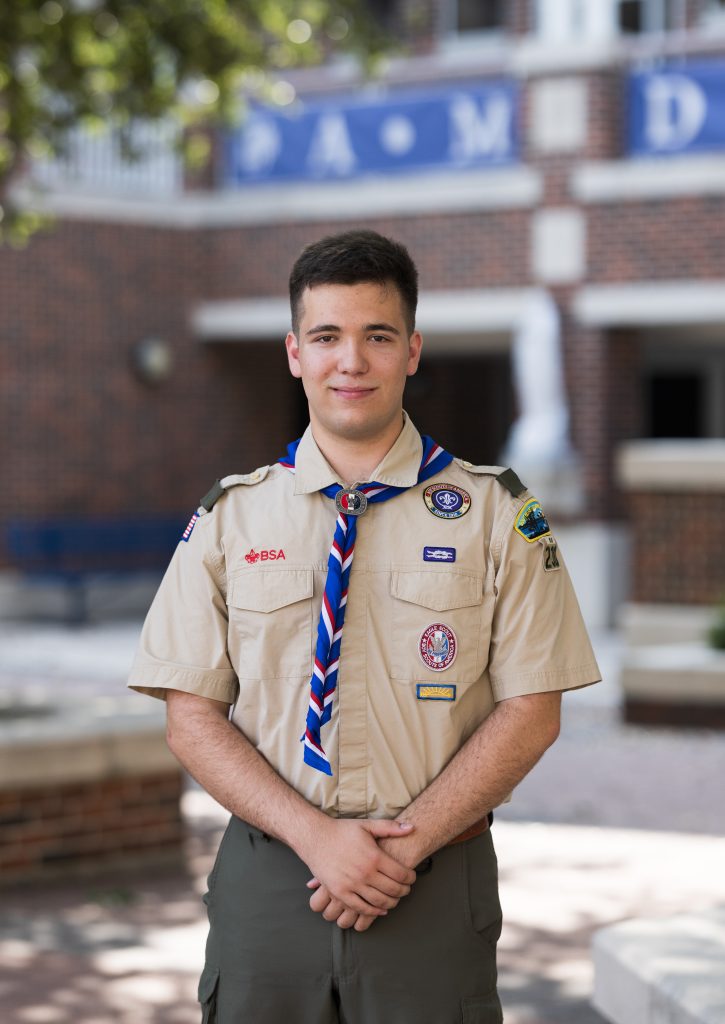 Hayden Caron '23 began his scouting journey with Pack 70 while at St. Francis Xavier. Caron achieved his rank in October 2022, acquiring 30 badges. For his Eagle project, Hayden created "Glorious Gardens," a sensory experience for three local Volunteers of America group homes, which provide 24-hour care for adults with developmental and intellectual disabilities. He secured donations from family and friends to buy several truckloads of soil and led a small group of scouts who helped fill four raised garden beds with fresh herbs, spices, and flowering plants, generously donated by Perino's Garden Center.
During Caron's time at Jesuit he was a member of the MCJROTC. Caron plans to attend The University of New Orleans in the fall to study Naval Architecture and Marine Engineering. Upon graduation from college, he wishes to serve his country as an Officer in the U.S. Marine Corps. While at Jesuit, Hayden was a member of the MCJROTC, reaching the rank of Cadet Sergeant Major. He served as Rifle Team Co-Captain for 5 years and earned the Expert Marksmanship qualification. Upon graduating, Caron wishes to serve his country in the U.S. Marine Corps.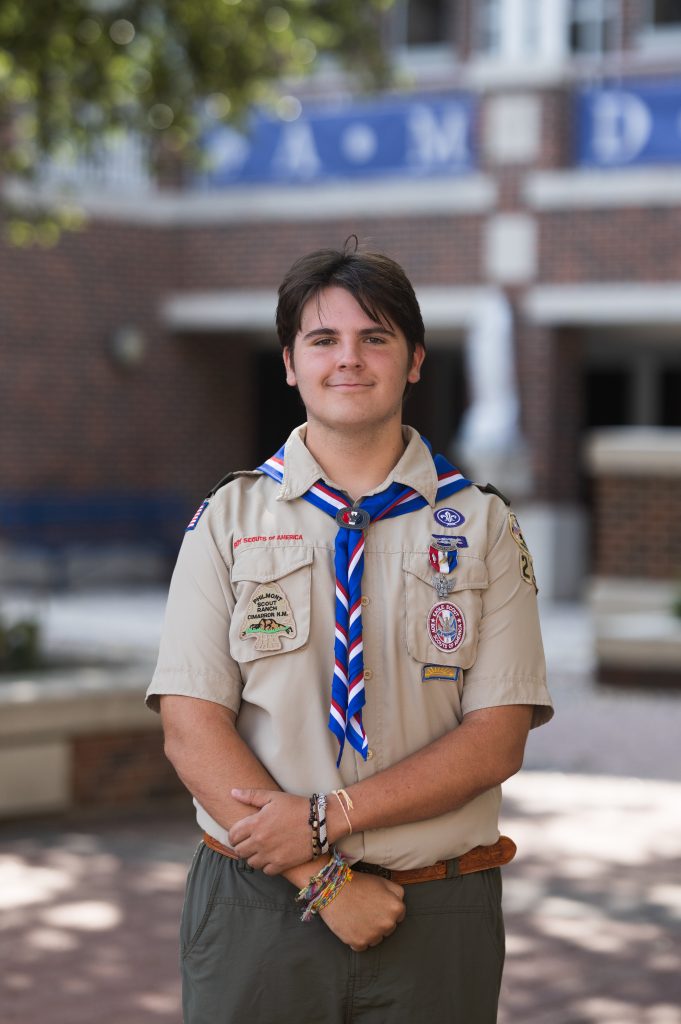 Philip Zazulak '23 was a member of Pack 24 at Stuart Hall. Zazulak rounded out the group to achieve his rank in March 2023, acquiring 38 badges. For his Eagle Scout Service Project, Zazulak collected books for the classroom libraries at Dr. John Ochsner Discovery Health Sciences Academy. He collected over 1,500 books to help students to improve their vocabulary, reading comprehension, and reading achievement. This project was of great importance to Zazulak because he received speech therapy during his first few years at Stuart Hall. Zazulak was a member of the MCJROTC, Paintball, Sodality, and Mu Alpha Theta while at Jesuit. Zazulak will continue on to SCAD University to study Industrial Design.
All three Jesuit alums finished their scouting careers as members of BSA Troop 230, based at St. Catherine of Siena Church in Metairie, LA. Over the years they have hiked and camped in Louisiana, Mississippi, Georgia, Alabama, and Virginia. These trips helped prepare them for one of scouting's biggest adventures: a 12-day backpacking trek through the rugged wilderness of Philmont Scout Ranch in Cimarron, New Mexico. Although Fisher and Caron completed their ranks before Zazulak, they waited to be recognized until March 2023 so they could all celebrate this accomplishment together.