At the Frontiers: Blue Jays Serve in the Rio Grande Valley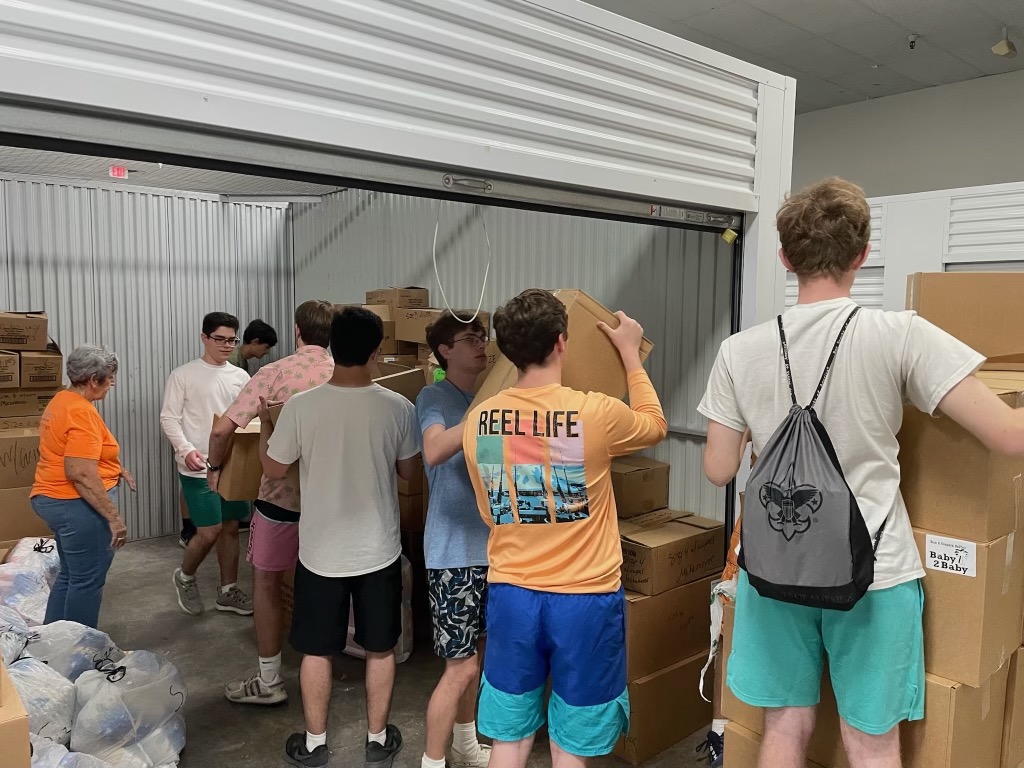 A companion and close friend of St. Ignatius, Jesuit St. Francis Xavier forwarded the mission of the Society of Jesus to the globe's furthest geographic, social, and spiritual "frontiers." Now the patron of all Catholic missions, his legacy and intercession are integral parts of Jesuit and Catholic works the world over.
In keeping with the school's charge of forming men for others, Jesuit High School guides its students to find ways to identify and to serve on these so-called frontiers of society, and in the spirit of faith-driven service inherited from the original companions of St. Ignatius, rising seniors Nikolas Estrada, Isaiah Niles, John Rose, Preston Kuehne, Alejandro Salazar, Gary Bell, Peyton Brown, Harrison Harley, Ace Nice, Hayden Welk, Tyler Sisk, and Will Newman participated in a week-long service project in the Rio Grande Valley on the U.S.-Mexico border. The project was chaperoned by Fr. Polce, S.J., Jesuit's chaplain, and theology teacher Roger Bacon '10.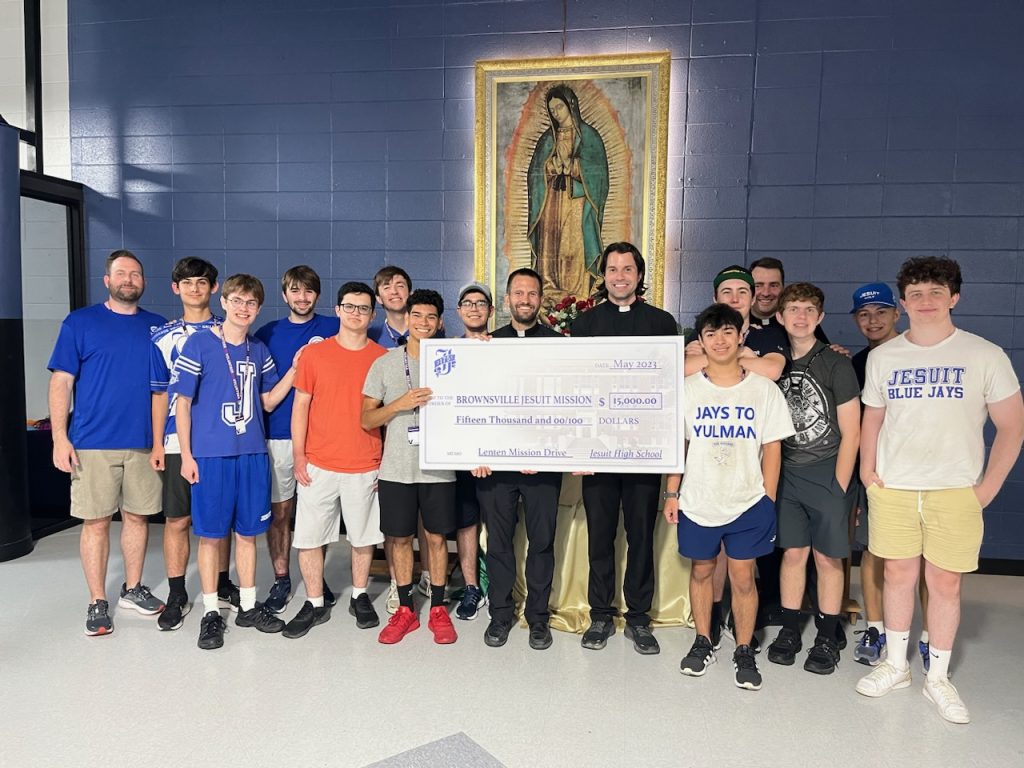 During the trip, students had the opportunity to witness firsthand the struggles and challenges that migrants often face on their journey to seek safety and opportunity for their families. Blue Jays visited shelters on both sides of the border where they met with migrants and listened to their stories. They also attended Mass celebrated by Jesuit priests missioned to the border region.
"If we find ourselves thinking about and discussing these pressing social issues in the ways they're framed by cable news, we're often leaving out the Christian imperative to love our neighbor," said Fr. John Brown, S.J., Jesuit's president. "I'm proud that our faculty and leadership at Jesuit find so many ways every year to not only give Blue Jays hands-on experience serving others but to make a meaningful, concrete impact on the lives of people in real need."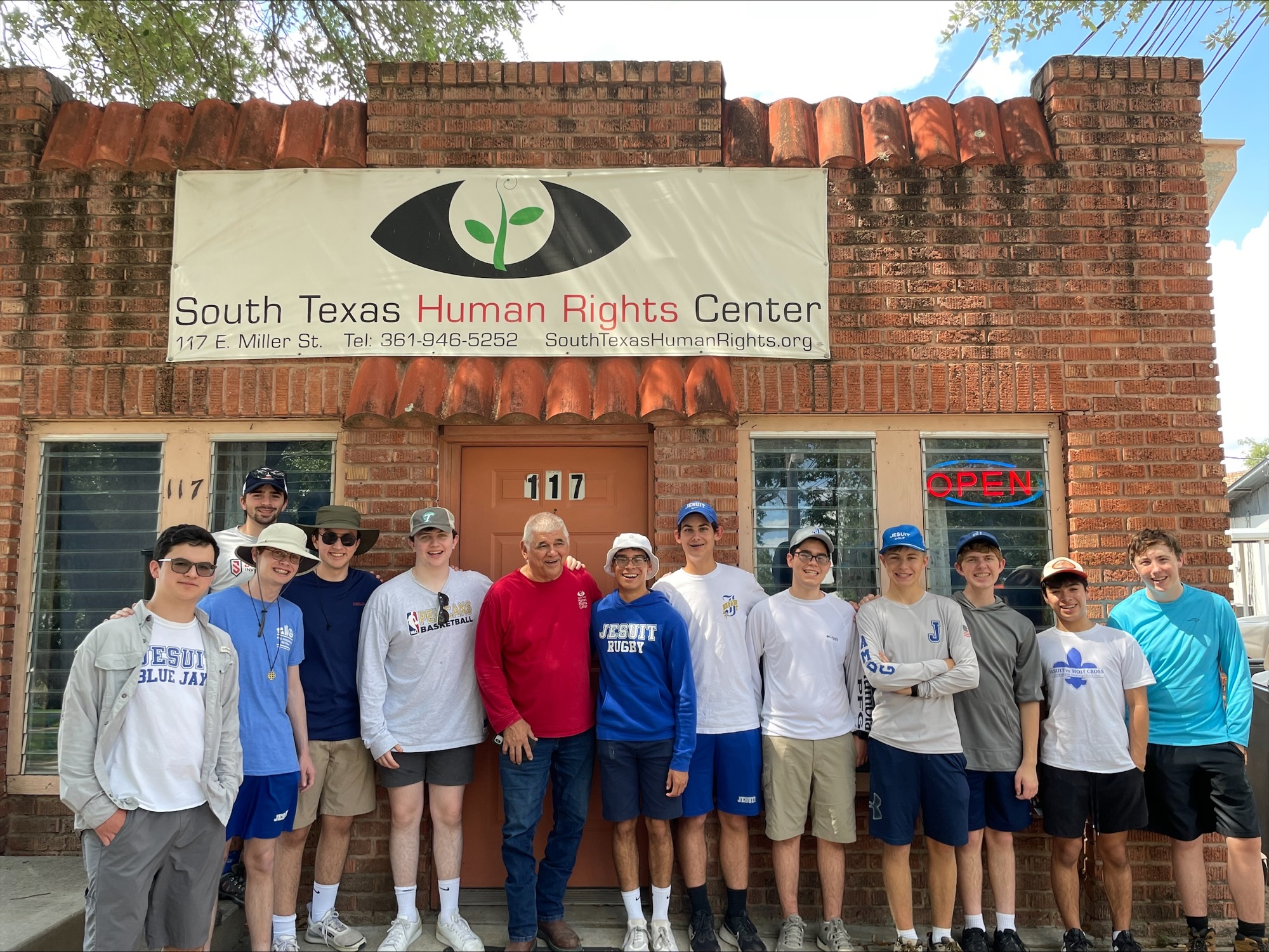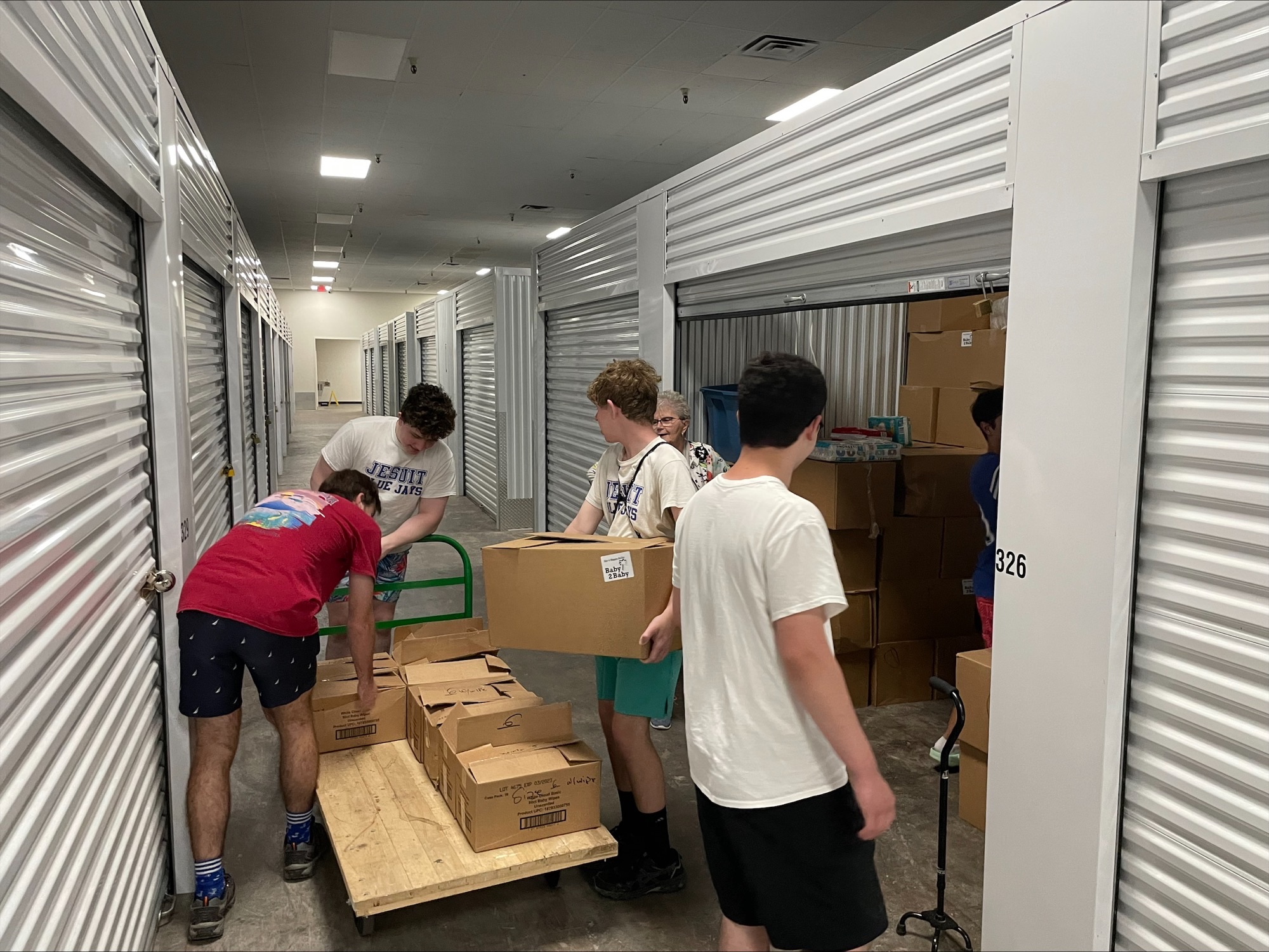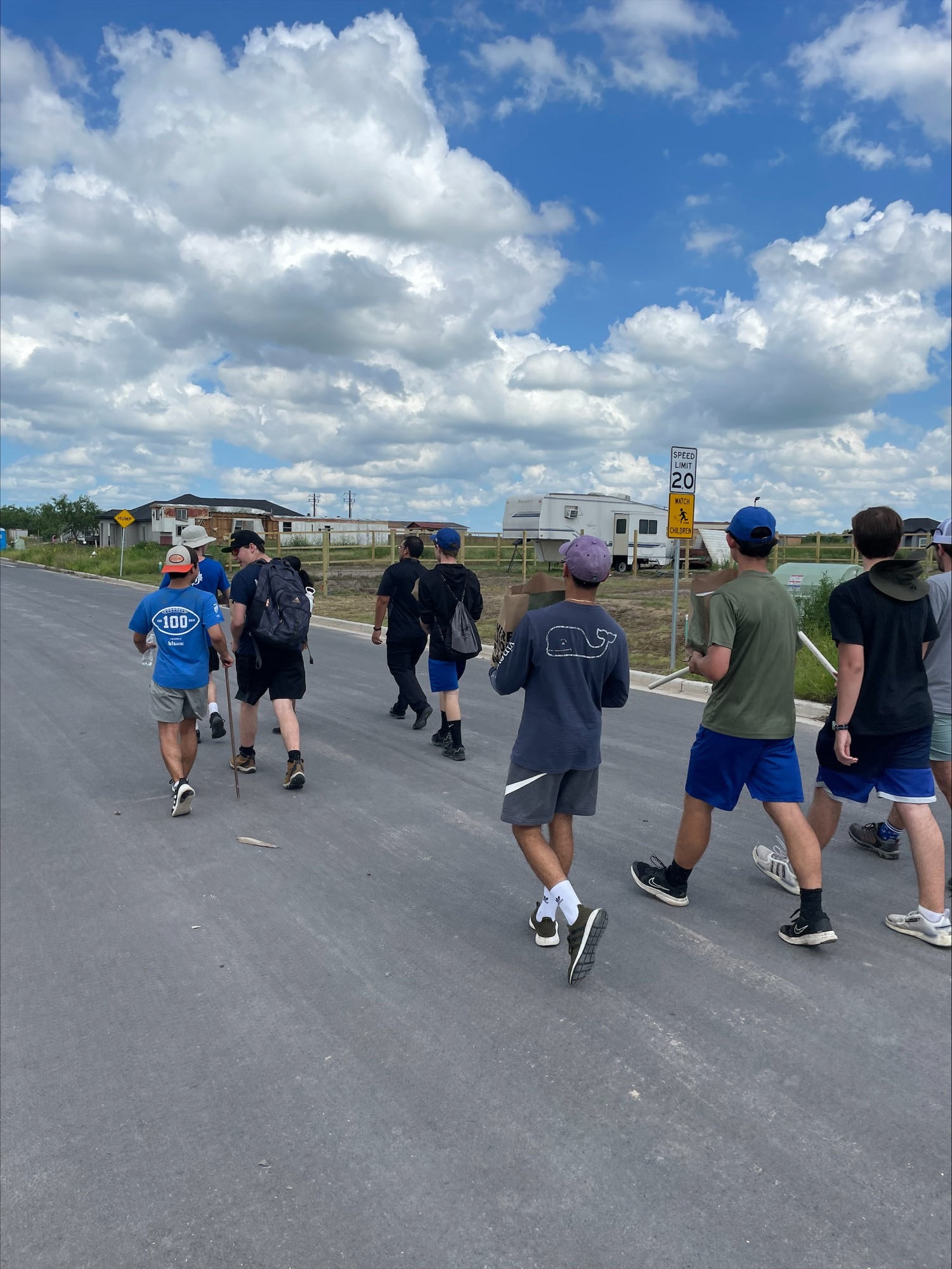 Students spent a significant portion of their time with unaccompanied migrant teenagers in detention centers on the U.S. side of the border. Tangibly contributing to efforts to address the these fellow teenagers' basic needs, student volunteers helped distribute hygiene products and clothing donations while assisting with serving meals.
"I think the greatest impact this trip had on me was humanizing the migrants and making me realize this was not merely a political issue but a personal issue affecting real people." said Harley, one of the rising seniors on the trip.
Delatte, who as director of service projects coordinates all major service opportunities for students throughout the year, emphasized how strongly aligned the project was with Jesuit's core mission.
"What a great opportunity this service trip was for our students to heed the call of Christ to love those in need," he said. "This was a deeply meaningful experience for them to encounter face-to-face many of the people stranded at the border, to listen to their stories, as well as to see firsthand and to learn the complexities of the border issue."
The Project's Specific Initiatives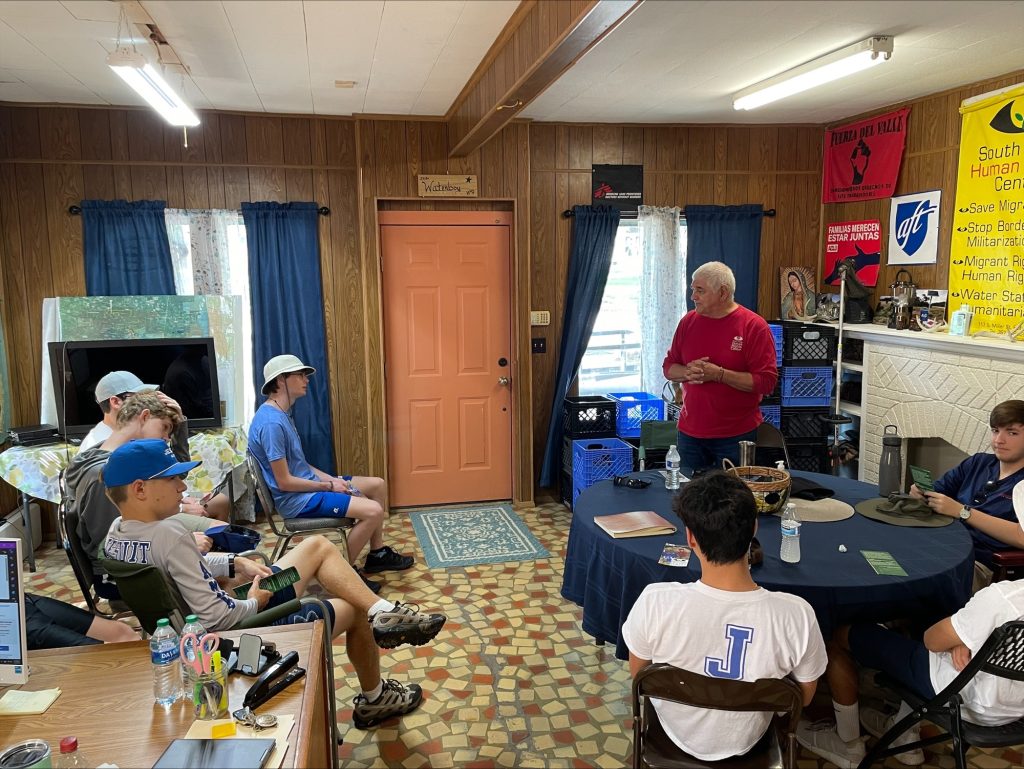 The project's efforts were focused in the Rio Grande Valley, an area of Texas where migrant flow across the Mexican border is heavy. Students spent two days at the Humanitarian Respite Center in McAllen, TX, aiding in various tasks such as serving meals, sorting donations, manning the hygiene counter, and playing with children. Later in the day, they attended Mass with local Jesuits Fr. Brian Strassburger, S.J., and Fr. Louie Hotop, S.J.
Team Brownsville, in Brownsville, TX, operates a welcome center that relies on volunteers to help sort donations and prepare packets that are distributed to migrants on the southern side of the border. Blue Jays worked alongside this team, lending a hand with their regular efforts that addressed basic human needs of migrant communities. La Posada Providencia accommodates migrants on a rural property in San Benito, TX. The shelter has vast fields and a garden to which Jesuit students contributed many hours of manual labor.
In Farfulias, TX, students assisted with filling water tanks with the South Texas Human Rights Project, an initiative that provides water near a hot desert region in which the project sometimes even helps recover bodies. Blue Jays attended a Sunday evening Mass in Spanish at San Felipe de Jesus Catholic Church, which hosts a weekly Mass for unaccompanied minors.
Connections With Jesuit's Mission
"In our evening debriefs as a group each night, it was impressive to hear the ways the boy's hearts were moved by the encounters they had each day," said Fr. Polce. "In the economy of mercy and grace, one often receives far more than one gives. That was true of our boys on this trip as well."
Harley echoed Fr. Polce's sentiment.
"It's easy to make this an abstract issue in our minds, but when you see these people yourself, you are brought to the reality of this concrete situation," he reflected. "I am inspired by their determination to arrive at our border after all of the hardships they have faced and still speak to me with a smile."
With students living out the school's mission in the spirit of St. Francis Xavier and the earliest members of the Society of Jesus, this project reflects Jesuit's vibrant culture of service. With hundreds of students spending their summer participating in this culture, Jesuit's curriculum and lessons extend, as they always has, far beyond the walls of its classrooms.
Looking back on the trip, Delatte reflected, "The trip was a great fit for Jesuit's broader mission for our students, who through their time here at Jesuit, will be exposed to needs that exist in the community and in the wider world. We want them to use their God-given skills and talents to assist and to care for those most in need. We look forward to many more service trips to the Rio Grande Valley area in future years."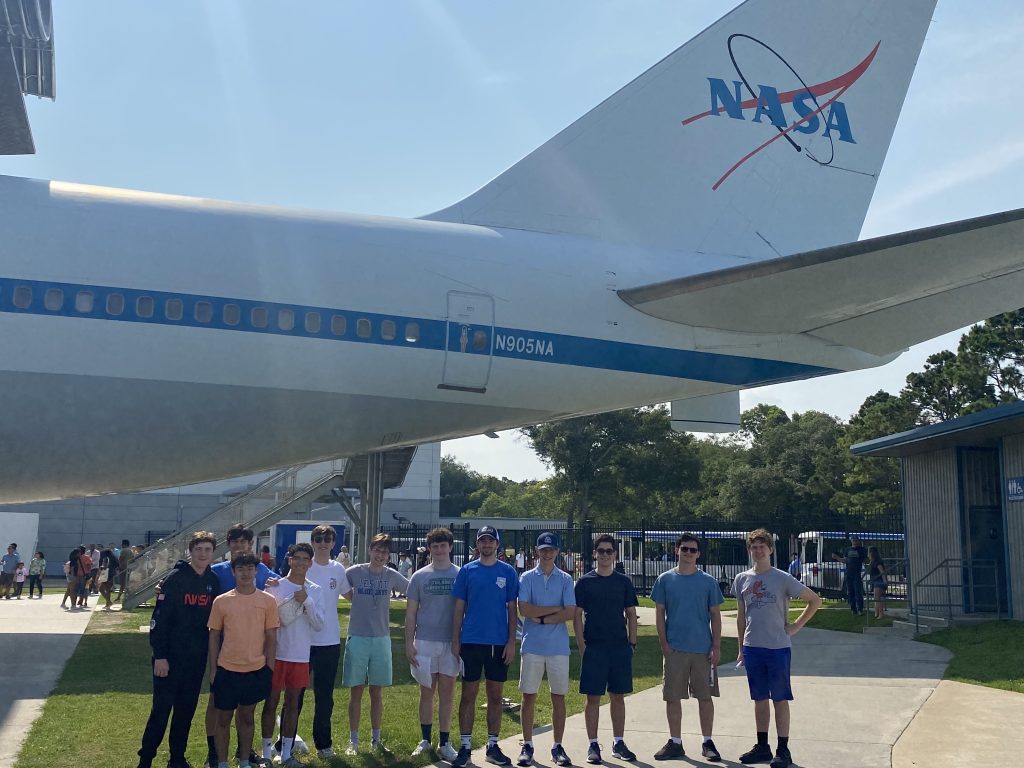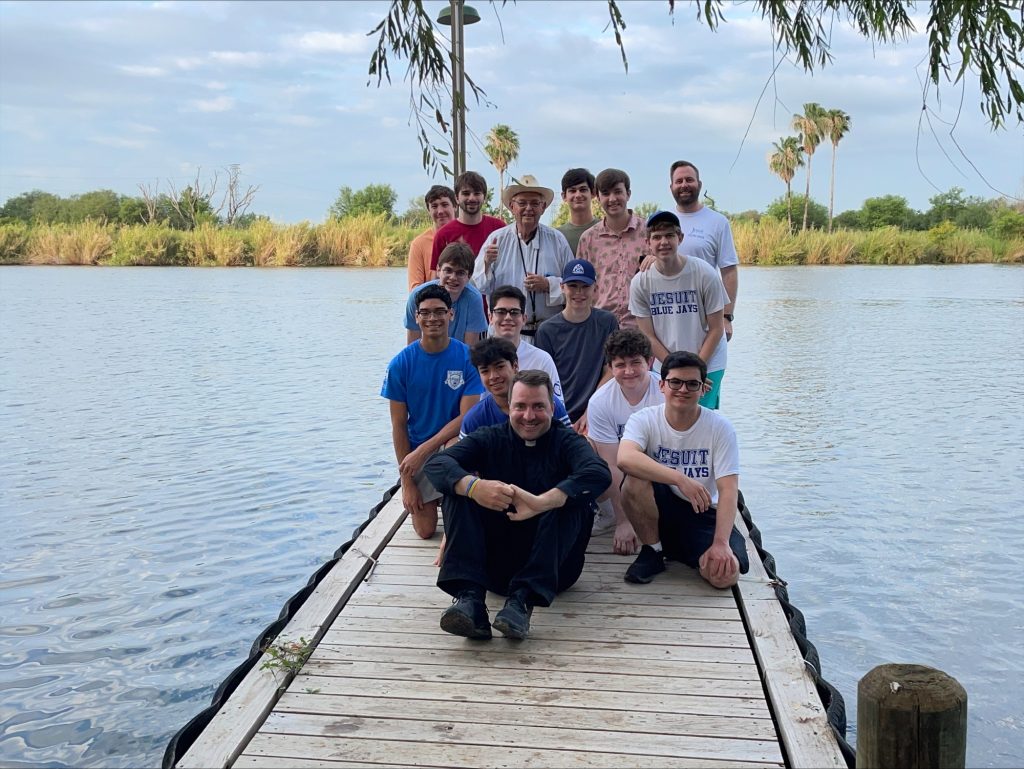 Along the trip students also enjoyed a stay at neighboring Jesuit Strake University, a stop at the Houston Space Center, and a visit to the Brownsville Zoo.
---
This project is one of many service projects and opportunities for Jesuit students throughout the calendar year. Click here to read more about these project. For more information contact Scott Delatte '06, Jesuit's director of service projects.
Loading…