Br. Dardis Fishing Rodeo Celebrates 30th Year With Big Catches and Bigger Smiles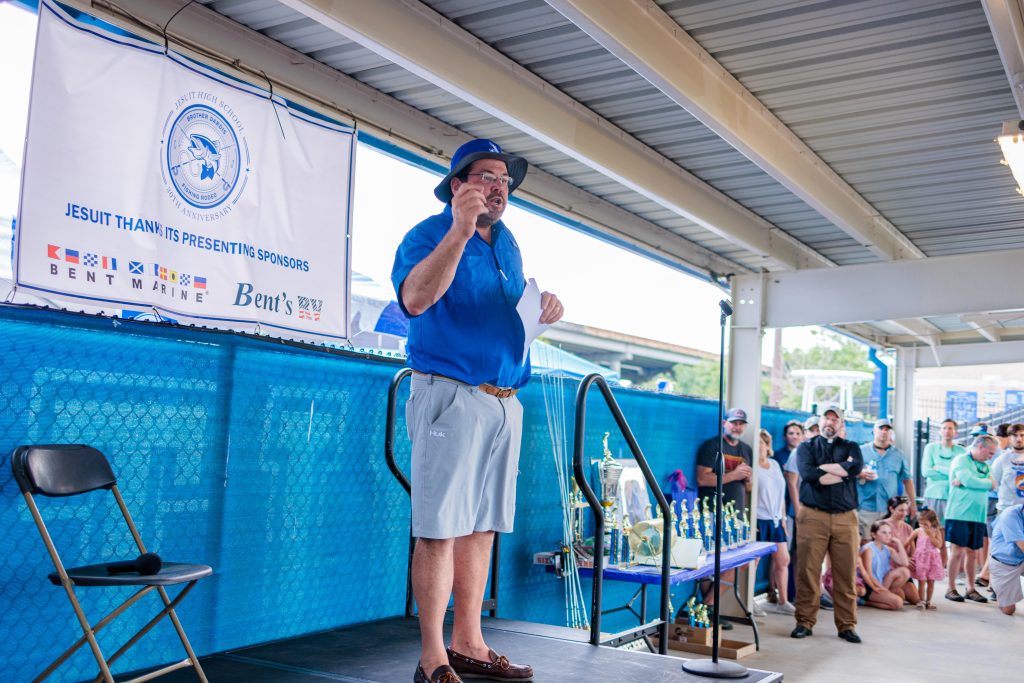 In the days leading up to the 2022 Br. Dardis Fishing Rodeo, the weather did not look like it was going to cooperate as rain and wind were apparent in the forecast. Fishing Rodeo Chairman Michael McMahon '85 knew there was only one thing to do: pray for the intercession of Br. William Dardis, S.J. '58.
The 30th Jesuit Fishing Rodeo proceeded without a hitch. Families gathered at John Ryan Stadium on July 16, 2022, to weigh their catch, enjoy cold drinks, and eat delicious seafood. If waters were not enough to keep the participants cool, snowballs in a variety of flavors were available. In addition to all the other activities, the Jesuit Blue Jay Shop was on full display selling spirit items under the shade of their own tent. Jesuit also extends a special thank you to Brian Bent '89 and Greg Bent of Bent's RV and Bent Marine for the presenting sponsorship and RV and boat display.
Before Committee member Ryan Gootee '91 handed out trophies and plaques, Jesuit president Fr. John Brown, S.J., led a prayer to get the presentation started. Jack Dardis '59, along with his brother Joe Dardis '64 and sister Kay, briefly addressed the group as well. "I know that he is smiling down on us," Jack said. "I can already hear Billy saying 'that's enough darlin'. Get off the stage.'"
McMahon ended the speeches with a moving story on the kindness and compassion of Br. Dardis before moving onto the trophy ceremony. The results can be viewed below.
Andrew Fuller '96 won the grand raffle—a fishing trip for three with South Louisiana fishing legend Capt. Dudley Vandenborre—and Alan Stevens '95 won the Dometic 55 High Performance Cooler raffle.
In addition to enjoying a delicious seafood meal prepared by Max Gruenig '06 and his team, every registrant walked away with a ditty bag packed with the new Jesuit Fishing Rodeo shirt.
DIVISION 1 (ADULTS)
| | | |
| --- | --- | --- |
| CATEGORY | NAME | WEIGHT |
| Speckled Trout (1st Place) | Phil Smith '12 | 4.60 |
| Speckled Trout (2nd Place) | Dr. Bob Weiss '62 | 3.55 |
| Speckled Trout (3rd Place) | Ben Noveck | 2.50 |
| Redfish (1st Place) | Steve Dwyer '66 | 8.40 |
| Redfish (2nd Place) | Evan Ehrensing '19 | 8.30 |
| Redfish (3rd Place) | Jared Lang '05 | 8.15 |
| Red Snapper (1st Place) | Joe Piacun '90 | 15.90 |
| Red Snapper (2nd Place) | Joe Piacun '90 | 15.35 |
| Red Snapper (3rd Place) | Joe Piacun '90 | 9.20 |
| Sheepshead (1st Place) | Msgr. Christopher Nalty '80 | 5.85 |
| Sheepshead (2nd Place) | Jake Kuebel '18 | 5.21 |
| Sheepshead (3rd Place) | Scott Becker | 5.20 |
| Black Drum (1st Place) | Lamar Calloway '58 | 3.90 |
| Black Drum (2nd Place) | No Entry | —- |
| Black Drum (3rd Place) | No Entry | —- |
| Flounder (1st Place) | Hunter McFadden | 1.20 |
| Flounder (2nd Place) | Jake Kuebel '18 | 1.11 |
| Flounder (3rd Place) | Jaret Lang '05 | 1.00 |
| Bass (1st Place) | Craig Davis | 1.70 |
| Bass (2nd Place) | Evan Ehrensing '19 | 1.55 |
| Bass (3rd Place) | Hunter McFadden | 1.35 |
| Freshwater Catfish (1st Place) | Jared Lang '05 | 5.75 |
| Freshwater Catfish (2nd Place) | Will Degenhart | .50 |
| Freshwater Catfish (3rd Place) | No Entry | —- |
DIVISION 2 (18 & UNDER)
| | | |
| --- | --- | --- |
| CATEGORY | NAME | WEIGHT |
| Speckled Trout (1st Place) | Triston Alonso | 3.15 |
| Speckled Trout (2nd Place) | James Breaux | 3.05 |
| Speckled Trout (3rd Place) | Triston Alonso | 2.80 |
| Redfish (1st Place) | Vince Welty '26 | 9.55 |
| Redfish (2nd Place) | Julia Trahant | 8.10 |
| Redfish (3rd Place) | Julia Trahant | 8.05 |
| Red Snapper (1st Place) | No Entry | —- |
| Red Snapper (2nd Place) | No Entry | —- |
| Red Snapper (3rd Place) | No Entry | —- |
| Sheepshead (1st Place) | Triston Alonso | 7.30 |
| Sheepshead (2nd Place) | Brandon Burke | 6.20 |
| Sheepshead (3rd Place) | Harrison Gootee '27 | 5.65 |
| Black Drum (1st Place) | Patrick Dowd '23 | 4.50 |
| Black Drum (2nd Place) | Daniel Trahant | 4.35 |
| Black Drum (3rd Place) | No Entry | —- |
| Flounder (1st Place) | Hudson Puckett | 1.95 |
| Flounder (2nd Place) | Harrison Gootee '25 | 1.55 |
| Flounder (3rd Place) | Henry Gootee '27 | 1.25 |
| Bass (1st Place) | Dylan Davis | 1.40 |
| Bass (2nd Place) | Jack Hubbard | .65 |
| Bass (3rd Place) | Rollins Leopold | .65 |
| Freshwater Catfish (1st Place) | Caroline Abercrombie | 15.15 |
| Freshwater Catfish (2nd Place) | Sam Noveck '24 | 3.20 |
| Freshwater Catfish (3rd Place) | Alex Degenhant | .75 |
DIVISIONS 3, 4, & 5
| | | |
| --- | --- | --- |
| CATEGORY | NAME | WEIGHT |
| FIVE-TROUT STRINGER | Phil Smith '12 | 13.10 |
| BIGGEST FISH | Jared Lang '05 (Drum) | 41.80 |
| FATHER-DAUGHTER (1st Place) | Nathan '92 and Caroline Abercrombie | —- |
Loading…