Legend of the Game Prepares Jesuit Community for Rivalry Game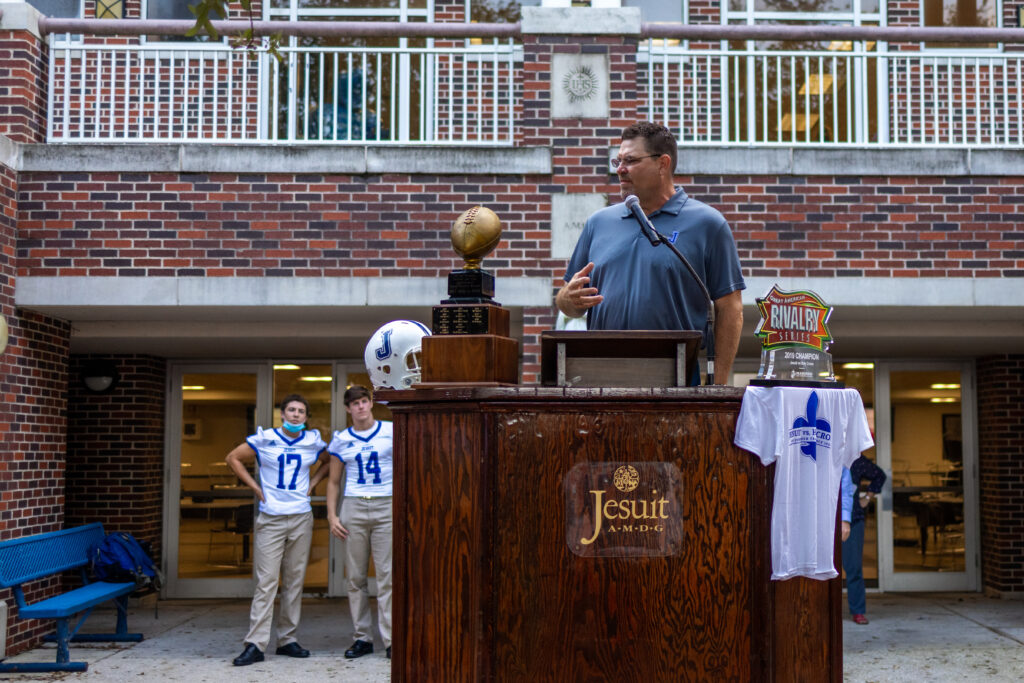 The 2021 Legend of the Game John Hazard '83 knows a thing or two about football and Blue Jay spirit. Both were on full display at morning assembly on Oct. 1, 2021, as he fired-up the student body for tonight's matchup.
"I had the privilege of speaking to the football team yesterday," Hazard said. "I spoke about how this game that not only goes back so far, but it also affects the community. You are representing no only your brothers but your teachers and people that care about Jesuit."
After a few more sentences of advice, Hazard left the podium to a roaring applause. Hazard played defensive tackle for the Blue Jays his freshman through senior year, which included the 1980 Jesuit-Holy Cross matchup in the Superdome. Leading the Jays as team captain, he was named to all-district, all-metro, all-state, and all-American teams, and was a starter on the 1981 district championship team. Hazard was also a member of the Jesuit wrestling team. After moving on to play football at LSU, where he majored in agricultural economics, he was honored as academic all-SEC, second team all-SEC, and honorable mention all-American. He was a team captain when LSU won the SEC Championship in 1986 and played in a Liberty Bowl and two Sugar Bowls. Remaining involved with his alma mater over the years, John has led the Class of '83 Thanksgiving turkey drive and has coached junior high football for the past seven years.
Pre-sale tickets for the Friday night game are $8.00 each for adults and students (non-participating schools) and $5.00 each for children. Pre-sale tickets are available for purchase at the switchboard through Friday from 7:30 a.m.-3:30 p.m. All tickets purchased at the gate are $10.00 each. Both student and faculty id's, as well as season passes will be accepted at the gate for admission.
If you cannot attend the game, Crescent City Sports will livestream the game. Coverage begins at 7 p.m. on CST and CrescentCitySports.com, with kickoff scheduled for 7:15. Ken Berthelot, a Holy Cross graduate, and Wayde Keiser '78, a former Blue Jays head coach, will describe the action.
Rivalry Links
The 102nd Rivalry Game Brings Competition, Tradition back to City Park
Jesuit to Honor Four Jays with Special Awards at Rivalry Game