Registration Day and Investiture Ceremony Welcome Jays Back to Campus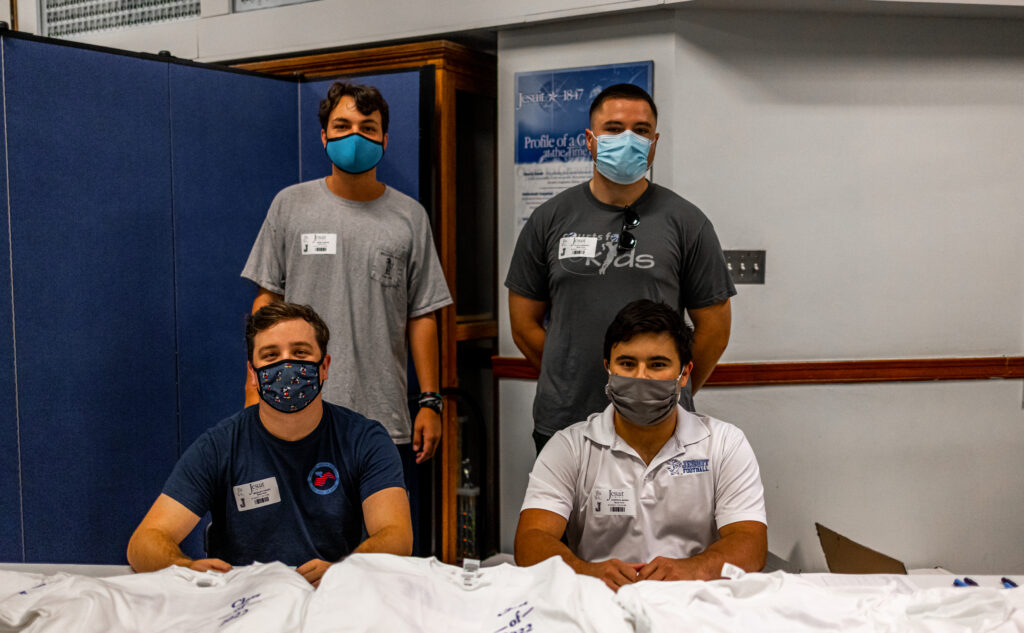 As the 2021-22 school year begins, Registration Day on August 10 and Investiture on August 11 brought new and returning Blue Jays to Carrollton & Banks. Those faces were full of excitement as they caught up with friends and flew through various stations to kick off their school year.
The day took went off without a hitch as Jesuit faculty and staff welcomed students back to campus.
Registration Day
Students' on-campus preparations for the academic year began with Registration Day on Wednesday.
Parents and students are reminded that the Bulletin and calendar are no longer printed and can be accessed on the Jesuit website. The student directory is available on Canvas.
Investiture
For decades, new Blue Jays have been given their "J pins" by their big brothers at Jesuit's annual Investiture Ceremony. On Thursday, incoming students were welcomed to the Chapel of the North American Martyrs, where Mass was celebrated by Jesuit president Fr. John Brown, S.J., and concelebrated by Fr. Kevin Dyer, S.J.
Dyer impressed upon big and little brothers that they were beginning the day with Mass to impress that it is the central focus of student life at Jesuit High School. "We are starting this day with the most important thing that we do here: celebrating the Mass and giving glory to God."
In his homily, Brown emphasized that the real goal of a Jesuit education is true freedom and liberty—or, as stated in the school's mission, the development of the conscience, competence, and compassion necessary to be a man of faith and man for others.
After Mass, Director of Admissions Bret Hanemann '85 addressed the students, introducing the Profile of a Jesuit Graduate at the Time of Graduation. Hanemann also introduced the 2021 student and alumnus investiture speakers, Richard Tonry and Evan Slattery '16. Tonry related his experience as a new Jesuit student from Slidell while Slattery, a Notre Dame pre-medicine and business graduate, advised new Blue Jays on how to make the best use of their time as Jesuit students.
"Embrace the differences in each other," said Slattery. "Challenge yourself to try new things."
Photos of the day to follow on Friday