Record Catch for Blue Jay Fishing Rodeo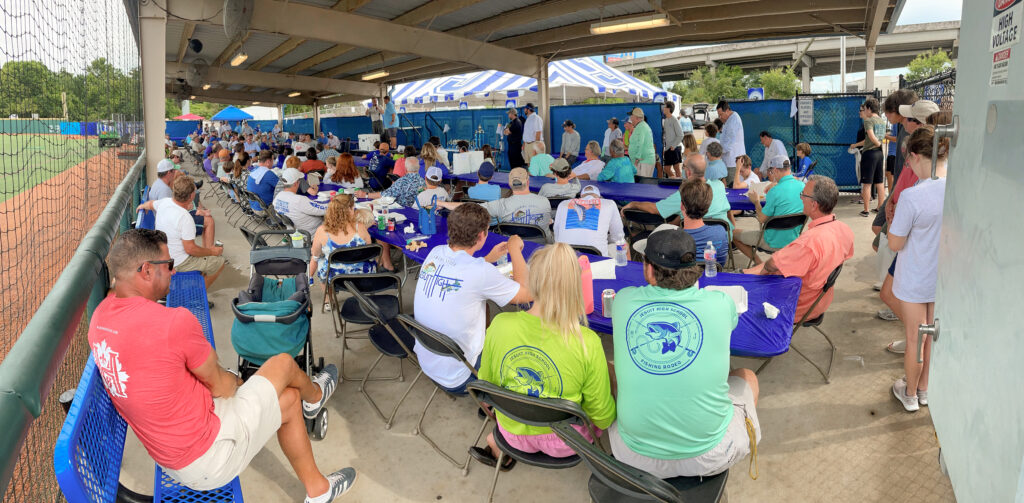 Casting a wide net produced records results. With an all-hands-on-deck effort to reach out to parents, students, and alumni, the 2021 Blue Jay Fishing Rodeo was the biggest ever with close to 300 registrants, even after the 29th annual event had to be rescheduled due to a tropical weather threat in June.
Jesuit president Fr. John Brown, S.J., an avid outdoorsman himself, opened the award presentation by thanking attendees and members of the committee before offering a familiar and appropriate axiom. "Give a man a fish and you feed him for a day. Teach a man to fish and you feed him for life. It's true," Fr. Brown said. And it was never truer than it was on Saturday, July 17, at John Ryan Stadium.
See full gallery below.
Before committee members Jude Trahant '80 and Ryan Gootee '91 handed out trophies and plaques to the winners (see list below), FOX 8 fishing reporter Capt. C.T. Williams provided fishing tips and words of encouragement to the crowd in Pontiff Pavilion. The initial presentations ended on an emotional note with chairman Mike McMahon '85 honoring two members of the Jesuit fishing team. After pointing out that competitive fishing is now a Louisiana High School Athletic Association sanctioned sport and how the Jesuit Fishing Club has flourished, a choked-up McMahon shared the heroic story of two graduating seniors, Jacob Reinhardt '21 and Carter Morris '21, and how they saved three grown men from drowning in a Shreveport lake during the LHSAA state fishing tournament in April. Reinhardt was there to accept a special award from the rodeo committee, and Morris's proud parents, Gretchen and Pat Morris '90, accepted Carter's plaque. Their son was not able to attend because he was fishing with his grandfather in Alaska.
Art Brewster '80 won the Grand Prize Fishing Trip and parent Angie Flynn took home the 75-Quart KYSEK Ice Chest donated by Brian Bent '89 and Greg Bent of Bent's RV and Bent Marine. In addition to enjoying a delicious seafood meal prepared by Max Gruenig '06 and his team and sharing fishing stories (most of them true), every registrant walked away with a ditty bag packed with door prizes, a Jesuit fishing towel, and a dry-wick fishing shirt emblazoned with the new rodeo logo and A.M.D.G. down the sleeve.
The event concluded with the aforementioned Reinhardt presenting a framed photo to McMahon from the fishing team for the chairman's good work and support. Jesuit thanks all those who contributed to the success of this year's event.
DIVISION 1 (ADULTS)
| | | |
| --- | --- | --- |
| CATEGORY | NAME | WEIGHT |
| Speckled Trout (1st Place) | Bobby Weiss '62 | 4.40 |
| Speckled Trout (2nd Place) | Drew Necaise '05 | 2.80 |
| Speckled Trout (3rd Place) | Drew Necaise '05 | 1.95 |
| Redfish (1st Place) | Rob Wooderson | 7.50 |
| Redfish (2nd Place) | Carl Griffin '77 | 7.35 |
| Redfish (3rd Place) | Jim Hotard '81 | 6.70 |
| Red Snapper (1st Place) | Gary Discon '75 | 17.50 |
| Red Snapper (2nd Place) | Gary Discon '75 | 16.80 |
| Red Snapper (3rd Place) | No Entry | —— |
| Sheepshead (1st Place) | Msgr. Christopher Nalty '80 | 8.30 |
| Sheepshead (2nd Place) | Rick Kuebel '82 | 5.95 |
| Sheepshead (3rd Place) | Cark Griffin '77 | 5.45 |
| Black Drum (1st Place) | Drew Necaise '05 | 8.50 |
| Black Drum (2nd Place) | Regi Lester | 4.50 |
| Black Drum (3rd Place) | Regi Lester | 4.50 |
| Flounder (1st Place) | Art Brewster '80 | 1.75 |
| Flounder (2nd Place) | Mikey Elvir '17 | 1.50 |
| Flounder (3rd Place) | Mikey Elvir '17 | 1.50 |
| Bass (1st Place) | Christopher McMahon '18 | 4.10 |
| Bass (2nd Place) | Jarod Cyprus '15 | 1.85 |
| Bass (3rd Place) | Will Degenhart | 1.45 |
| Freshwater Catfish (1st Place) | Kevin Soter | 3.05 |
| Freshwater Catfish (2nd Place) | No Entry | —— |
| Freshwater Catfish (3rd Place) | No Entry | —— |
DIVISION 2 (18 & UNDER)
| | | |
| --- | --- | --- |
| CATEGORY | NAME | WEIGHT |
| Speckled Trout (1st Place) | Stephen Peterman '21 | 3.65 |
| Speckled Trout (2nd Place) | Timmy Peterman '23 | 3.15 |
| Speckled Trout (3rd Place) | Parker Leopold | 2.65 |
| Redfish (1st Place) | Preston Kuehne '23 | 7.60 |
| Redfish (2nd Place) | Jack Holley '25 | 7.30 |
| Redfish (3rd Place) | Caroline Abercrombie | 7.25 |
| Red Snapper (1st Place) | Rollins Leopold | 17.55 |
| Red Snapper (2nd Place) | Blair Rittiner '21 | 14.10 |
| Red Snapper (3rd Place) | Blair Rittiner '21 | 12.30 |
| Sheepshead (1st Place) | Henry Gootee | 6.45 |
| Sheepshead (2nd Place) | Merritt McFadden '24 | 6.45 |
| Sheepshead (3rd Place) | Henry Gootee | 6.95 |
| Black Drum (1st Place) | Jude Spano '26 | 5.95 |
| Black Drum (2nd Place) | Joe Cerrutti '26 | 5.35 |
| Black Drum (3rd Place) | Joe Cerrutti '26 | 5.00 |
| Flounder (1st Place) | Hudson Puckett | 1.95 |
| Flounder (2nd Place) | Nate Abercrombie | 1.35 |
| Flounder (3rd Place) | Bradley Deichmann '21 | 1.20 |
| Bass (1st Place) | Nick Navarro '24 | 1.00 |
| Bass (2nd Place) | Quin Anderson '26 | .6 |
| Bass (3rd Place) | No Entry | —— |
| Freshwater Catfish (1st Place) | Jacob Tobler '23 | 17.55 |
| Freshwater Catfish (2nd Place) | Isaac Smith '26 | 3.45 |
| Freshwater Catfish (3rd Place) | William Soter '23 | 3.30 |
DIVISIONS 3, 4, & 5
| | | |
| --- | --- | --- |
| CATEGORY | NAME | WEIGHT |
| FIVE-TROUT STRINGER | Dr. Bobby Weiss '62 | 18.05 |
| BIGGEST FISH | Nick Navarro '24 (Alligator Gar) | 38.90 |
| FATHER-DAUGHTER (1st Place) | Reagan, Marion, and Parker Leopold | 13.40 |
| FATHER-DAUGHTER (2nd Place) | Nathan and Caroline Abercrombie | 7.25 |
| FATHER-DAUGHTER (3rd Place) | Jude & Julia Trahant | 4.70 |