Soccer Remains Undefeated, Beats Brother Martin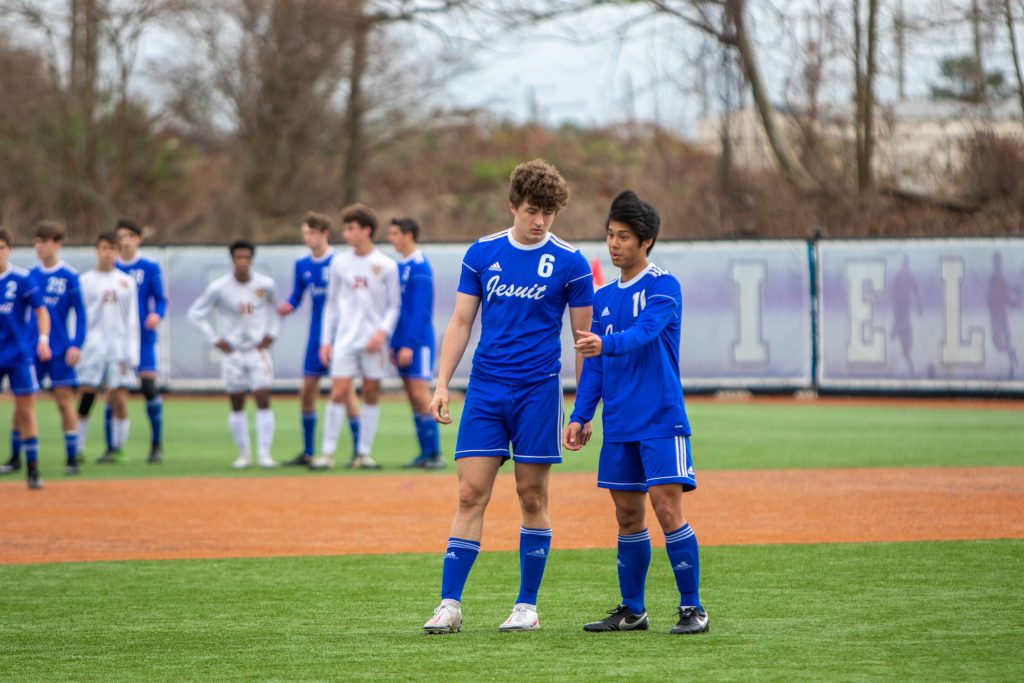 Whenever two rivals meet at any stage of a season, the game is always a must-watch match. The game between Jesuit (13-0-1, 4-0-0) and Brother Martin on Jan. 23, 2021, was no different. In the end, Jesuit scored two second-half goals to win 3-1 at John Ryan Stadium.
The Blue Jays did not waste any time getting on the scoreboard. Jesuit applied constant pressure from the left side in the first half and took advantage of an opportunity in the 14 minute.
Senior Joe Pacaccio, who controlled possession throughout the contest, found an opening and laced an impressive strike into the back of the net to give Jesuit a 1-0 lead.
Frustratingly, the Jays could not score another before half even with a surplus of opportunities.
When the half was coming to an end, the Crusaders found a way to tie up the watch with an impressive free kick delivery. In 14 matches, it was only the fifth goal allowed by the stout Blue Jay defense.
The defense came out in the second half and showed why they should be considered one of the best in the state. Seniors Maxx Hanemann, Noah D'Aunoy, and Jacob Merritt held back the Crusader intruders and held Brother Martin scoreless in the second half.
While the defense was executing its part, senior forward Robert Colomb found his way up the left side and sent a cross into the box that found a Brother Martin defender, who did the rest by scoring an own-goal on the deflection.
Now, Jesuit clearly obtained the momentum and never looked back. Later in the half, senior forward Trevor Reichmann held up the ball in the attacking half and delivered an excellent back heel to sophomore Jacob Cabos who gave Jesuit a commanding 3-1 lead.
Senior Chris Schmidt was an engine in the midfield by constantly being around the ball whether it was going forward or tracking back, and senior Noah Relan provided solid possession, passing, and defense to help the Jays secure another district victory.
Jesuit will look to continue its 2020-2021 unbeaten campaign on the road against Rummel on Thursday, Jan. 28, 2021, at 3:15 p.m.