Fr. John Brown, S.J., Named 31st Jesuit President

Fr. John Brown, S.J., has been named the 31st president of Jesuit High School of New Orleans. Following a national search that took place over the last several months, the decision was announced today by Jesuit's Board of Directors in association with the Jesuit Central and Southern Province.
Having served for the past nine months as the school's interim president and since the fall of 2012 as a member of Jesuit's advancement, theology, campus ministry, modern foreign language, and art departments, Fr. Brown succeeds Fr. Christopher Fronk, S.J., a former command chaplain in the U.S. Navy who served as the school's president from 2016 to 2019.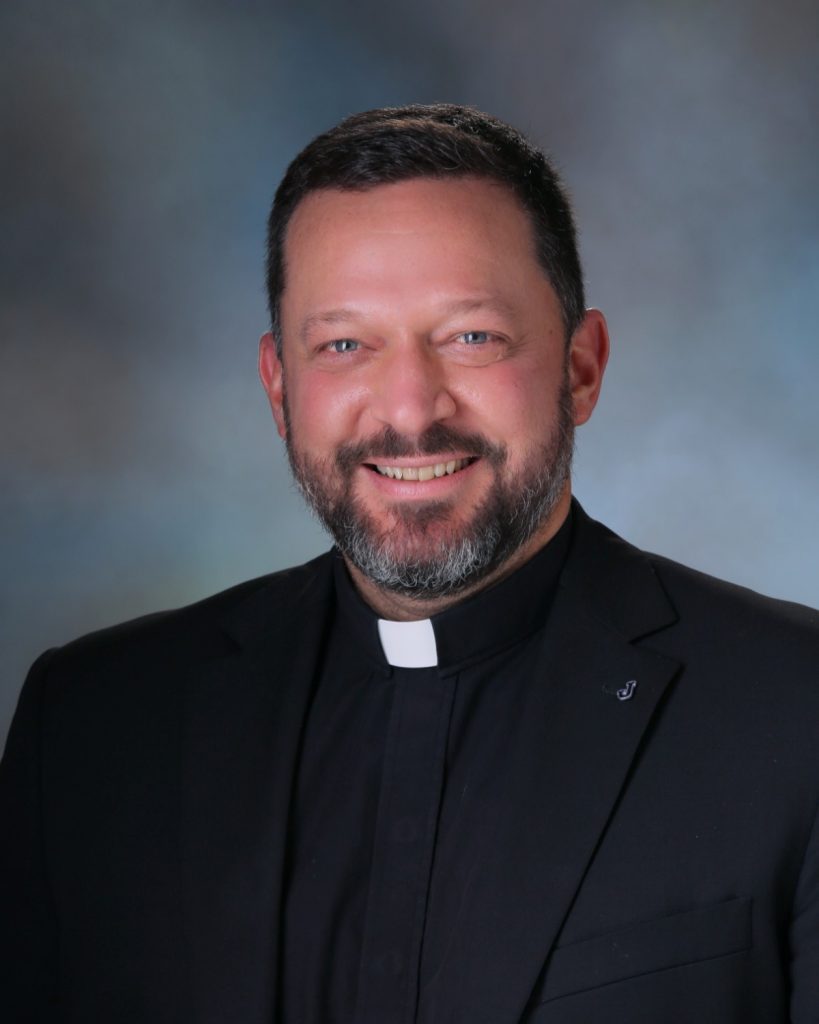 "Nothing makes me happier than to serve God and the community here at Jesuit High School," said Fr. Brown in reaction to the announcement. "I am humbled to follow in the footsteps of many great men who have served in this office before me."
In January 2020, Jesuit's Board of Directors, under the leadership of Brian North '83, convened a presidential search committee that considered both lay and Jesuit candidates from around the country. The committee included religious and lay men and women of different ages, races, and backgrounds including board members, alumni of various generations, parents of alumni, past faculty and administrators, the president of another Jesuit high school, and a representative of the Central and Southern Jesuit province.
In September 2020, the search committee unanimously selected Fr. Brown from a pool of highly qualified finalists, and his selection was enthusiastically approved by Jesuit's Board of Directors and Jesuit Provincial Fr. Thomas P. Greene, S.J., of the Class of 1981. The final decision was formally endorsed by Archbishop Aymond of the Archdiocese of New Orleans.
Upon the announcement of Fr. Brown's selection, Chairman of Jesuit's Board of Directors, Brian North, commented, "What came through strongly through the interview process was Fr. Brown's love for Jesuit High School and his passion for its mission. He has served the school for the past eight years in various capacities and through this service he has earned the respect of the entire Jesuit community: faculty and staff, parents, alumni, and, most importantly, students. He has a clear vision to lead Jesuit into the future by building on our strengths and seizing opportunities for improvement."
A Louisiana native, Fr. Brown's appointment as president of Jesuit New Orleans comes after years of service in contexts ranging from Boston, Massachusetts, to Tabasco, Mexico, to Ankawa, Iraq. Raised in Eunice, Louisiana, Fr. Brown is the son of Bruce and Judy Brown and is the 10th of 12 children.
"I love my Cajun heritage and upbringing," said Fr. Brown. Reflecting on how his Jesuit experiences have taken him across the globe, he continued, "I feel blessed to continue to serve in New Orleans and Louisiana after working with so many people from different cultures and backgrounds. It gives me great comfort to know that the education that our Blue Jays receive on Carrollton and Banks prepares them to become men for others in the most global, aspirational sense."
Initially working as a graphic and web designer in the mid '90s after graduating from Eunice High School, Fr. Brown went on to earn a Bachelor of Philosophy and Letters at St. Louis University and later both a Master of Divinity and a Master of Theology (with a concentration in Ignatian Spirituality) from Boston College.
Fr. Brown entered the Society of Jesus 20 years ago at Grand Coteau, Louisiana, a retreat destination familiar to many Jesuit High School Sodalists. Since then he has served at various Jesuit schools including St. John's College in Belize (as a computer science and graphic design teacher), Cristo Rey Jesuit in Houston (as a member of the Board of Trustees), and Jesuit High School Tampa (as a theology teacher and Sodality Director).
Other assignments in his time as a Jesuit have included serving as a college campus minister at St. Louis University; an RCIA director at St. Louis University and at St. Columbkille Parish in Brighton, Massachusetts; parochial vicar at Sagrado Corazón in El Paso; a missionary in Tabasco, Mexico; an Ignatian education consultant in Ankawa, Iraq; a retreat director at Manresa Retreat House in Convent, Louisiana; and the superior of the Jesuit community here on Carrollton and Banks.
During his interim presidency, Fr. Brown has guided the school through the COVID-19 epidemic and has already set a mission-oriented tone for the initial months of his presidency. He has emphasized that every student, family, and faculty member should know and feel that they belong at Jesuit High School, and he has taken action at the level of admissions, hiring, and alumni relations to ensure that this always remains true.
He has overseen a doubling down on the school's commitment to the protection of children. He has also been deeply involved with the school's Minds & Hearts Enlightened Campaign and associated improvements to the school's physical plant. Focusing on the school's core values and on its pedagogical, philosophical, and theological foundations, he has encouraged faculty members, parents, and students to see the ways in which every element of school life—every lesson, school event, athletic match, Mass, and service project—is connected to a higher mission and should ultimately be directed to the glory of God.