Anglers Return to John Ryan for 2020 Blue Jay Fishing Rodeo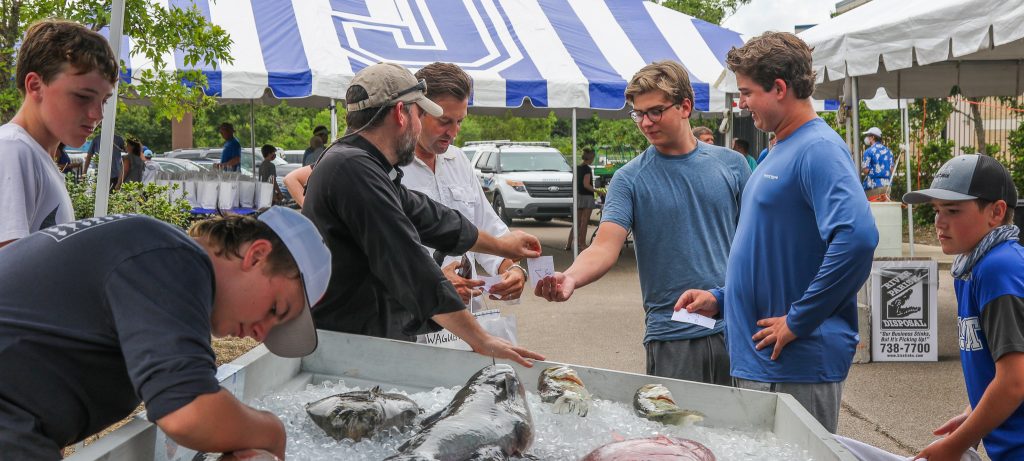 At the school's first major in-person event in a few months, Blue Jay fishermen made an impressive showing at Jesuit's John Ryan Stadium for the 28th Annual Blue Jay Fishing Rodeo. Despite an extensive permitting process and a careful review of the event in light of social distancing best practices, Jesuit families turned out in masks to weigh in their catches and to take part in the day's festivities. The rodeo featured seafood catered by Max Gruenig '06, weigh-in festivities, expert guest speakers, an exciting kayak raffle, a fantastic rodeo shirt, and more.
This year's fishing rodeo was the first to take place without the leadership of Brother William J. Dardis, S.J., but Jesuit is confident that he would be proud of the 28th iteration of this event.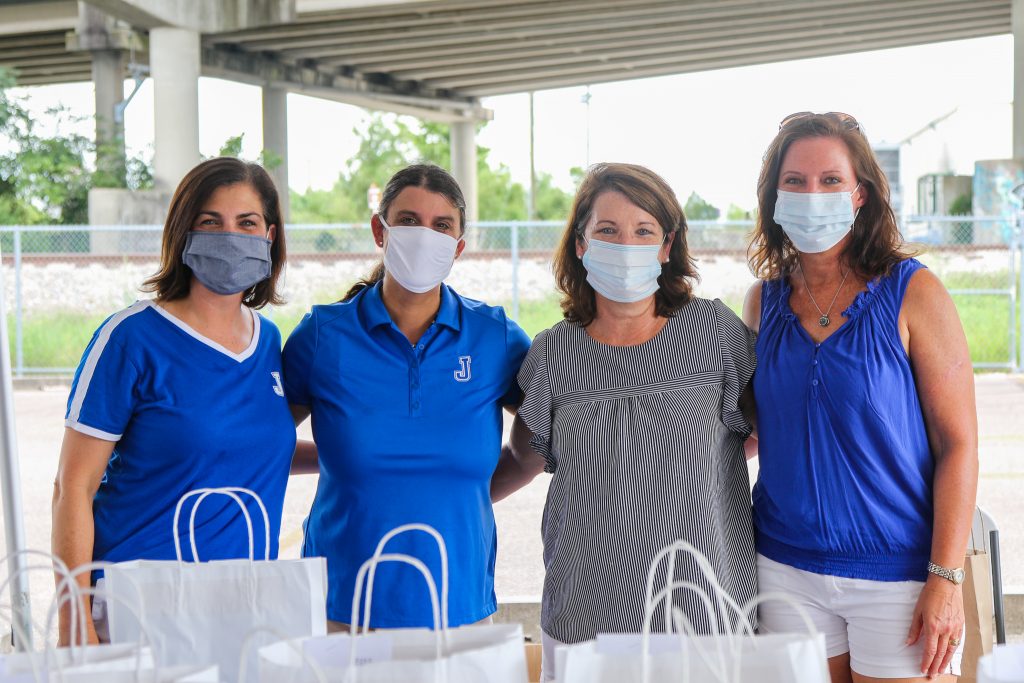 Overcoming the Odds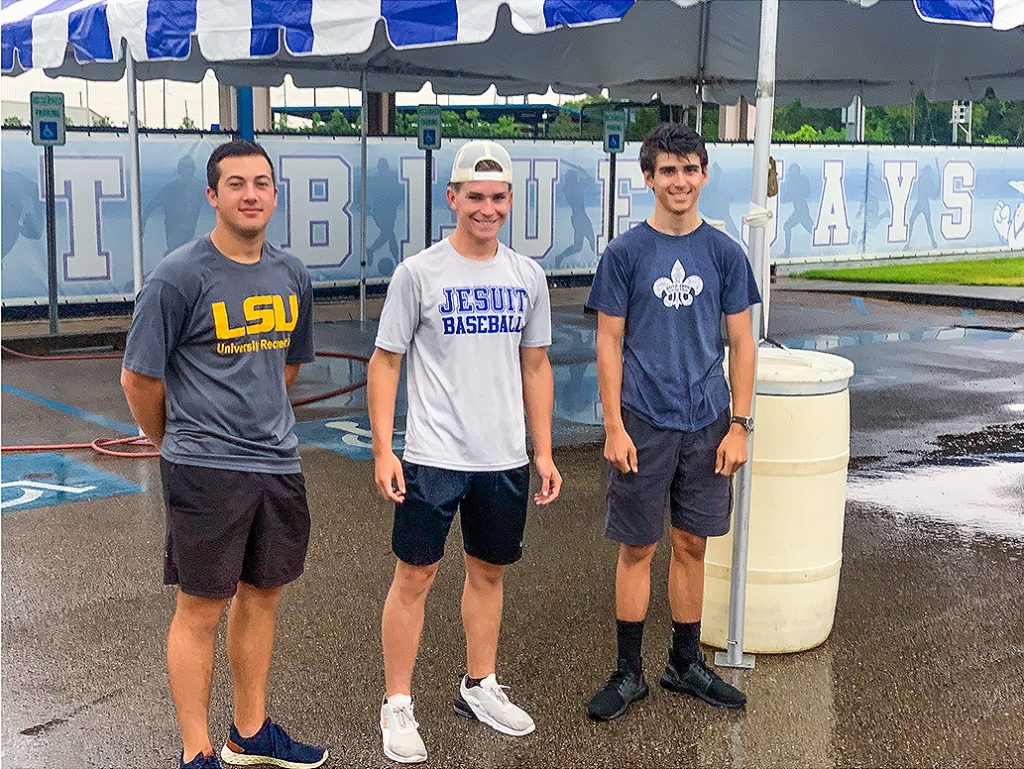 The Jesuit community overcame both logistical and weather-related challenges this year to ensure that the rodeo could take place as scheduled.
In order to facilitate social distancing best practices, the 2020 Fishing Rodeo featured tents that covered more than twice the square-footage of previous years. These tents were set up by Jesuit staff and volunteers including our excellent maintenance team, but the school's resolve was tested when mere days before the rodeo took place wind and rain tore down the entire setup.
---
Featured Honoree
Baton Rouge dentist and founder of Swollfest, Dr. Nick Rauber '98 was honored atthis year's rodeo. Swollfest, a Grand Isle charitable fishing tournament, dates back to Rauber's junior year at Jesuit High School.
"Swollfest Inc. operates as a 100% volunteer-run, Louisiana non-profit organization that raises money to support the capital campaign to build a freestanding children's hospital, so that Our Lady of the Lake can continue their mission to provide for all children entrusted to their care."
Through Swollfest and other means, Rauber has raised more than $1 million for charitable causes across the country.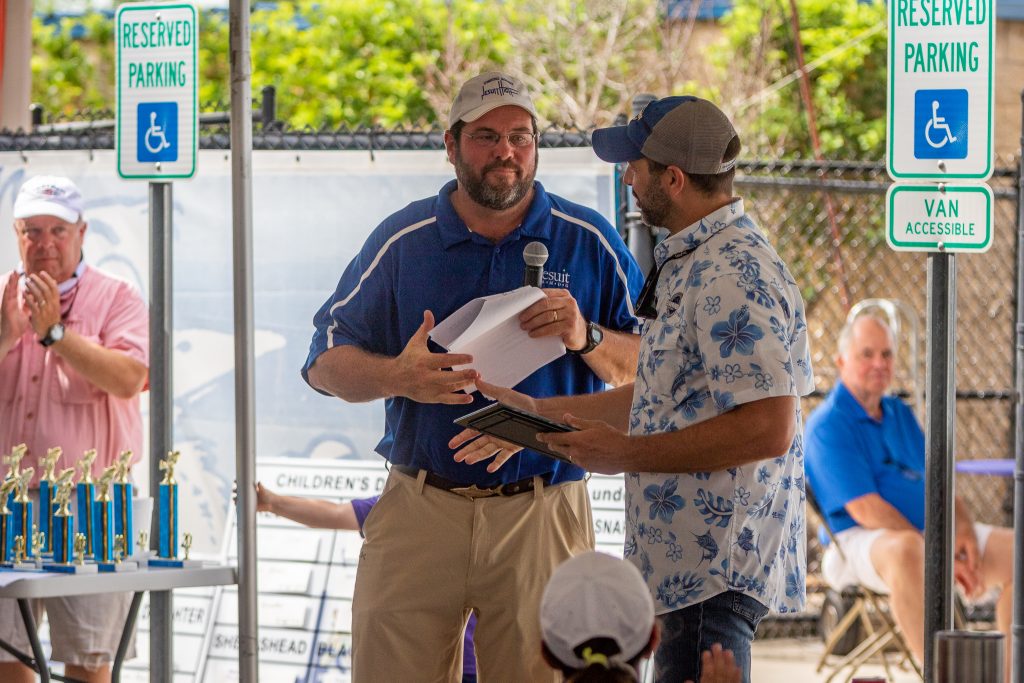 Fishing Rodeo Committee
Assisting chairman Mike McMahon '85 were committee members Ben Bagwill '12, Michael Heier '05, Drew Necaise '05, Pat Morris '90, and Chris Mills '80 (set-up/tear down and weighmasters); Jude Trahant '80, and Gavin Gillen '98 (awards); Andrew Fuller '96 (trophies); Gary Discon '75, Rookie Leopold '61, Ryan Gootee '91, George Haydel (sponsorship); Drew Necaise '05 and Gary Discon '75 (Yeti Raffle); and D.J. Galiano '07 (logistics/music).
2020 Blue Jay Fishing Rodeo Results
Division 1 (19 and older)
Category
1st
2nd
3rd
Bass
Andy Brudzinkski
3.10 lbs
Eric Boos '18
2.0 lbs
Nicholas Lacour '19
1.20 lbs
Black Drum
Melissa Leake
16.15 lbs
Ike Ryan '88
8.65 lbs
Chris Puckett
1.89 lbs
Sheepshead
Rolan Waguespack '92
7.55 lbs
Trey Fury
6.35 lbs
James Deschmann '15
5.85 lbs
Speckled Trout
Ben Noveck
3.00 lbs
Jeff Levy
2.25 lbs
Nathan Abercrombie '92
2.15 lbs
Redfish (16″-27″)
Jake Kuebel '18
8.60 lbs
Andrew Keubel '18
8.55 lbs
Ali Donnes
6.85 lbs
Red Snapper
Gary Discon
17.55 lbs
Gary Discon
16.85 lbs
George Haydel
15.80 lbs
Division 2 (18 and under)
Category
1st
2nd
3rd
Bass
Colin Brudzinkski '21
3.0 lbs
Caroline Abercombie
0.85 lbs
Auggie Berner, Gareth Berner
0.60 lbs
Black Drum
Reed Kronlage
18.55 lbs
Lillian Stouder
8.7 lbs
Patrick Smith
8.20 lbs
Sheepshead
Jacques Karcher
7.25 lbs
Chance Latham '23
6.75 lbs
Win Schibler
5.85 lbs
Speckled Trout
Sam Novack
4.60 lbs
Nathan Abercrombie Jr.
4.05 lbs
Campbell Levy
3.80 lbs
Redfish
Chance Latham '23
7.85 lbs
Dominic Forest
5.55 lbs
Ethan Schaeffer
4.90 lbs
Red Snapper
Blaire Rittner '21
18.55 lbs
Alex Grilleta '24
18.50 lbs
Ben Lirette
18.45 lbs
Division 3 (All)
Category
1st
2nd
3rd
5-Trout Stringer
Gary Discon
18.20 lbs
Puckett Family
8.15 lbs
Team P.B.R.
8.10 lbs
Biggest Fish
Lillian Stouder
35.55 lbs
Father & Daughter
Clare and Albert Kropog
Stouder Family
Abercombie Family
Biggest Catfish
Jacob Howat
15.7 lbs