A Heart-Warming Salute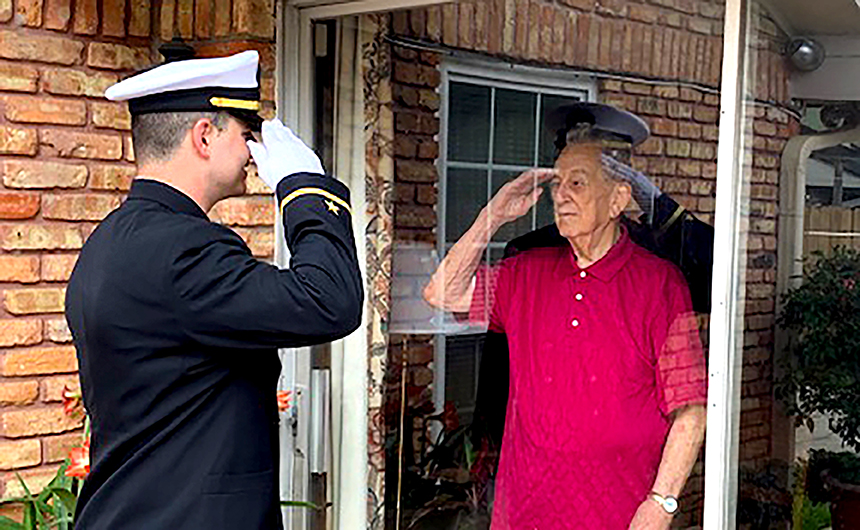 Hearing that his grandson was joining the Navy warmed Art Patron's heart. What happened 18 months later brought tears to his eyes.
Patron, referred to as "Dooty" by his 1951 Jesuit classmates, knows what his grandson is getting into. After graduating from Naval flight training in 1956, Patron accepted a commission in the U.S. Marine Corps. Most of his active-duty, fortuitously positioned between the Korean conflict and the Vietnam War, was spent in a Marine helicopter. The closest he came to combat was an order to evacuate U.S. citizens from hostilities in Indonesia. When government tensions calmed, his squadron (163) was rerouted. And there were six-month assignments in Japan and the Philippines. Patron's last 17 years of duty came in the Marine Reserves, commanding his own squadron for two of those years. He retired as a Lt Col.
Adam Waguespack, the son of Paul and Pam Waguespack (Dooty's daughter), wasn't thinking about a career in the military during his days at Jesuit. He wasn't even in Jesuit's MCJROTC program, the first of its kind in the country. The back-up quarterback was focused on football. It was at LSU in Baton Rouge that Waguespack, a 2014 Jesuit alumnus, started thinking about following his grandfather's footsteps.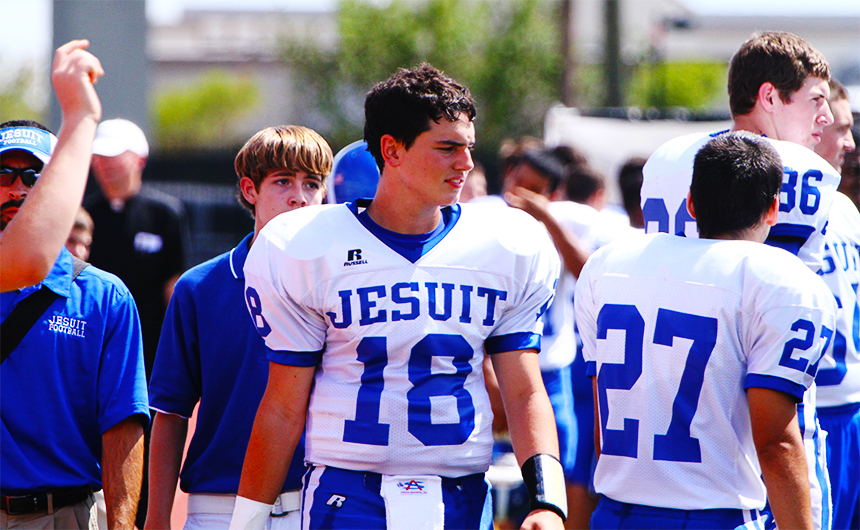 "He was a great role model growing up, and I loved hearing his stories and what his experiences meant to him. That's a big reason I chose the same path," Waguespack said.
With government-ordered Covid-19 restrictions in place, no one from Adam's family made the trip to Newport, Rhode Island for the March commissioning ceremony at the Navy Training Command Center. And that includes Dooty.
"Because of all this virus stuff, my wife Pam and I haven't been out of the house in weeks," Patron said.
Well aware of the quarantine, Adam hurried home to salute (in this case literally) the man who means so much to him.
"It was a surreal, heart-warming experience; the passing down of a military tradition." Waguespack said.
Patron was equally moved.
"To see him in full Navy dress, was…" Sometimes words aren't necessary.
While the Patrons remain in safe quarters at home, their grandson heads to his first assignment, a six-month stint at the Naval Power School, a division of the Navy's Nuclear Power Training Command in Goose Creek, South Carolina. If all goes well, Waguespack will be assigned to a nuclear submarine.
"Better him than me," Patron quipped.
When the world returns to normal, Patron hopes to return to Carrollton & Banks, in his role as a valued volunteer. No Blue Jay has done more for Jesuit's alumni giving program. For decades, Patron has been arriving hours before calling begins to organize outreach efforts with a team of Blue Jays he recruits for duty. It's that dedication that led to his being named chairman of the Alumni Giving Drive, formerly known as the Living Endowment Fund, for the 2018-2019 year. Patron is also serving as captain of his Class of 1951.
Waguespack will give back by serving his nation, and continuing to make his family, including his grandfather, proud.