Jesuit's College Fair to Exhibit 75 Universities and Institutions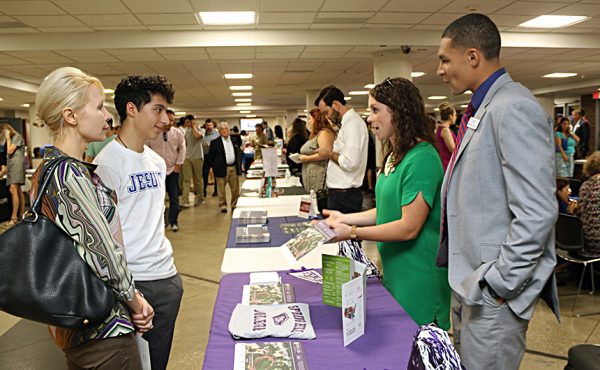 Blue Jay sophomores, juniors, and seniors and their parents are invited to visit with university representatives at Jesuit's College Fair on Monday, Sept. 30, from 6-8 p.m. in the Commons. Doors open promptly at 6:00 p.m. Students and their families should enter the Commons through the main courtyard entrance no earlier than 6:00 p.m.
Admissions representatives from more than 75 institutions (see listing below) will be available to answer your questions. This annual event is solely for Jesuit students and their parents and provides a great opportunity to visit booths from a wide variety of schools, and also to learn in-depth information about specific college campuses and ROTC programs. In addition, a representative from Louisiana Office of Student Financial Assistance (LOSFA) will be on hand to answer questions about the TOPS program.
This event is coordinated by Jesuit's College Planning counselors.
Colleges and Special Programs represented at the 2019 Fall College Fair
Belmont Abbey College
Birmingham-Southern College
Carnegie Mellon University
Case Western Reserve University
Catholic University of America
Centre College
Christian Brothers University
College of the Holy Cross
Delgado Community College
Delta State University
Dillard University
Eckerd College
Embry-Riddle Aeronautical University
Florida Institute of Technology
Fordham University
Franciscan Missionaries of Our Lady(FranU)
Franklin & Marshall College
Georgia State University
Grambling State University
High Point University
Houston Baptist University
Louisiana State University
Louisiana State University of Alexandria
Louisiana Tech University
Loyola University New Orleans
Lynn University
Marquette University
Marymount University
Mercer University
Middlebury College
Millsaps College
Mississippi State University
Nicholls State University
Northwestern State University
Nunez Community College
Oglethorpe University
Providence College
Rensselaer Polytechnic Institute
Rhodes College
Roanoke College
Saint Louis University
Samford University
Sewanee – The University of the South
Southeastern Louisiana University
Spring Hill College
St. Edward's University
SUNY Maritime College
Syracuse University
Texas Christian University
Trinity University
Tulane University
United States Merchant Marine Academy
United States Naval Academy
Univerity of Tampa
University of Alabama
University of Alabama at Birmingham
University of Arkansas
University of Dallas
University of Dayton
University of Georgia
University of Holy Cross
University of Houston
University of Louisiana at Lafayette
University of Louisiana Monroe
University of Massachusetts Amherst
University of Missisippi
University of New Orleans
University of Notre Dame
University of Oregon
University of Rochester
University of South Alabama
University of Southern Mississippi
Valparaiso University
Vanderbilt University
Villanova University
Wake Forest University