Alumni and Spouses/Guests Invited to 2019 Homecoming Mass & Reception
Alumni and their spouses (or guests) are invited to Jesuit High School's Alumni Homecoming Mass & Reception on Saturday, Sept. 14, 2019. Attire is coat and tie.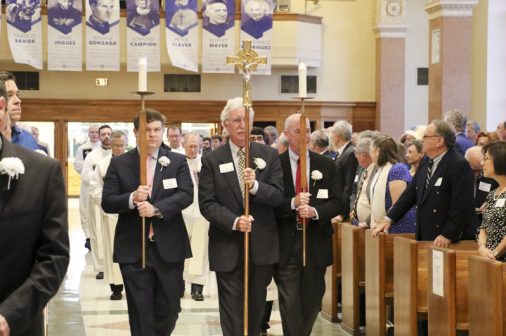 This complimentary event provides alumni and their spouses an opportunity to enjoy the fellowship of being a member of the Jesuit Blue Jay community. Online registration (scroll down) is required and is now OPEN. The RSVP form will close on September 12 at midnight.
The event includes the following:


Homecoming Mass – 6 p.m. – Chapel of the North American Martyrs

Presentation of the Alumnus of the Year—Claiborne Perrilliat '62
Recognition of the 50-Year Class of 1969 and the 25-Year Class of 1994
Reserved Seating at Mass for Recognized Classes / Open Seating for Others
Cocktail Reception Follows Mass until 9:30 p.m.
in the Student Commons & Traditions Courtyard
Food served by Acme Oyster House and Drago's
Open Bar and music
LSU Game on TV
Adults ONLY