Student Council Presents Great American Rivalry Week
"Citizens of America, good morning," said student body president Dowen Fife at Monday's assembly. "This Friday, our beloved football team will play Holy Cross in what is considered the oldest high school football rivalry in the great state of Louisiana and also one of the oldest rivalries in our country. In fact, this game is actually called The Great American Rivalry."
Representing the student council's launch of Rivalry Week, Fife explained that the Jesuit-Holy Cross game received its title because it is an American tradition in the city of New Orleans, one that dates back to 1922.
"And it seems like in recent years we have forgotten the American part of this rivalry," Fife said. "So, in order to put 'America' back into The Great American Rivalry, we the student council themed this week, America Week."
Friday: Morning Assembly, School-Wide Pep Rally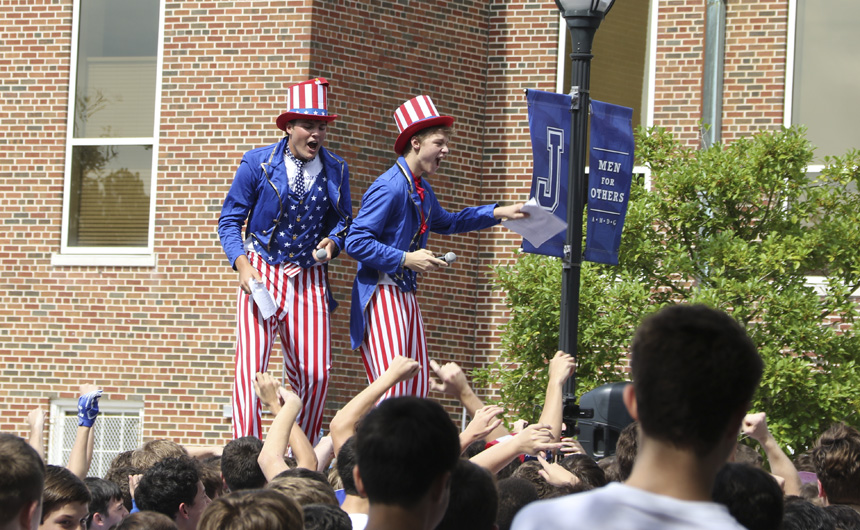 LtCol George "Donnie" Hasseltine '93., USMC must have said something that impacted Blue Jays on Friday morning, because they carried his energy from Morning Assembly and spread it to the masses at Friday's pep rally.
Watch the Video of LtCol Donnie Hasseltine's Morning Assembly Address.
Thursday: "Jays on the Range," Chin-Up Challenge
A ray of sunshine on this dreary Thursday was the arrival of a petting zoo on Jesuit's campus. Students were able to interact with a variety of animals including a rooster, a chicken, two miniature horses, a donkey, a goat, and an Angora rabbit.
While some students relaxed on Will Clark Field at the petting zoo, others flexed their muscles for the Marines' Rivalry Chin-Up Challenge. During lunch representatives of the Great American Rivalry and the Marines were in the courtyard conducting the chin-up challenge. They will be at Holy Cross on Friday doing the same thing. Jesuit students completed 2,003 chin-ups in the 50-minute lunch period! The competition continues until halftime of the game, and the school with the most chin-ups is announced during the third quarter.
Wednesday: American History Quiz
A preview of the senior-faculty football rivalry, Wednesday's student-faculty event was an American History quiz that provided a game-show atmosphere for both students and teachers. Visiting Jesuit to represent the faculty was legendary history teacher, Mr. Ron Rossi, who retired from teaching in May of 2017. Mr. Rossi competed on the faculty team alongside history teacher Dr. Cyril Lagvanec, western civilization teacher Wade Trosclair '07, and English teacher Kevin Yokum '14. They defeated the student team consisting of two seniors, Jack Zvonek and Bradley Fugetta, and two juniors, Tom Levy and William Wells.
Tuesday: An American Favorite—Apple Pie
Although apple pies were the hot commodity at lunch today, students chowed down on many flavors of pie like chocolate eclair, lemon, cherry, and pecan. The pie festivities culminated with a pie-eating contest, and senior Jake Juge prevailed as the victor.
Monday: Homeroom Home Run Derby
Each homeroom representative chose one participant from its class to compete in the Home Run Derby. All spectators received a freezie pop, and the big prize went to senior Jack Zvonek.