Alma Mater Awards Luncheon Honors Newest Recipients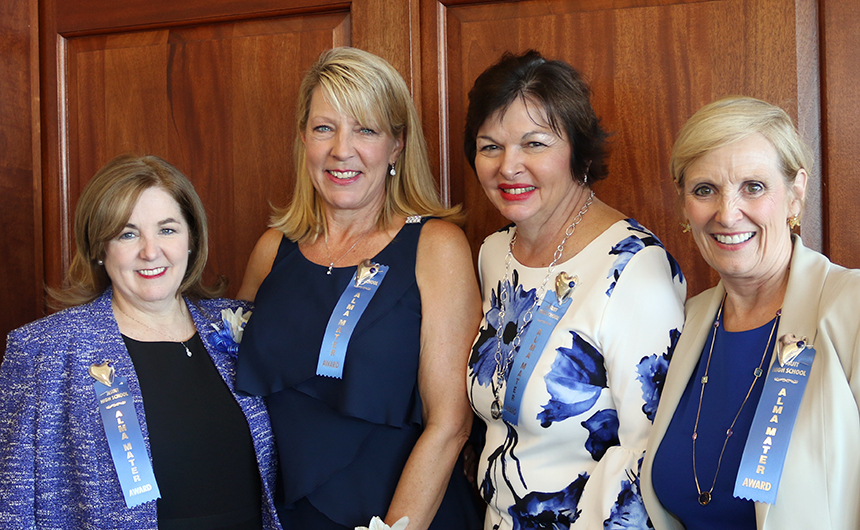 Four Blue Jay mothers — Patti Mahoney, Breni Crabtree, Marianne Call, and Linda Tufton — are the newest recipients of Jesuit High School's prestigious Alma Mater Award.
The annual Alma Mater Awards Luncheon was held Tuesday, Jan. 23, at the Southern Yacht Club. Original scheduled for Thursday, Jan. 18, the event was postponed due to hazardous conditions resulting from the hard freeze in the New Orleans area.
The event honored four mothers for their remarkable and incomparable volunteer work. Jesuit president Fr. Christopher Fronk, S.J., thanked each honoree and presented her with a beautiful Alma Mater Award pin.
This is the 18th year that Jesuit is recognizing its volunteer mothers whose extraordinary contributions of time and talent have greatly benefited the school. The first Alma Mater Awards Luncheon was held in 1992 and — for the next 13 years — was a much-anticipated fall event. Following Hurricane Katrina, the luncheon was put on hold until it returned to Jesuit's calendar in the 2013-14 school year.
About the 2017-18 Alma Mater Award Recipients
Linda Tufton is the wife of Dr. Peter Tufton, a West Bank dentist, and mother of the newest dentist in the family, Dr. Michael Tufton, a 2005 Jesuit alumnus. When Linda wasn't working in the family business as a dental hygienist, she served as patron party chair, auction chair, and co-chair of Jesuit's gala, Celebration. She also assisted with the Blue Jay Bazaar, office mailings, and participates in Lenten retreats. Knowing that Linda has four daughters who attended Sacred Heart and only one son who attended Jesuit, the school is grateful that she has made it a priority to spend so many hours giving of her talents at Carrollton & Banks. Linda remains active as a volunteer, serving as a member of the Alma Mater Awards committee – a shining example for her son, who today serves as his alumni class captain. For the Tuftons, the Blue Jay doesn't fly far from the nest. And Jesuit is better off because of it.
Patti Mahoney is the person Jesuit turns to to coordinate adult beverages for the school's many events. It's a niche assignment that could prove hard to manage for others, but not for Patti. She's a keen negotiator, collaborating with Jesuit's unofficial "vice-president in charge of everything," Brother Billy Dardis. When it comes to getting low cost libations, or even a team of bartenders to serve them, they are the dynamic duo. Patti has also been instrumental in the success of Jesuit's wrestling program with her work behind the scenes, coordinating volunteers for matches and wrestling alumni reunions. Patti is the mother of David Mahoney, a 2011 alumnus, and the aunt of 2015 alumnus Peyton Markey. To her son, to her nephew, and to Jesuit, Patti is more than just a mom, an aunt, or a volunteer. She's a tag-team partner.
Marianne Call made her first dive into volunteer work at Jesuit as a parent volunteer with the Jesuit swim team when her son, Jeremy, a 2005 alumnus, swam for the Jays. She also found time to co-chair the inflatable play area for the Blue Jay Bazaar. Marianne also made major contributions to the gala, chairing the Celebration patron party, auction, and in 2005, the event itself. And not least among the list of accomplishments is her work with volunteer mailings, Open House, Lenten retreats, refreshments, and faculty/staff luncheons. All of this, mind you, while working full-time as a nurse educator. Truly impressive! Finally, it's fitting that she be recognized because Marianne still serves on the committee that makes the Alma Mater Awards luncheon possible.
Breni Crabtree makes her biggest contribution to Jesuit – and there are many – in the area of spiritual development. She's been a key player in the Mother's Rosary Group for countless years and continues with that devotion today. Breni helps organize and coordinate the annual Mother's Retreat, and she served on the committee that helped renovate Jesuit's Holy Name of Jesus Chapel. Breni is the mother of three Blue Jays – Kyle, a 2012 alumnus, Scott, who graduated in 2015, and Todd, who crossed the stage last May. All of them played baseball for Jesuit, a sport they learned to play and love from their father, Skip. Also, Breni and her son Todd are leaving a legacy. Together, they helped start the Jesuit Robotics Club. With Breni's behind-the-scenes, enthusiastic coordination, the program has already received local, state, and regional recognition for its accomplishments. Finally, Breni enjoyed a special bond with the person who greenlighted the return of the Alma Mater Awards luncheon. Breni, with her close friend and 2017 Alma Mater Award recipient Liz Creel, drove to the residence for retired Jesuits in Grand Coteau – on a weekly basis – to be with, pray with, and laugh with Fr. Raymond Fitzgerald, as he courageously battled A.L.S. Fr. Fitzgerald is certainly smiling down as Breni Crabtree is added to list of Alma Mater Award honorees.