Homecoming Weekend Jam-Packed: Rivalry Game, Alumni Mass & Reception
Mark your calendars! Alumni Homecoming Weekend is September 29-30, 2017.
Once again, the schedule for the Great American Rivalry Series includes the Jesuit-Holy Cross football game. The Blue Jays will take on their longtime rivals on Friday, Sept. 29, with kickoff at 7:15 p.m. at Tad Gormley Stadium.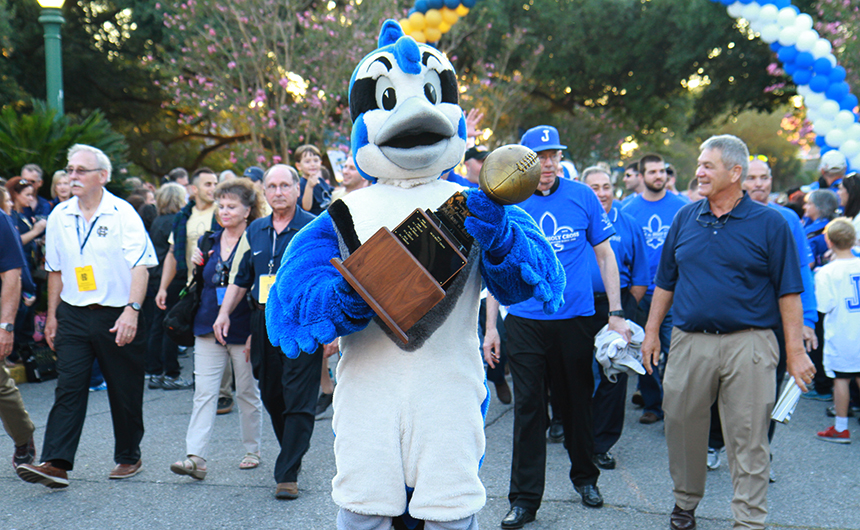 Jayson displays the Golden Football trophy.The festivities for the 98th meeting of Jesuit and Holy Cross will start at 4 p.m. outside the stadium for the Rivalry Tailgate Party. Complimentary food and refreshments will be provided at the tailgate party, which will conclude as the Krewe of Rivalry parade leads fans into the stadium for the game.
Fans won't want to leave their seats at halftime as the show will include recognition of Jesuit's Distinguished Military Alumnus, Legend of the Game, and Scholar-Athlete. The presentation of the Golden Football will follow the game and conclude Friday's festivities, but the weekend celebration at that point will only be just beginning. Alumni Homecoming continues on Saturday with the annual Alumni Homecoming Mass and Reception on Jesuit's campus.
---
Further details on Friday's events:
Rivalry Tailgate Party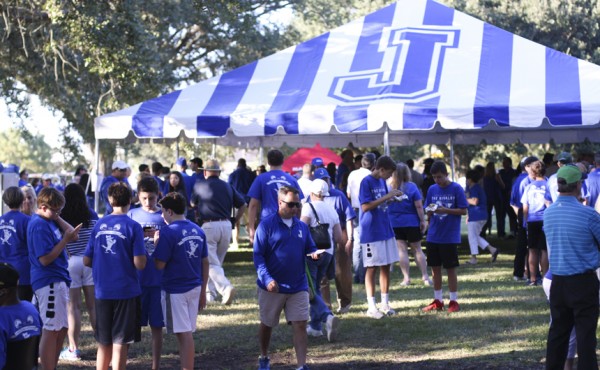 Jesuit and Holy Cross families will meet for a combined tailgate beginning at 4:00 p.m. Jesuit families should meet at the blue and white tent (outside Tad Gormley Stadium on the Marconi Drive entrance) where complimentary hamburgers, hot dogs, and soft drinks will be served. Rivalry t-shirts will be on sale and Jesuit's Student Council will be on hand hosting fun events filled with Blue Jay Spirit.
The new addition to the Rivalry Tailgate Party is the Inaugural Young Alumni Great American Cookoff. Blue Jays from the Classes of 2000 to 2013 will compete in a cookoff at their personal class tents, which will make up the Young Alumni Row. Celebrity Blue Jay Judges — Aaron Burgau '92 (Patois/Central City BBQ), Brian Landry '94 (Borgne), and Justin LeBlanc '99 (Bevi Seafood) — will choose the winning team. The Blue Jay community is invited to experience each class's culinary masterpieces when the cook-off ends. You're surely in for a treat, so bring your appetite!
Krewe of Rivalry Parade
At 6:15 p.m., the Krewe of Rivalry Parade will be led by Jayson and Holy Cross's Thunder the Tiger. The parade will feature each school's marching band, cheerleaders, dance team, and this year's Scholar-Athlete, Legend of the Game, and Distinguished Military Alumni honorees.
---
A traditional feature of this Great American Rivalry is the recognition of the senior letterman on each team for his academic achievement. Jesuit's 2017 Scholar-Athlete is Matt Frischhertz with a 4.43 GPA. As a three-year letterman, Matt has been an important weapon for the Jays from his defensive end position. He is an involved student serving as Jesuit's student body vice-president, a Eucharistic minister, and a member of the peer support team. Also, he is a member of the National Honor Society. This summer Matt put in more than one hundred hours of service at Krewe de Camp, a camp dedicated to enhancing the lives of special needs children. Matt hopes to attend Mississippi State or Ole Miss and eventually pursue a career in business. He is the son of Kevin and Lori Frischhertz. The Great American Rivalry Series will present a $500 scholarship check to Matt and Holy Cross's Scholar-Athlete.
---
Jesuit's 2017 Legend of the Game is Rick Chanove '89. Rick stands out as one of Jesuit's great athletes of the 1980s. As a three-year letterman in football at quarterback, Rick was a big factor in the Jays' victories over the Tigers in 1987 and 1988. After his senior season, he earned All District and All Metro honors. Rick was also a standout baseball player for the Jays, a four-year starter who received numerous accolades including All-State honors and the prestigious Rusty Staub Award for leadership on the baseball team. After Jesuit, Rick attended Tulane on a baseball scholarship. During his stellar baseball career at Tulane, he was captain of the baseball team his junior and senior years, was on the All-Metro Conference Tournament Team his senior year, and several times was named the Metro Conference Player of the Week. At the end of his Tulane career, Rick received the Team Leadership Award. Today Rick is a CPA serving as the operations support manager for Utility Lines Construction Services. Rick and his wife Betsy have three children – daughter Mallory and sons Jake '17 and Grayson '21.
---
Distinguished Military Alumnus
Also during the National Anthem ceremony, Jesuit and Holy Cross will each honor an alumnus for his distinguished and meritorious military service to the United States. Jesuit proudly recognizes retired Marine Corps veteran Captain Ronald Drez '58. Capt Drez served honorably in combat in the Vietnam War as the commanding officer of company H of the 2nd battalion, 5th Marines, the most highly decorated battalion in the Marine Corps. His exemplary service earned him two Bronze Stars, the Vietnamese Cross of Gallantry with Silver Star for heroism in combat, and the Presidential Unit Citation. At Jesuit, Capt Drez was a three-year member of the track team as a hurdler and also was a member of the Sodality. Following Jesuit, he attended Tulane, where he received his business degree in 1962 and a master's degree in history in 1985. As a member of Tulane's NROTC program, Capt Drez was a member of Tulane's three-time national championship rifle team in 1960, 1961, and 1962. He entered the Marines as a commissioned officer in 1962. Today Capt Drez is a noted author, historian, and lecturer. He has published nine books of military history, including Remember D-Day, selected as a Best Book of 2004 by the School Library Association, and Predicting Pearl Harbor: Billy Mitchell and the Path to War, published just this month. Also, in 2012 he published Gallant Fighting Sons, a history of Jesuit High School. Capt Drez has served as assistant director and research associate to the late historian Stephen Ambrose at the Eisenhower Center and to Douglas Brinkley at the University of New Orleans, 1987 – 2007. He is the president of Stephen Ambrose Historical Tours.