Student Council Leads Merry and Bright Christmas Week Activities
Though Christmas is still a couple of weeks away, Jesuit's Student Council is helping Blue Jays get into the holiday spirit with a week's worth of festive lunchtime events. Though the annual highlight is a homeroom door decorating contest, students will find many ways to make merry before exams and a much deserved break.
View the Winners of the Door Decorating Contest
Friday: School-Wide Tacky Sweater Contest and Christmas Karaoke

And on the fifth and final day of Christmas Week activities, students enjoyed rollicking karaoke renditions of holiday classics, as well as a faculty-judged tacky sweater contest. After fierce competition, the field was narrowed to eight and then to the top four tackiest sweaters. Pictured here (from left), senior Pat Spiers, senior Davis Friend, pre-freshman Garrett Derbes, and pre-freshman Noah Leingang compete for the ultimate grand prize… another tacky sweater. In the end, there was no denying that Garrett's Christmas cat sweater was the tackiest of them all.
Thursday: Follow the North Star Scavenger Hunt sponsored by Campus Ministry, as well as Door Decorating Contest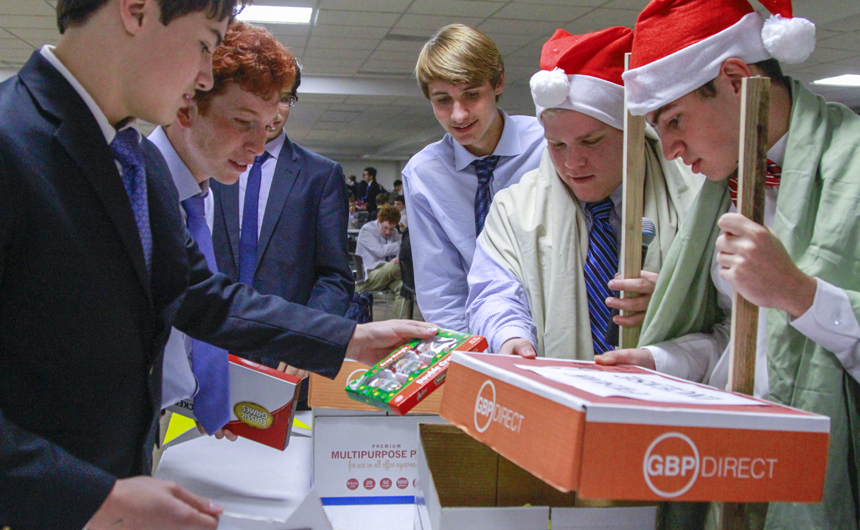 On Thursday, students were met by three wise men who gave them clues for a campus-wide scavenger hunt. Blue Jays fanned out to collect hidden gold stars, which they then exchanged for prizes contained in boxes. Each box was labeled as a gift the magi brought to the infant Jesus, and — while no gold was at stake — there was quite a selection of colognes arguably as fragrant as real frankincense and myrrh. Pictured from left, freshman Richard Horner, senior Rusty Gros, and senior Evan Hatrel bring their stars to two of the wise men — seniors Jacob Acosta and William Fine — to claim their gifts.
Wednesday: Gingerbread House Building Contest with a Special Visit by St. Nick Legier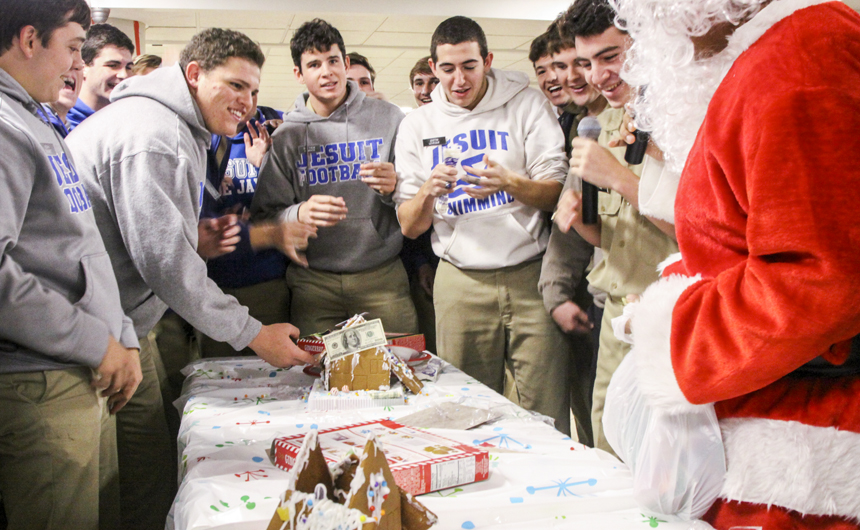 On Wednesday, students tested their architectural skills with a gingerbread house building contest. Grade-level teams spackled homes with icing and added festive accents, like peppermints and gum drops, to their creations. Seniors (from left) Noah Baquet, Peyton Cox, Matthew McMahon, and Justin Leveque await guest judge St. Nicholas Legier's final decision, while Student Council president William Fine confirms that the Class of 2017 pulled off the win. Santa was also available for pictures in front of the student-decorated Christmas tree.
Tuesday: Christmas Caroling and Tree Decorating
During lunch on Tuesday, students sang Christmas carols and decorated a tree in the Student Commons. Over 500 candy canes were used on the tree and were only available for consumption by those brave few who sang along with the carolers.
Monday: Christmas Cookies and A Christmas Story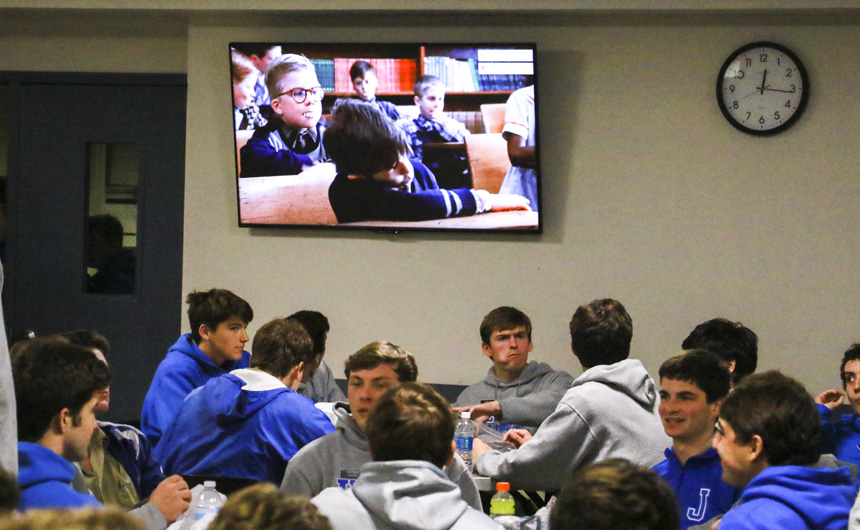 On Monday, students enjoyed a whopping 20 pounds of cookies while they watched the holiday classic A Christmas Story during lunch in the Commons. Though no one had to endure the embarrassment of wearing a pink bunny onesie, great fun was had by all.
Save