Class of 2017 Yields 22 National Merit Semifinalists and Six National Hispanic Scholars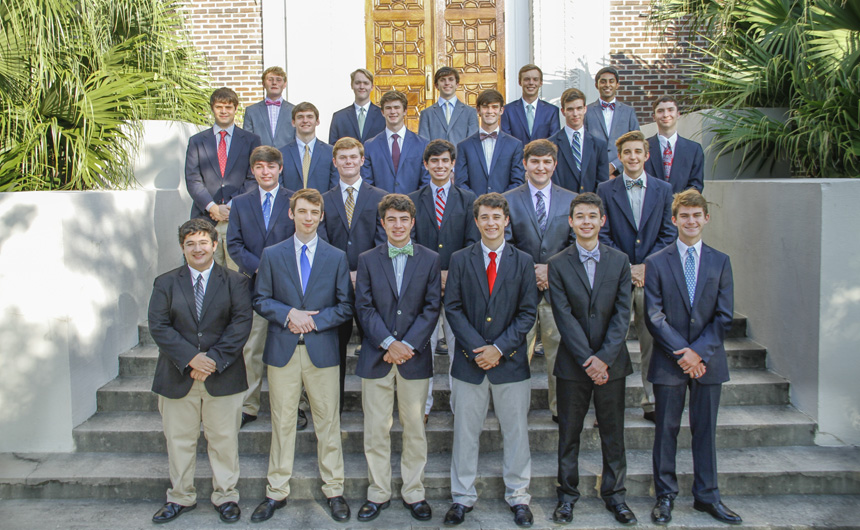 Jesuit High School is proud to announce its 22 National Merit Semifinalists and six National Hispanic Scholars in the Class of 2017.
Jesuit's 22 National Merit Semifinalists
An * next to the names of the National Merit Semifinalists indicates that the senior is also a National Hispanic Scholar. The National Merit Semifinalists in Jesuit's Class of 2017 are:
Bottom row (from left): Christian Gonzalez*, Andrew Souther, William Fine, Alexander Welsh, Troy Broussard*, Dylan Meyer
Second row: Christopher Chimento, Noah Martin, John Quaglino, Samy Amkieh, Jonathan Vegh
Third row: Preston Warwick, Christian Hebert*, Maxfield Bell, Graham Buck, Ethan Legrand, Keegan Rooney
Fourth row: Brandon Jackson, John Redfearn, William Hillery, John Steib, Nikhil Gogineni
The 22 National Merit Scholars in the prestigious National Merit Scholarship Program represented nearly 20% of the more than 100 New Orleans-area high school honorees. The number of semifinalists in a state is proportional to that state's percentage of the national total of graduating seniors. Nationwide, nearly 1.6 million students entered the competition, and the field was narrowed to only 16,000 semifinalists. Considering semifinalists alone, this number represents less than one percent of U.S. high school seniors. From the elite group of semifinalists, 7,500 students will go on to win scholarships worth over $30 million.
This year's semifinalists from Jesuit posted scores ranging from 214 to 226 on the PSAT/NMSQT®, which is used as the initial screen in the annual competition underwritten by the National Merit Scholarship Corporation (NMSC). Scores of those seniors who are Commended Students ranged from 209-213.
Jesuit's Six National Hispanic Scholars
In the Class of 2017, six seniors are honored as National Hispanic Scholars: Troy Broussard, Eric Espinal, Christian Gonzalez, Christian Hebert, Philip Hourguettes, and Christian Marks. Three of these students, Broussard, Gonzalez, and Hebert, are also National Merit Semifinalists. The College Board underwrites the National Hispanic Scholar Recognition Program.
Commended Students in the National Merit Competition
Additionally, the names of 12 seniors who are Commended in the National Merit Scholarship competition were also released. According to the NMSC, more than two-thirds (about 34,000) of the approximately 50,000 high scorers on the PSAT/NMSQT® receive Letters of Commendation in recognition of their outstanding academic promise. Commended Students are named on the basis of a nationally applied Selection Index score that may vary from year to year and is typically below the level required for participants to be named Semifinalists in their respective states. Although Commended Students do not continue in the competition for National Merit Scholarships, some of these students do become candidates for Special Scholarships sponsored by corporations and businesses.
The 12 Jesuit seniors who are Commended Students in the 2017 competition are: Jeffrey Brothers, Peyton Duersel, Eric Espinal, Roger Jordan, John Kling, John Garel McCord, August Neyrey, Matthew Nguyen, Sam Recile, Patrick Rees, Henry Sauviac, and Hunter Tracey.
The faculty, administration, and staff of Jesuit High School congratulate the 22 National Merit Semifinalists, the 12 Commended Students, and the six National Hispanic Scholars for their significant academic achievement.