Ten Minute Break Back with New Hosts…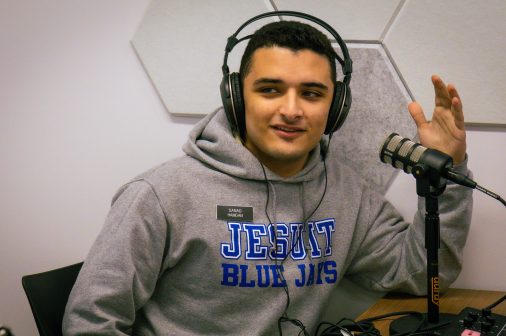 Meet one of our podcast co-hosts, Sanad Hamdan, ready to carry forward the legacy of the Ten-Minute Break, Jesuit's student podcast, along with fellow seniors Jeremy Rink, co-host, and Ahmad Farrukh, podcast coordinator. They're all set to introduce you to the vibrant voices of our school community, kicking off with a bang and an insightful first episode featuring Jesuit's student body president and vice-president, Luke Couret and Kyle Collins.
In the upcoming episodes, our co-hosts will bring fresh perspectives, untold stories, and engaging discussions to the Blue Jay community. As they continue to explore the heartbeat of student life, you can expect an ever-expanding roster of guests from faculty members to athletes to students who will inspire, inform, and entertain. So, stay tuned for a series of episodes that promises to be both informative and entertaining.
Photo by senior Ahmad Farrukh.