Arnie's Army…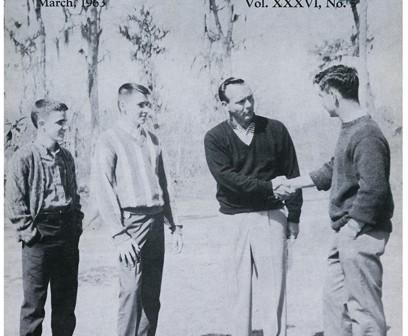 Talk about a magical moment in Blue Jay history! Blue Jay magazine history, more specifically. In fact, this year marks the 90th year since the student-run publication existed.
This week's Throwback Thursday photo shows three Blue Jay golfers meeting "The King" of golf. Arnold Palmer, often called "The King" or "Arnie" for short, had won six major championships by 1963. With this success he drew such a diverse following, known as Arnie's Army. All seniors at the time, Chick Schoen '63, Mike Guarisco '63, and Mike Eagan '63 got the chance of a lifetime when they shook hands with Arnie at Lakewood Country Club. Lakewood was the site of the New Orleans Invitational (now the Zurich Classic); and it was the late Garic Schoen '38, Chick's father, who brought in Palmer for the PGA tournament. Although Arnie died in September of last year, his name, his Army, and this picture will live on forever. Jesuit photographer Richard Cambre '66 captured this unforgettable memory.
This information is just a summary of the "Annus Mirabilis" section from last semester's issue of Jaynotes. Look out for stories like this in the Spring/Summer 2017 issue, hitting mailboxes in August!