Travel With Style and Spirit, Get Your Special Blue Jay License Plate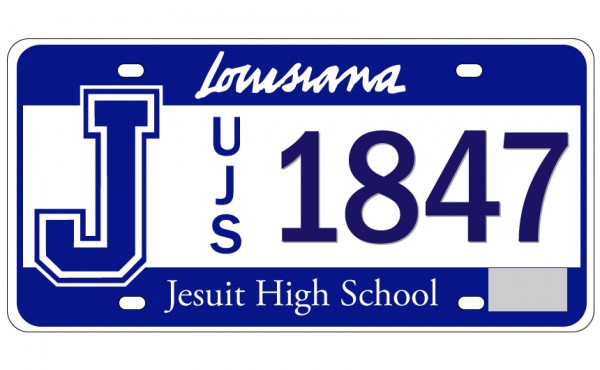 Jesuit is proud to introduce the school's first official Blue Jay license plate sold by the Louisiana Office of Motor Vehicles (LOMV).
State Representative Nick Lorusso, a 1985 alumnus, presented the idea to school president Fr. Anthony McGinn, S.J. '66 during the current president's first term of service. With the president's blessing, Lorusso passed legislation needed to make the special "license"-ing arrangement possible.
Proudly show your Blue Jay Spirit by purchasing and displaying an official Jesuit High School special plate from the Louisiana Office of Motor Vehicles.
Cost
The initial cost of the two-year special plate is $50, which goes directly to support Jesuit's mission. The two-year renewal fee for the special plate is $50. Special plate fees do not include other state registration fees, which differ based on vehicle type. Tag numbers are assigned sequentially as orders are received. The LOMV does not currently allow individuals to request or reserve specific numbers.
Order Info
Ordering is a two-step process. First, go to the LOMV website. You will need your driver's license number and current license plate number. Then, you'll print the order form, which contains the information you entered. Finally, mail your registration form to the LOMV with a check or money order.
Questions
If you have questions about the process, please call the LOMV's Specialized Vehicle Unit at (225) 925-6371.