Latest Issue of Jaynotes Hits Mailboxes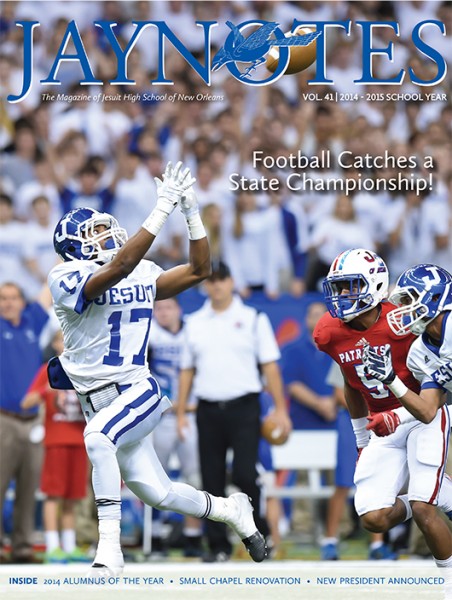 The latest issue of Jaynotes, the magazine of Jesuit High School, is available online and is arriving in mailboxes now. This issue covers the entire 2014-2015 school year. View the publication archive to read the current issue.
Cover Story
Football Catches a State Championship
2014 Alumnus of the Year
Small Chapel Renovation
New President Announced
The State of Jesuit Admissions
Veteran Teachers Paul Frederick and Denis Dupuis Retire
Class of 2015 Graduates… Off They Go!
… and much more.
Printable Images
High resolution images (JPGs) from this issue are available for personal printing. View and/or print the following:
Cover (size: 8.5″ x 11″)
Fold-out inside cover (size: 11″ x 17″)
Cover story spread (pages 38-39) (size: 11″ x 17″)
Address Updates
Does Jesuit have your current contact information? Use the links below to stay in touch with Carrollton & Banks:
Family and Friends Contact Update