Blue Jay Fans Enjoy Tailgate with Longtime Rival, Holy Cross Tigers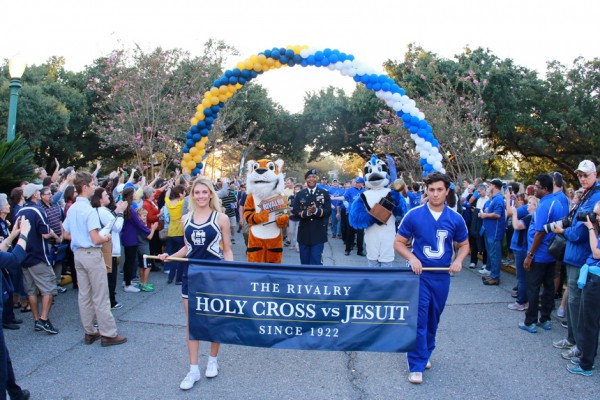 View the Photo Gallery of the Rivalry Tailgate Party
Thousands of students, alumni, parents, and parents of alumni gathered in New Orleans City Park for the annual tailgate party that preceded the 96th meeting of the Jesuit and Holy Cross football teams. The event, which has grown into a massive celebration for both schools, took place just outside Tad Gormley Stadium on Friday, Oct. 2.
In the hours prior to the gridiron contest, the Blue Jays and Tigers set up tailgate parties on both sides of Marconi Court, with fans from the schools co-mingling and celebrating the storied rivalry game. Each school's tailgate features multiple tents, music, food, a parade, and, of course, a healthy dose of school spirit.
Under the blue and white striped tent, Jesuit's Class of 1985 prepared and served hungry Blue Jay fans tailgate favorites, such as pork chops on skewers, pulled pork sliders, smoked and green onion sausages, and alligator sliders. The Class of '85's efforts were organized by John Zollinger and Brian Illg. Meanwhile, jambalaya, hamburgers, and hot dogs were prepared by Koz's Restaurant, under the direction of Max Gruenig '06 and his wife Roz.
Soft drinks and bottled water were served by the friendly Jesuit maintenance staff, who did their usual outstanding job setting up tents and preparing the festival grounds. The Class of 1985 also helped with set-up for the big party.
Under the alumni tent, manned by Kevin Stierwald '85 and Glen Gillen '85, graduates received stickers identifying them as alumni, as well as Jesuit alumnus car window decals.
Parents of new Jesuit students received free tickets to the game and enjoyed the festivities with their sons and family.
Face painters worked their artistic magic on the cheeks of the youngest fans. In the open field next to the festival, Blue Jay fans of varying ages played games of pick-up football.
The tailgate party concluded with the Krewe of Rivalry parade featuring mascots, cheerleaders, marching bands, and honored guests from both schools. As the parade made its way into the stadium, the fans followed, closing out yet another successful Rivalry tailgate.
Read More
The New Orleans Advocate – Holy Cross-Jesuit more than a football rivalry