Band and Chorus Dazzle Christmas Concert Goers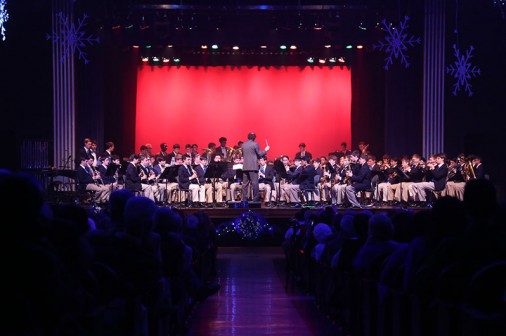 A near capacity crowd at the Jesuit High School Auditorium was treated to a spirited performance on Saturday, Dec. 5 by the Jesuit and Ursuline Combined Chorus, the Jesuit Concert Band, and the Jesuit Jazz Band, as well as some dazzling special effects.
The Barbershop Blue Jays opened the evening with Jesuit's Alma Mater. They went on to perform Christmas Chopsticks and Barbara Ann.
The chorus, under the co-direction of Jesuit's Mrs. Kate Arthurs-Goldberg and Ursuline's Ms. Helen Honoree Myers, kicked off their portion of the program that included Candlelight Christmas, In The Bleak Midwinter, and Jingle Bell Spectacular.
The concert band then took the stage under the direction of Mr. Joseph Caluda '79 and played a four-song set of Most Wonderful Time of the Year, Do You Hear What I Hear, and Trans-Siberian Orchestra's hits Wizards in Winter and Christmas Eve in Sarajevo.
To the delight of the audience, Auditorium Manager and special effects guru Mr. D.J. Galiano '07, actually managed to make it snow indoors.
The final group of the evening was the Jesuit Jazz Band, under the direction of Mr. Jason Giaccone and his ever-changing arsenal of hats. Giaccone led the band through a rollicking set that included Have Yourself a Merry Little Christmas, Silent Night, Beyond the Sea, Away in a Manger, and Children of Sanchez.
View the Christmas concert program.