Renovations on Tap in Holy Name Chapel
From The Blue Jay, Vol. 86, No. 4, February 2014

By William Fine, Staff Writer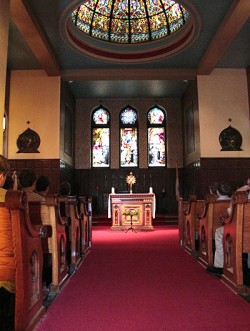 With the beautiful and historic stained glass windows and its inviting atmosphere of solemn serenity, the Holy Name of Jesus Chapel is one of Jesuit's treasures.
Father Raymond Fitzgerald, S.J., has called the "small chapel," as it is known by most in the community, the spiritual heart of the school. To maintain its beauty as a place of worship for years to come, Jesuit has embarked on a new capital campaign project to renovate the chapel.
Hoping to raise $500,000, the drive already has received $70,000 in pledges.
The planned renovations include refurbishment of every part of the historic chapel, from repairing cracks in the pews to restoring the rare paintings on the walls.
Since its opening in 1926, the chapel has never been redone to this level. The renovation is expected to take nine months, with the major work beginning at the end of this academic year. The hope is to keep the chapel open throughout the process, but if it does close, the functions normally held in the small chapel, such as daily morning Mass, will be held in the Chapel of North American Martyrs. The administrative wing is also expected to stay open.
Pamphlets detailing the renovation plans are available outside the president's office. One renovation, according to Father Fitzgerald, that is expected to please: "There will be pads on the pews, by popular demand."