Jesuit High School Mourns the Death of William "Billy" Dwyer
William Patrick "Billy" Dwyer, who mentored hundreds of students as a guidance counselor and coach for nine years at Jesuit High School, died unexpectedly on Wednesday, July 9, 2014. He was 38-years-old.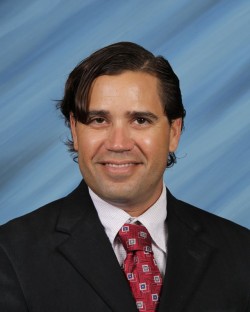 Mr. Dwyer was an assistant coach of the varsity tennis team, and he also spent six weeks at the beginning of the summer break tutoring future Blue Jays in Operation Upgrade, an academic program for economically disadvantaged boys in elementary grades.
A Jesuit alumnus (Class of 1994) whose diminutive frame belied that of a talented athlete, Mr. Dwyer played soccer with unbridled passion, making him a star among his classmates. While soccer was his choice sport, he was also a member of the Blue Jay tennis team.
As a senior, Mr. Dwyer was offered scholarships to play soccer at the College of Charleston and the University of Kentucky. At the time, he was only the second Blue Jay soccer player to receive scholarship offers. Mr. Dwyer held a bachelor's degree from the University of Kentucky, where he played on the Wildcats' soccer team, making the SEC Academic Honor Roll in 1998. He later earned a master's degree from UNO.
In 2003 Mr. Dwyer returned to his alma mater as a guidance counselor. In 2008 he accepted a two-year assignment to teach at-risk youth at the Good Shepherd School, which is one of the educational ministries of the Jesuit's Southern Province.
Mr. Dwyer returned to Jesuit's guidance department at the start of the 2010 school year.
"Billy was a very dedicated guidance counselor who loved working at Jesuit and counseling students," said Mary Favalora, director of guidance. "The students highly respected him and he was our beloved and revered colleague. We mourn his loss and will miss him tremendously."
A memorial service will be held Saturday, July 12 at 11 a.m. in The Chapel of the North American Martyrs at Jesuit High School. Visitation will begin at 10 a.m.