Class of 2013 Launches Small Chapel Fundraising Campaign
Dear Jesuit High School Alumnus of the Class of 2013:
At the end of our senior year, many of the leaders of our class brainstormed ideas for a senior gift. Unfortunately at the time we could not agree on a particular gift that would fit our checklist of what a senior gift should be: 1. A senior gift should be something that symbolizes the legacy that a senior class wants to leave behind, 2. It should be something that benefits the Jesuit High School community, and 3. It should be something that could be part of the community for years to come.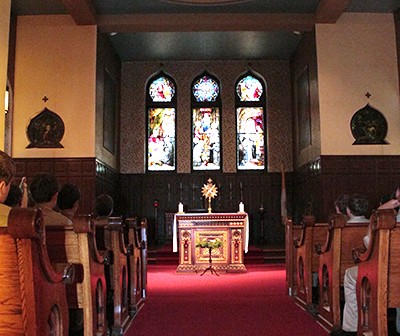 While we were not able to find the perfect gift before our graduation, a great opportunity has popped up one year later. Jesuit High School has launched a campaign to seek funding for the renovation of the historic Holy Name of Jesus Chapel, which many of you know simply as the small chapel. Our class has always strived to be both men of faith and men for others and many of us believe that helping to purchase something for the small chapel will be a great addition to our classes' forever-growing legacy. A gift for the small chapel is also something that we believe would benefit the community for a long period of time.
It is important for you to understand that this is not Jesuit High School asking for money, but rather something that we, the class of 2013, are deciding to give to Jesuit as a small token of gratitude for the our remarkable time at Carrolton and Banks.
Our mission in working toward this gift is to help fund the chapel's front doors. In order to do this, we are asking that each of you consider a gift of $30, although larger donations are definitely appreciated. Our donation will be recognized as part of a permanent plaque in the chapel.
On a side note, the recently graduated class of 2014 just raised $5000, to restore one of the stained glass windows; there is no reason why we can't raise just as much. In order to donate to the project, you can use the online donation form found on our class page: www.jesuitnola.org/class-of-2013, or by sending a check or cash to Jesuit in an envelope marked "Class of 2013 gift." Please include your name with your cash donation.
We thank you for your generosity and look forward to seeing each of you soon. After all, our five-year reunion is less than four years away.
Many thanks,
The Class of 2013 Gift Fundraising Team
Allen Gaudet
Blaine Loupe
Brandon Butera
Carl Hellmers
Christopher Stevens
Corey James
D.J. Brown
Earl Johnson
Ian Morel
Jack Culotta
Jackie Robinson
Jacob Campos
Jacob Merriman
Jermaine Bezue
Jimmy Brown
Jonathan Llovet
Joseph Crapanzano
Josh Deblieux
Kalan Minnard
Larry Schwall
Mason Belle
Matthew Felger
Matthew Wolff
Michael Fitzpatrick
Patrick Denenea
Philip Flettrich
Scout Serpas
Taylor Varisco
William North
Zac Creel