Blue Jays Finish Strong in Newman Invitational, Downing Hahnville, 63-49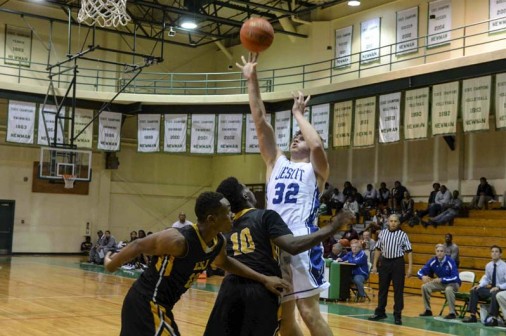 Senior center Foster Moreau posted his first double-double of the season, helping push Jesuit past Hahnville, 63-49, on Friday, Dec. 12. It was Jesuit's third and final game of the Newman Invitational.
Moreau finished with 13 points and the same amount of rebounds. Senior Trey LaForge added 27 points. Junior Rob Weiss had 8 rebounds and 4 assists.
The Jays finished 2-1 in the NIT. On Thursday, Jesuit downed Yarra Valley, a team from Melbourne, Australia, 70-29. The Jays opened the tournament with a tough 50-45 loss to a very talented East St. John team.
Up next for the Jays is the Chalmette Valero Christmas Classic. Jesuit opens against East Ascension on Thursday, Dec. 18 at 6 p.m.
The victory over Hahnville gives the Blue Jays a season mark of 4-2.
Later this month, Coach Chris Jennings and his players will make their annual trek to Washington, D.C. to participate in the Georgetown Tournament against other Jesuit high schools.