Blue Jay of the Month: Senior Besh Cooks Up Passion for Pro-Life Cause
From The Blue Jay, Vol. 86, No. 4, February 2014

By Jack Caliva, Editor-in-Chief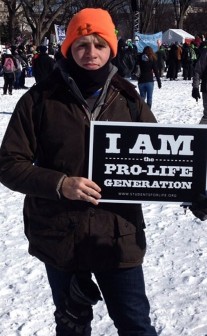 I caught up with Brendan Besh on a brisk morning in Washington, D.C., hotel lobby. He was drinking a coffee from Starbucks and eating some sort of pastry. (Not likely up to the standards of a pastry made by his father, who you may have heard of.)
We were in the nation's capital for the annual March for Life with the Pro-Life Club. Brendan is that club's president. He is very involved in not only the local Pro-Life movement but also in a lot of aspects of life within the Jesuit community.
When he's not out on the pitch or leading Pro-Life Club meetings you can find him pondering life and The Catcher in the Rye, or talking about Arthurian legends, whenever he can fit them into the conversation.
The Blue Jay: Can I get your autograph or your dad's autograph?
Brendan Besh: You'd have to take that to my secretary, Cullen Walsh. He handles all my personal go-betweens and appointments, including those with my family.
TBJ: How is this year going so far?
BB: It's going well! I love all of my classes and teachers and it's been great getting to know my classmates even more.
TBJ: What have you been involved in at Jesuit and specifically this year?
BB: Pro-Life Club, National Honor Society, the rugby team, Campus Ministry, the newspaper, Sodality, and Peer Support, to name a few.
TBJ: Do you have any favorite moments from this year or this summer?
BB: I enjoyed my service project and especially my time on World Youth Day in Rio de Janeiro.
TBJ: Do you have a favorite moment from World Youth Day?
BB: Probably our time in Paraguay at Santa Maria de Fe, and when we hiked up the hill for Mass and prayed the Stations of the Cross.
TBJ: How is the Pro-Life Club going? Is there anything in particular you want to do differently this year?
BB: It's going well. We just got back from an incredible March for Life. I want to organize a second pro-life week this semester in order to increase awareness and help spread activism throughout the school. This semester also will have many presentations and a revamped oratory contest.
TBJ: How did the March for Life go?
BB: It went swimmingly! We participated in the Mass for Life, and Geaux Forth. We also got to visit the Holocaust Museum, and participate in the march all with a beautiful six inches of snow.
TBJ: Speaking of snow, you live in the dirty dell. Is it a pain getting to school every day?
BB: I mean, with a cup of black coffee and the Beatles blaring in the truck with my trusty co-pilot Tommy Yun at shotgun, it isn't too bad! It gets tiring, but it's completely worth the drive.
TBJ: What is you favorite movie, book, TV show, and celebrity chef?
BB: The Matrix trilogy, East of Eden by John Steinbeck, Downton Abbey and The Office, and John Besh.
TBJ: Your dad is a well-known local and national chef. Is it weird seeing him around on television and having people know who he is.
BB: It's weird but I've gotten used to it. It's surprising to me that people actually pay so much attention to local chefs.
TBJ: What's your opinion on bread pudding?
BB: It's not my favorite.
TBJ: What's your favorite Besh restaurant and menu item there?
BB: Probably the clams pizza at Domenica or the pork empanadas at Borgne.
TBJ: I imagine meals at your house being like a meal at Downton Abbey. Are they as good as we think they are?
BB: Well, we don't wear tails and we happen to be short of a second footman at the moment. But the meals do happen to be as great as you might imagine!
TBJ: What do you enjoy doing outside of school?
BB: I enjoy reading, hanging out with my family, pro-life work. I've also started acting and will appear in Dominican's spring musical, Hello, Dolly.
TBJ: I heard you can dance a mean polka.
BB: No mas polka, por favor.
TBJ: Is it true that you initials are BBB
BB: Brendan Broseph Besh.
TBJ: Favorite teacher?
BB: Coach Chapoton, Mr. Reuther, Mr. Rossi, and Mr. Wyss.
TBJ: What colleges are you looking at and what are you considering as a major?
BB: I'm looking at LSU, Fordham, University of Dallas, the College of William and Mary, Boston College, and Notre Dame. I plan to study political science or history. And I eventually plan on going to law school.
TBJ: Do you have any parting words or advice for the Blue Jays audience?
BB: "Don't ever tell anybody anything; if you do, you end up missing everybody."
TBJ: Thanks, Holden Caufield.