Blue Jay Fans Gear Up for Annual Bazaar
Spring is in the air and Blue Jay fans are gearing up for the annual Blue Jay Bazaar, a fun-filled day of carnival games, extreme rides, "Blue and White" shopping, sweet tunes, and delicious food. The Jesuit High School community celebration will take place on Sunday, March 30, attracting thousands of students, alumni, parents, and friends to the Mid City campus.
Admission is free to the annual event, which features live entertainment, games, food booths and jewelry, liquor and cash raffles. This year the Bazaar will honor military personnel and veterans with the theme, "Jesuit Salutes Those Who Have Served."
Jesuit still needs parents and alumni to staff the various booths at the Bazaar. No experience is necessary! It takes only a few hours and it's fun meeting new parents, classmates, and friends. Sign up online to volunteer.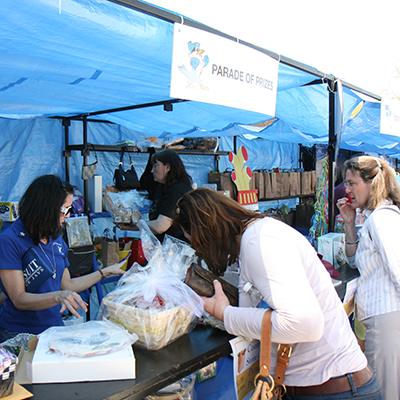 Items to Drop Off This Week:
Items for the Parade of Prizes: Any new gift items such as toys, household or decorative items, stuffed animals, gift certificates, or unused Christmas or birthday gifts are needed. Please bring items to the Volunteer Office anytime before March 26.
Two-Liter Soft Drinks: Two-liter soft drinks of any kind or monetary contributions in an envelope marked "Blue Jay Bazaar Ring a Drink." All donations should be brought to the Volunteer Office before March 28, but will be accepted until March 29.
Empty, Rinsed Soft Drink Cans: Please send in your empty and rinsed soft drink cans in a garbage bag marked "Cans for Blue Jay Bazaar." Cans should be brought to the in Volunteer Office before March 28, but will be accepted until March 29.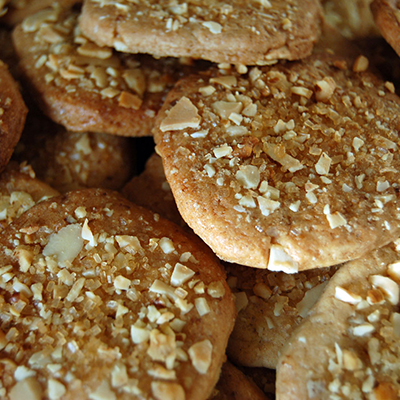 Items to Drop Off Friday, March 28:
Frozen Foods: Prepare and freeze your favorite dish for the frozen food booth. Bring items to the cafeteria the morning of March 28, or after 9 a.m. on March 29, or the morning of the Bazaar, March 30. Items should be labeled with the name of the dish, cooking instructions, number of servings, approximate cost of making the dish, and the name of the donor. Please contact Dawn Protti at debccrinc@yahoo.com or (504) 442-1204, or April Pertuit at aprilp@llog.com or (504) 427-3731 with any questions.
Sweet Shoppe: Donations of cakes, cookies, pies, and other desserts will fill Jayson's Sweet Shoppe. Please do not send items that require refrigeration. Please drop off items in the Volunteer Office on March 28 or in the cafeteria after 9 a.m. on March 29 or March 30. Please contact Felicia Saunders with any questions (504) 888-3480.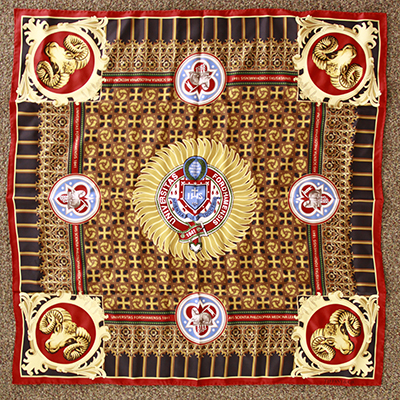 New to the Bazaar This Year:
Jesuit Around the World: Jesuit reaches out to other Jesuit high schools and colleges to share spirit items, including t-shirts and sweat shirts, gift baskets, and other specialty items. Special items to look for include a Regis Jesuit High School (Aurora, CO) gift basket and a beautiful Fordham University silk scarf by Tiffany & Co. (pictured, left).
Athletic Team Photos: Previously student-signed team and club photos were available at Celebration and Bazaar. This year the photos are exclusively available at Bazaar. Come and bid for these one-of-a-kind prized items!
Bazaar Favorites:
Foodies, Rejoice: Purchase delicious homemade frozen foods and sweets, win a gift certificate for an award-winning local restaurant at the Dine Around Booth, or indulge in a Bazaar-favorite right then and there! The Blue Jay Bazaar has a variety of food sure to please the entire family, including local seafood, delicious hamburgers, fresh Caesar salad, creamy shrimp pasta, and cheesy quesadillas.
Annual Bazaar Attractions: Join your friends at your favorite Bazaar booths, rides, and games, including the ever-popular sumo wrestling ring, dunking booth, climbing wall, and paintball area.
2014 Bazaar T-shirts: Celebrating this year's theme, "Jesuit Salutes Those Who Have Served," the 2014 Bazaar t-shirt features a patriotic design and the Jesuit logo. Bazaar t-shirts will go on sale Tuesday, March 25 in the Student Commons for $10 each. They will also be sold at the Bazaar in the T-shirt Booth.