Alumni Chapters Get Started Across Country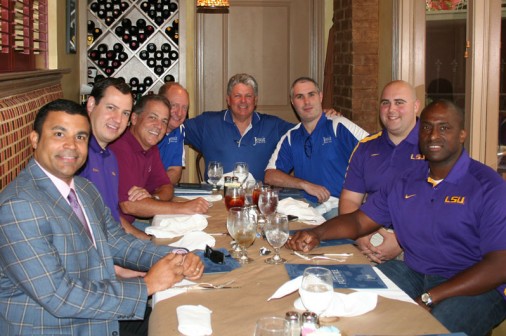 Blue Jays who form the nucleus of the Baton Rouge Alumni Chapter held a lively luncheon meeting last September to start planning their group's first event. At the meeting were, clockwise from lower left: Victor Gregoire '86, Kevin Murray '97, Pat Cuntz '81, Jesuit advancement director Tom Bagwill, alumni director Mat Grau '68, Corey Cloninger '99, Kyle Huber '09, and Sheldon Perkins '88. Gordy Rush '86, who coordinates communication among the Baton Rouge Jays, could not attend the luncheon.
Contact for Baton Rouge Jays
Gordy Rush '86: (225) 963-1231, glrush3@yahoo.com
The Houston Jays are already gearing up for their third annual crawfish boil scheduled for Saturday, May 3 on the campus of Strake Jesuit.
Contact for Houston Jays
Christopher Cola '93: (713) 301-8128, cwcola@gmail.com
Who Dats from New Orleans teamed up with Saints fans living in the Tampa-St. Petersburg area last September to enjoy a black & gold and blue & white tailgate party on the campus of Jesuit Tampa High School. The Central Florida Jays, led by enthusiastic alumni spanning seven decades, relished the Saints rallying to beat the Buccaneers.
Contact for Central Florida Jays
John Sabatier '86: (727) 871-1408, jsabatier@verizon.net
Atlanta Jays… temporarily "iced."
Contact for Atlanta Jays
Michael Paulhus '96: (404) 326-3637, paulhus1@comcast.net