Homecoming Week Activities Continue with Fabrosaurus Family Feud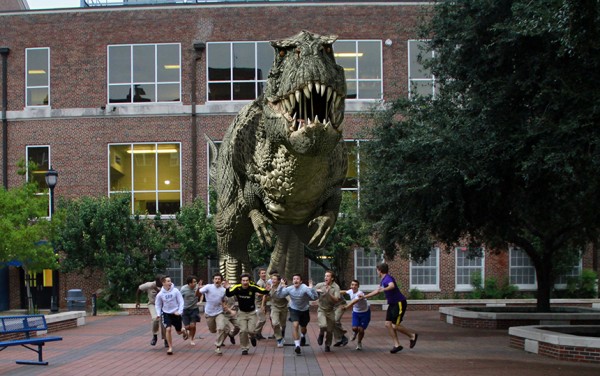 Physicist Luis Alvarez's theory that a meteor hitting Earth killed the dinosaurs 65 million years ago didn't take into account that a herd of the prehistoric creatures may have survived the impact, including a pack of them spotted at Carrollton and Banks this week.
When Blue Jays arrived in Traditions Courtyard on Tuesday, Oct. 22, they were greeted by a life-size Velociraptor, placed there by the Student Council the evening before. The "speedy thief" remained on display as students participated in Tuesday's Homecoming Week lunch activity.
A team of three teachers — Mr. Peter Muller, Mrs. Amy Tassin, and Mr. Paul Rogers — faced a squad of three students — Peyton Markey, Christopher Mire, and Sterling Stafford — in a lunchtime game of Fabrosauras Family Feud, hosted by Reuben Hogan and coordinated by other members of the student council. View the photo gallery below to see who won.
Lunchtime activities continue throughout the week, and will culminate with a Pep Rally in the Birdcage on Friday, Oct. 25 at 2 p.m. Lunchtime activities include:
Wednesday – Zorb Ball Racing
Thursday – Fossil Excavation
Friday – Dino Senior-Faculty Football
Homecoming Week concludes when the Blue Jays face the Rummel Raiders at Tad Gormley Stadium on Friday, Oct. 25 at 7:30 p.m.