"Essays on Race:" Jaynotes, Vol. 39, Spring/Summer 2013
In the Spring/Summer 2013 issue of Jaynotes (Vol. 39), space limitations prevented publication of two submissions by Jesuit alumni Jimmy McCulloch '46 and Roberto Matthews '96.
Swimming in the Sea of Social Milieu
By Jimmy McCutchon '46
Jimmy McCutchon of the Class of 1946 writes several vignettes about the challenges people grappled with over emerging and evolving racial issues.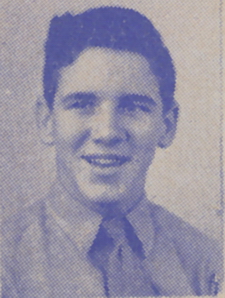 Fifty years since Jesuit was integrated may seem like a long time to some people, but it is yesterday to an 83-year-old like me. I was born and raised in segregated New Orleans. As Joseph Meiman '42 wrote in his essay (Jaynotes, Vol. 39; Fall/Winter 2012), segregation was just a fact of life — the way things were. Although at my house there was no racial bias, there was an acceptance of the state of affairs. Here are five vignettes, snapshots of moments in time that illustrate some of the changes during the past 50 years.
When I was too young to stay home alone, my mother put me in the car to go visit our maid, Lucy, who was sick. When we arrived, there were some black men sitting on her stoop. At first they denied knowing any Lucy, but when my mother identified herself and the purpose of her visit, she was immediately ushered inside as I was left to sit in the car and wonder. The explanation from my mother: "They were afraid." Afraid of a woman and a little boy? More reason to wonder and to begin to understand. My mother loved Lucy and so did I, but there was this divide and this fear of white oppression.
When I was an intern in Philadelphia, one of the best interns was Bill, a graduate of Howard University College of Medicine. (Stephen McKenna '74, whose essay in the previous Jaynotes I enjoyed immensely, also graduated from Howard.) When it was time for us to move on — I was returning to New Orleans for my residency and Bill was going back to Washington, D.C. — I said to him: "Bill, if you are ever in New Orleans, come by the house for a drink." Well, Bill shot me this strange look, and I knew immediately what he was thinking. So, to be sure he understood that I knew what I was doing, I repeated, "Bill, if you are ever in New Orleans, come by the house for a drink."
While my parents were not prejudiced, my uncle was. My wife and I visited his house one day and he started on a rant about the projects and the people living in them. I loved my uncle, so I sat and took it, but my wife silently got up and walked out of the house. I made my apologies and followed her.
While on a visit to New Orleans, Fr. Pat Koch, S.J. took us to lunch at a restaurant of his choosing. We walked into Dooky Chase's restaurant to some surprised stares. We were treated warmly and fed well. (Dooky, congratulations on your honor as Jesuit's Alumnus of the Year.)
Last story: I was in the operating room working with Shirley, a black nurse whom I loved and who loved me as well. We were friends enough that we could discuss race without discomfort. Shirley insisted that I was still prejudiced in spite of my fervent denials. To prove her point, she told a joke that would have a black person roaring with laughter. My reaction was that I got the joke, but it was just not funny. Shirley said, "See, that proves it." She was right.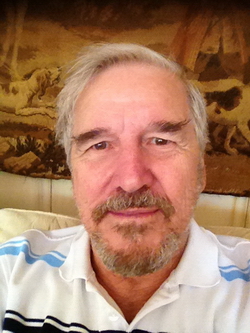 We swim in the sea of the culture of our times. My great-great-grandfather owned Ormond Plantation and quite a few slaves. One of my fantasies is to imagine that I inherited Ormond in 1840 when he died. What would I have done in that social milieu? What would you do?
Jimmy McCutchon was born in 1930 in New Orleans. Following Jesuit, he earned his undergraduate degree from Loyola University and his medical degree from Tulane University. Dr. McCutchon interned in Philadelphia, returned to New Orleans for four more years of training, then moved with his wife Jeanne to Corpus Christi, where he practiced urology for 49- plus years. The McCutchons had eight children. Jeanne died in 1996 and Dr. McCutchon married Dixie Tanguis, who died in 2010. He retired in 2007, but remains active, volunteering at a homeless shelter, playing tennis, and taking care of his house and yard.
Coping with Indignity
By Roberto Matthews '96
Roberto Matthews of the Class of 1996 reveals how his alma mater taught him to endure the trials and tribulations of student life and beyond.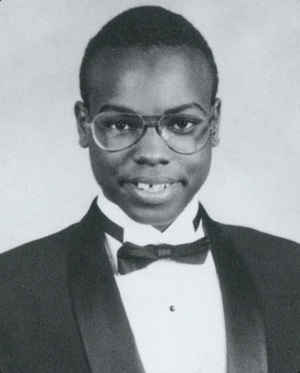 When I think of my alma mater, my heart wells up with joy over the opportunities she has afforded me. Even today, when I mention that I graduated from Jesuit High School, it evokes respect. This journey into adulthood was not only experienced as a Catholic teen trying to discover himself, but also as a young African-American trying to establish himself with more than just the color of his skin.
The year was 1992, and even though 30 years passed since Jesuit had been integrated, it was difficult for many of my elementary school friends to hear that I was accepted into Jesuit, let alone that I decided to go. Even then it was more acceptable for African-American boys to go to St. Augustine. In spite of this, my family and I knew that I would definitely receive the best education at Jesuit. However, this fine education was not without its challenges.
Those challenges were hardly scholastic as I was blessed to excel. The challenges were social since I was met by some Caucasian students with a less than Christian welcome. Perhaps it was because a few of the students had not been around black students until they enrolled at Jesuit, or maybe their experience with African-Americans in the past was unpleasant. Whatever the reason, I unfortunately did not go through my four years without hearing that terrible "n-word."
How did I deal with this indignity? Well, the source of the trials — the social environment — was also the source of my strength. Although Jesuit might have shown me that there is animosity in existence, my alma mater also taught me the meaning of being a Man for Others in spite of that animosity. Being a member of ROTC, I learned self-discipline, initiative, and good judgment.
Above all, Jesuit High showed me that everything must be done for the greater glory of God. Ad Majorem Dei Gloriam.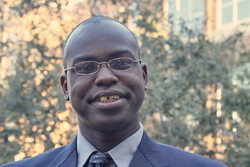 Roberto Matthews '96 currently lives in Gretna with his wife of nine years, Miki, and his two sons, Roberto, Jr. and Solomon. He is a full time church musician and record producer. Roberto recently released a religious CD under his own record label, Musica Religiosa Studios. Samples of his CD can be found on Amazon and iTunes. Roberto wrote the Medallion Story about St. Peter Claver in the Vol. 39, Fall/Winter 2013 issue of Jaynotes.