The Philelectic Society Hosts Ninth Children's Miracle League Worskhop alongside Musicomedy The Cocoanuts
During the two week run of "The Cocoanuts," which began its run on November 9, the Philelectic Society took time out to host a special musical workshop for the Children's Miracle League. This organization, affiliated with Children's Hospital, aims to provide any child with disabilities of any severity the opportunity to participate in league sports and activities. Many of the children in the Miracle League have moderate to severe disabilities and require assistance from a buddy volunteer. The inception of these biannual workshops dates back when Colin Hill '15 sought to share his theater experiences with his sister, Emily. Emily had the opportunity to dance on stage with her brother his senior year in the performance of "The Music Man."
In the Jesuit auditorium, participants were paired with a Phils member to learn show tunes and the Charleston both highlights from "The Cocoanuts." Under the guidance of cast, crew, and director Kate Arthurs-Goldberg, children learned songs and choreography. They delighted their attending family and friends with performances from "The Cocoanuts." Each child also received a pair of Groucho masks as a keepsake.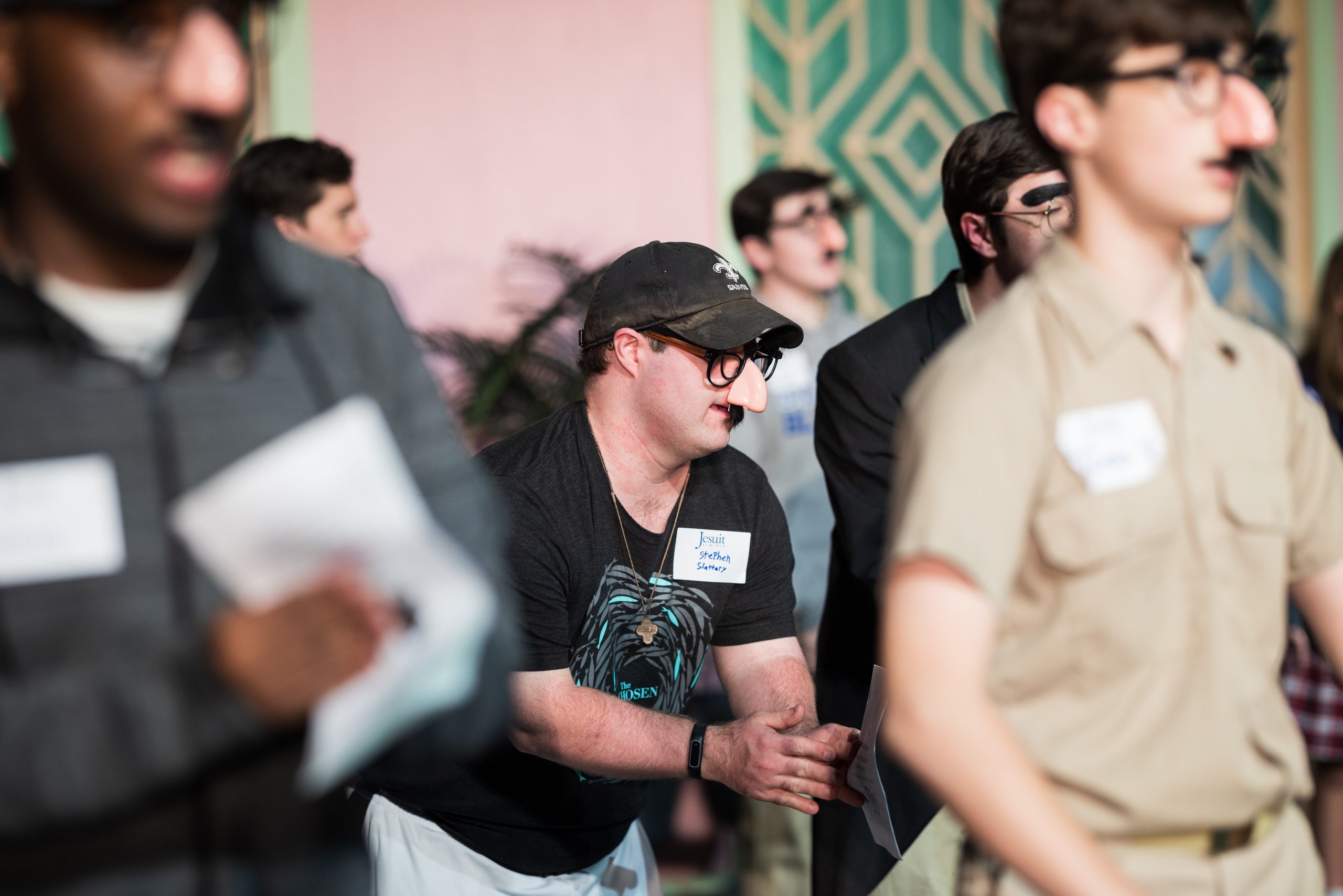 The Miracle League performance was as strong as the other Philelectic Society's performances from the past week. The cast and crew have been diligently working to bring the Marx Brothers' witty "musicomedy" to life.
Senior Albert Favalora, who played Groucho, found the role challenging due to the character's established persona. Unlike most roles, where actors can take creative liberties, Favalora had to learn to walk, talk, and think like Groucho.
Arthurs shared her thoughts: "Introducing the Marx Brothers and Irving Berlin to the Philelectic Society has been a delightful experience. These men were giants in 20th-century comedy and music. With the help of our talented team, we aim to honor their legacy with this production and inspire our audience to delve further into their work. We hope the wit and charm of this show will leave a lasting impression on all involved."
Phils fans still have the opportunity to attend one of the two remaining performances, either this evening at 7:30 p.m., or tomorrow, November 18, at 7:30 p.m.
Ticket Prices
Adult – $15 advanced purchase / $20 at the door
Student – $10 advanced purchase / $15 at the door
Final Show Dates & Times
Friday, November 17 @ 7:30 p.m.
Saturday, November 18 @ 7:30 p.m.
Future Phileclectic Society Events
Join the Phils on December 21 at 6:30 p.m. for the annual Holiday Happening. This festive event features performances by our a cappella group, the Barbershop Blue Jays, the JHSP Radio Theatre Ensemble, and the J-Troupe, our improvisational comedy team. Following these performances, guests are invited to partake in cocoa and caroling on the chapel steps.
In January, we will continue our tradition of supporting the Second Harvest Food Bank with our Senior-Directed One Act Play and Improv Comedy Festival. Our 2023-24 theater year will culminate in April with the classic American musical, "Guys & Dolls," and conclude the season with our Spring Showcase.
Loading…